Keeping Pace During the Winter Months
Runners share tips for staying active during cold Chester County winters.
Runners are a special breed of athlete. It takes dedication and an elusive kind of grit to be the type of person who'd willingly pound their feet against pavement for miles. And in all kinds of weather.
When I asked my father, a career marathoner with over 15 finishes under his belt, about his desire to run the Philly Marathon in rainy weather, he buzzed with excitement usually reserved for children hopped up on sugar. "I love running in the rain," he said. "Not only does it keep people away, but splashing around in the puddles is a great way to amuse yourself for a few hours."
But for runners seeking a straightforward form of exercise, inclement weather is a threat rather than a diversion. And as winter rears its frosty head, committing to any outdoor activity that doesn't involve sprinting from a warm house to a cold car in the morning is no small task.
Nevertheless, if you're willing to put up with freezing temperatures and the occasional snowfall, Chester County's scenic landscapes have the potential to be a runner's winter wonderland.
In preparation for—or perhaps, grim acceptance of—another long winter, I spoke with some of the area's experts (and one overeager father) to learn how to make the most out of running in the cold.
Dressing the Part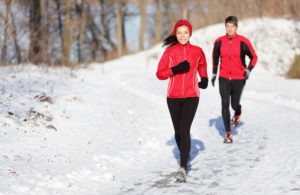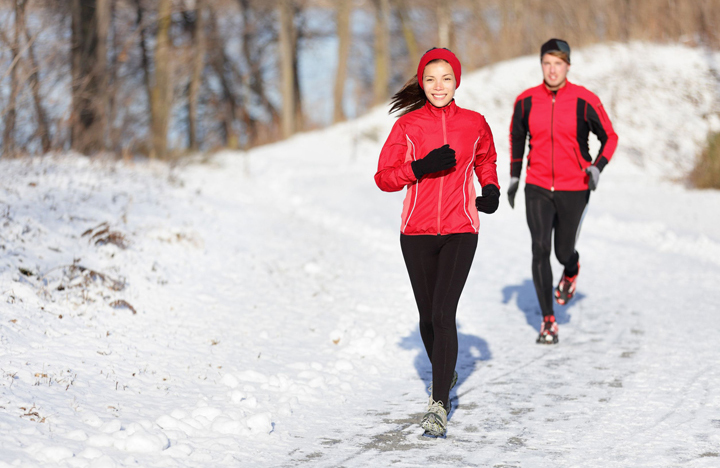 If there's one thing every runner seems to agree on, it's that wearing the right clothing is essential during winter runs.
Kevin Kelly, owner of Chester County Running Store and a cross country coach with two decades of experience, is quick to mention layering when asked about winter-appropriate gear. Kelly recommends runners dress themselves in layers with reflective tops made from technical fabrics like Nike's Dri-FIT line and clothing with Gore-Tex material. "Cotton's rotten when it comes to exercise," he adds. "Make sure you're wearing materials that pull moisture away from your body."
Despite an emphasis on layering, it's important not to overdress. Bundling up like Randy in A Christmas Story might keep you warm, but wearing too much on a long run can make life difficult. "Dress like it's 20 degrees warmer than it really is," says Kelly. "If you dress too warmly, you'll start sweating and find yourself colder than when you started."
Raymond Porreca, Jr., an accomplished marathoner and father, notes that it's important for runners of all skill levels to find a balance between warmth, layers and comfort while running. Gloves, hats and the right kind of warm socks are just as essential as layered tops and running pants.
"Regardless of layers, the head, hands and toes should never be neglected during a run in the winter," he said. "Avid runners will tell you that frozen ears, fingers and toes not only ruin a workout—they're just a short jog to frostbite conditions."
Choosing your path
Anyone familiar with Chester County knows that it's full of beautiful parks and public spaces. What's less common knowledge is that many of the region's best running trails are not only open during the winter, they're generally well maintained throughout the year.
"Two of the most popular Chester County trails are the Strubel Trail and Chester Valley Trail," Porreca said. "Snow removal—especially on the Chester Valley Trail—is usually great during the winter."
The Chester Valley Trail runs from Exton to King of Prussia, and it's paved, wide and most importantly, it's flat. At 13 miles, the trail is nearly the length of a half-marathon, making it an excellent spot for runners year round and those training for a long race.
For Kelly, Stroud Preserve is a personal favorite. Kelly says the nature preserve, located outside West Chester, is a frequent destination during every season. In addition to Stroud, Kelly mentions the Harmony Hills Trails in East Bradford Township as another worthwhile running destination.
Running on a paved trail isn't just a great way to soak up Chester County's stunning scenery, it's also a smart safety choice for less experienced runners. By design, trails are isolated from traffic and unpredictable road conditions that arise after snowy days.
Snow plows are great for clearing streets, but the massive piles they leave in their wake can force runners dangerously closer to vehicles. And with winter weather comes road salt. According to Porreca, salt is great for increased stability, but it can wreak havoc on modern running shoes' treaded soles.
Of course, traveling to a trail isn't always possible. Many runners stick to the streets and neighborhoods near their own homes. In that case, both Kelly and Porreca stress the importance of always being aware of your surroundings.
Runners should also literally go out of their way to avoid cars during the winter. If the roads are even somewhat dangerous, many experienced runners will stop as cars pass by to be extra safe.
Safety in Numbers
Chester County's running community uses several strategies to stay safe as well as active during winter months. Kelly mentions that his business hosts several running groups throughout the week. "We run a Tuesday morning group that gets between 55 and 60 people," he said. "Training begins at 5:50 a.m., and we get people of all abilities—some who are training for marathons and others that just want to get in shape."
Groups like Kelly's offer warmth and protection during cold Chester County winters. According to Kelly, while the routes the group takes—which snake through the West Chester borough and surrounding developments—aren't too busy during the morning, having a small pack of runners helps keep everyone safe from any distracted drivers who might be on the road.
Thomas Donnelly, head coach of Haverford College's cross county team, also stresses the importance of being alert during the winter months. "It's always best to be with other [runners] when it's dark," he said. "Bring a phone if you're running in an isolated area and always be aware of the neighborhoods you're running through."
Keeping Pace
While many people might head to an indoor, heated gym during winter months, many runners will recommend staying outside regardless of temperature. Choosing to run indoors means dealing with treadmills or potentially over-crowded gym tracks.
Kelly notes that running outdoors "just feels better" due to improved air quality. Porreca, like many long-distance runners, can't fathom spending hours on a treadmill when roads, trails and outdoor tracks at area schools are still accessible.
Running occupies the intersection of hard physical activity and introspective thought. And against the backdrop of Chester County's tranquil landscape, it's the go-to activity for many runners, regardless of the season.
Just be sure to dress right, pick your spot and be safe!
Upcoming Area Races
If you need an incentive to keep running in the cold months, here are some local races to inspire you.
Nov. 24. 10th Annual Jingle Elf Run 2 Mile Run/Walk, West Chester.
Runccrs.com
Dec. 1. Coatesville Red Run Challenge 5K/1 Mile Run, Coatesville.
Runsignup.com/Race/PA/Coatesville/3rdAnnualRedRunChallenge
Dec. 2. Brian's Run 5K/2 Mile Walk, West Chester. BriansRun.org
Dec. 2. Elves Vs.
Reindeer Holiday 5K, Malvern. ElvesvsReindeer5k.ItsYourRace.com
Dec. 2. Jingle Bell Run 5K, Malvern. Events.Arthritis.org
Dec. 9. Funky Santa 5K & 3-Person Relay 5K, Pottstown. RunSignup.com/Race/PA/Pottstown/FunkySanta5KThreePersonRelay
Dec. 30. Resolution Run 5K at Levante Brewing 5K, West Chester.
RunSignup.com/Race/PA/WestChester/ResolutionRunLevante
Jan. 1. 10th Annual Stanley's Dream 5K & 2.5K Walk, West Chester.
StanleysDream.org
April. The Chester Co. Hospital Dash for Diabetes, West Chester.
ChesterCountyHospital.org
April 6. The Saturday Club Shuffle
5K & Kids Race, Wayne. BrynMawrRacing.com
April 22. 5K Run/Race to Recovery, West Chester. BrynMawrRacing.com
May 12. 5K for Mother's Day 5K. West Chester. RunSignup.com/Race/PA/WestChester/5kforMothersDay
back to top