Holiday Window Shopping / 2019
Let's look forward to some festive time with family and friends, make lists, stroll the shops, meet for dinner, a beverage or some apps at one of the amazing restaurants in our area and then take some time to enjoy a few of the fun things to do this month. Check our Best Local Events column for all you need to know.
Browse the shops on these pages, stop in a museum and be sure to schedule a festive lunch or dinner, too. Maybe a happy hour to celebrate your shopping skills. Make a day of it, you'll be glad you did!
As always to our readers and advertisers, our most heartfelt thank you and our best wishes for a very Happy New Year!
Pennsylvania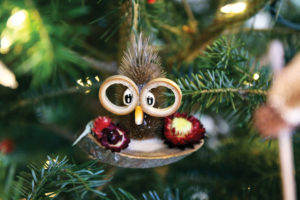 Chadds Ford
The perfect gift awaits those on your list at the Brandywine River Museum of Art. Shop the unique selection of gifts inspired by art and nature, including notecards and art reproductions featuring the iconic works of the Wyeth family, handcrafted jewelry, exclusive silk scarves and accessories, toys for children, a unique selection of books and more. Don't miss the annual Critter Sale, December 5–8. 1 Hoffman's Mill Rd. 610-388-2700; Brandywine.org.
Chester Springs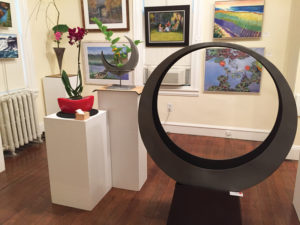 Visit Historic Yellow Springs to pick up one-of-a-kind holiday gifts as Art Show Poster competitors and members—professional and student artists—will exhibit and sell their work from Dec. 14–22. The winning poster and other artist's poster entries are on display, along with another piece of their choosing, all exhibiting in a wide array of mediums. 1685 Art School Rd. 610-827-7414; YellowSprings.org.
Simpson House Tea Room, located in the Village of Eagle, is the place for all your tea needs. Lunch and Afternoon Tea served daily, over 100 loose leaf teas, tea paraphernalia, private events, celebration rooms, catering and delicious baked goods. 110 Pottstown Pk. 610-458-0120; SimpsonHouseTeaRoom.com.
Exton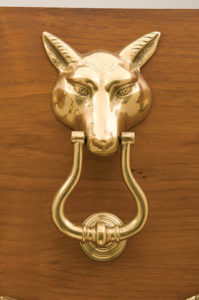 Appetites on Main, located in Main Street at Exton, offers casual American comfort food at a good value. It's a great place to stop and relax during the busy holiday season. Daily Happy Hour, 4 to 6 p.m., includes $2.50 select domestics, $1 off all appetizers, craft beer and cocktails. Open daily, 11 a.m. to 2 a.m., full menu until 1:30 a.m. 286 Main St. 610-594-2030; AppetitesOnMain.com.
Deck the halls this holiday season with 18th-century through Victorian-era original and reproduction furniture, lighting fixtures and furniture hardware. Visit the showroom at Ball & Ball to find unique gift ideas including candlesticks, bookends, lanterns and fireplace accessories made on the premises in brass, tin, copper and hand-forged iron and bronze. All perfect gifts this holiday season. Open Monday–Friday, from 8 to 4:30; Saturday hours, October–March, 9 to 1.
463 W. Lincoln Hwy. (Rt. 30). 610-363-7300; BallAndBall.com.
There's no place like Ron's Original Bar & Grille this holiday season! Come and indulge in some "Real Food, for the Health of it." Offering a family atmosphere, Italian fare, live music and some of the best craft beer around, they invite you to stop in for a bite, enjoy some take-out or delivery, or call them to cater your next event! 74 E. Uwchlan Ave. 610-594-9900; RonsOriginal.com.
Kennett Square
Alexis Kletjian's namesake jewelry gallery is curated with one-of-a-kind jewels in stunning colors and striking textures. Glittering gemstones stand alongside timeless pieces and exquisitely selected Luxuries for your Soul. An award-winning jewelry designer, Alexis can also redesign your treasured heirlooms. If you are a lover of all things beautiful, stop by and give yourself the gift of luxury. For a daily dose of sparkle, follow Alexis on Instagram @alexiskletjian. 131 E. State St. 610-615-9200; AlexisKletjian.com.
Contact Connoisseur Travel and give the gift of travel this holiday season. They look for destinations that are authentic, unique and emerging—the new frontiers of travel. Seeking that special gift—choose experiences over material things. Your friends and family will thank you for the lasting memories. 312 W State St. 800-858-0011; CTLtd.com.
Using only the finest and freshest ingredients, highlighting the northern region of Italy, La Verona is committed to making your meal a memorable one, with professional service in a welcoming, vibrant, social atmosphere. They have a private dining area for parties up to 65, and they invite you to join them for Happy Hour, Monday–Friday, 4 to 6 p.m. 114 E. State St. 610-444-2244; LaVeronaPA.com.
Malvern
The holidays can be a hectic time of year. Let Tonino's Pizza & Pasta Co. take care of your party planning needs with custom party platters for family get-togethers or office parties. Everything from delicious antipasti to homemade classic pasta dishes and Italian favorites. Tonino's now offers private dining with seating for up to 50 guests. Call to plan your holiday festivities today. Gift certificates available. 235 Lancaster Ave. 610-240-9566; ToninosPizzaAndPasta.com.
Marshallton
This holiday season, why not introduce some creativity, art, innovation and fun to your gift-giving? Visit the Merchant of Menace Re-Imaginers Gallery and check the whimsical and inventive items that will delight everyone! Their artists see possibilities everywhere and create amazing works from a variety of reclaimed materials. Find furniture crafted from New England barn wood, animal sculptures made from antique tractor parts, jewelry created from silverware and much more! 1351 W. Strasburg Rd. 215-704-7419; TheMerchantOfMenace.net.
Newtown Square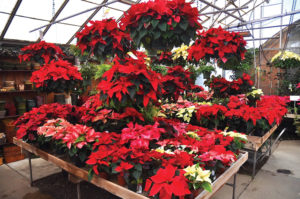 Gourmet gift baskets and luscious fine chocolates are two reasons to stop at Christopher Chocolates, making life sweeter since 1986 as a family-owned and operated business. They have a great selection of gourmet foods, candies, sugar-free items and fine chocolates for a customized gift basket to delight all on your list. Open daily from Thanksgiving to Christmas. 3519 West Chester Pk. (Rt. 3). 610-359-1669; Christopher-Chocolates.com.
Get your Christmas plants and flowers at Mostardi Nursery. Featuring distinctive plants for every season, Mostardi offers a selection that will have your home looking greener and even better than last Christmas. The Christmas Shop features trees, wreaths, poinsettias, garden accents, ornaments and accessories. Mostardi is dedicated to providing avid gardeners and homeowners with plants for every season and every reason. 4033 West Chester Pk. (Rt. 3). 610-356-8035; Mostardi.com.
Paoli
As always, Walter J. Cook Jeweler has curated a fresh collection of unique gems designed to fit many styles and price points. Owner Michael Cook has selected exquisite diamonds, one-of-a-kind colored gemstones and both classic and contemporary pearls. Wonderful gold items as well as mixed metal artisan jewels help complete this year's collection. Chestnut Village Shoppes, 36 Chestnut Rd. 610-644-5347; WalterJCookJeweler.com.
Phoenixville
Foresta's Market has all of your holiday favorites. Rib roasts and filet roasts using the tastiest Certified Angus Beef. Honey Baked Hams sliced to your liking, made with their homemade glaze, topped with a pineapple ring and cherry. For those in the mood for a holiday bird, Foresta's has Jaindl Grand Champion turkeys, ducks and geese. 1098 W. Bridge St. 610-935-1777; ForestasMarket.com.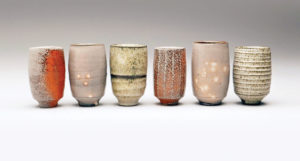 Wallingford
Make it a handcrafted holiday. Community Arts Center and the Potters Guild present their Holiday Sale, featuring functional and decorative ceramic, mixed media, fiber art, jewelry, papier-maché, flowers, wood, soaps, baskets, metal and holiday decor from over 60 artists, December 5–14. Special shopping events include a preview party and Holiday Happy Hours. 414 Plush Mill Rd. 610-566-1713; communityartscenter.org/holiday-sale/holiday-sale-home.
West Chester
Nestled in the historic downtown areas of Chestnut Hill, West Chester, and Doylestown, PA, Artistic Eyewear represents the epitome of style and elegance. They carry a large selection of unique and designer frames and sunglasses from around the world at prices to fit everyone's budget. Their friendly, efficient and professional service helps ensure that you look and see your best. Stop in for an adjustment or just to browse and see what frames look unique and fabulous on you. 127 N. High St. 610-738-7150; ArtisticEyewear.com.
To add sparkle to the holidays, visit the Ultimate Jewelry Store—Big Diamond Importers & Fine Jewelry, specializing in Ideal Cut Diamonds, engagement rings and wedding bands at wholesale prices. See their big and unique engagement rings and fashion jewelry collection for 2020. Italian and Spanish designer jewelry is available in all price ranges. They are also a full-service jeweler, including in-house repair, custom design and appraisals. 15 W. Gay St. 610-692-7707; BigsDiamonds.com.
Since 1933, the Jane Chalfant shop has provided casual fashions in a friendly atmosphere. Today, Jane Chalfant / Kiki Boutique features sweaters, pants and jackets for your everyday lifestyle. Everyone is pleasantly surprised by the size of the shop, which enables them to carry a great selection including fun, fashion accessories. It's worth the trip! Free parking behind the shop at 123 N. High St. 610-696-0290; JaneChalfant.com.
When you stop into Freddy's Frozen Custard & Steakburgers, it's more than just a meal or a sweet treat you're getting. They pride themselves on making sure every guest leaves with a smile on their face and plenty of cheerful memories! They hope to see you soon! 1302 Wilmington Pk. 484-315-8606; FreddysUSA.com.
Rose Boutique, a shop for Mom-Mom, Mommy and Me is a three-generational business built on the love of family, fashion and unique design with gifts for every lady (& little gentlemen) from newborn through plus size. Let the H.Rose Style Squad help you find the perfect gift. Follow them on Instagram, @h.rose.kiddos. 148 W. Gay St. Monday–Friday, 10 to 6, Saturday, noon to 4. 484-887-0085; HRoseWC.com.
The Inn at Whitewing Farm is hidden on a country road, quietly nestled in the historic Brandywine Valley, adjacent to the world-renowned Longwood Gardens and just minutes away from world-class attractions. Settled on 13 bucolic acres, Whitewing is home to a fishing pond, spring-fed pool and tennis court, 10 romantic guest rooms & suites with seasonal fireplaces, private entrances and plush amenities, making Whitewing Farm the perfect escape. 370 Valley Rd. 610-388-2013; InnAtWhitewingFarm.com.
You'll find fresh, handcrafted beers, creative New American cuisine and friendly and attentive service at Iron Hill Brewery. Their beers have won national and international acclaim for over 20 years. They're open 7 days, for lunch and dinner, with Happy Hour Monday–Friday, 5 to 7 p.m. Buy $75 in gift cards through December 31 and receive a $20 bonus card! 3 W. Gay St. 610-738-9600; IronHillBrewery.com.
Stop by The Lincoln Room and enjoy High Tea or a quiet lunch in the lower level of the circa 1833 Lincoln Building. Select from their extensive menu of holiday or specialty teas, sweet scones served with their own lemon curd, quiche specialties and their signature dessert—Croissant Bread Pudding with crème Anglaise. BYOB. Private parties, Sunday–Tuesday; Lunch and Tea offered Wednesday–Saturday from 11 to 3. Reservations suggested. 28 Market St. 610-696-2102.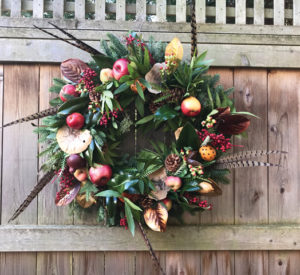 Visit Matlack Florist for all your holiday needs. Centerpieces and fresh flower arrangements make a great holiday gift. The Greenhouse is bursting with poinsettias, Noble Trees and Holiday Garden Baskets. Fruit and Gourmet Baskets with local items are sure to please. Stop by the gift shop for a wonderful selection of home décor items, accessories and holiday giftware. Same-day local delivery is always available. 210 N. Chester Rd. 610-431-3077; MatlackFlorist.com.
Looking for the perfect gift for the men in your life? Check out Phineas Gage, located in downtown West Chester for a great assortment of men's contemporary clothing and accessories. They carry everything from outerwear, sweaters, wovens, denim to socks, belts and wallets. Let them help you pick the perfect gift to outfit your man from head to toe! 29 S. High St. 484-266-7344; Phineas-Gage.com.
Pietro's Prime is an upscale yet casual Steakhouse and Martini Bar located in the heart of downtown West Chester. They are known for their quality cuisine and remarkable service. Whether you're celebrating a milestone event or just looking for a delicious meal, Pietro's Prime is the place to go. 125 Market St. 484-760-6100; PietrosPrime.com.
With a focus on craft beer, whiskey and quality food, Rams Head Bar and Grill is the perfect place to visit this winter. Try out their new menu items, or book your holiday parties in their spacious lower level. Visit the amazing bar staff for Happy Hour every weekday from 5 to 7 p.m. 40 E. Market St. 484-631-0241;
RamsHeadBarAndGrill.com.
Touch … Sight … Taste … Smell … Sound … The 5 Senses. You can find something for everyone on your shopping list for any occasion (and something for yourself as well) at this shop. They offer North American and Fair Trade, handmade, functional works of art, from pottery to candles to jewelry and gift art. They also have a large selection of all-occasion cards, gift cards, gift wrapping and shipping. 133 W. Market St. 610-719-0170; The5Senses.com.
Delaware
Wilmington
Come INN and enjoy the spirit of the holidays at Columbus Inn. Join them for a cozy dining experience on Thanksgiving, Sunday Brunch with Santa, Christmas Eve, or New Year's Eve Dinner. They also have private spaces for work or family celebrations. Open for Happy Hour & dinner, Monday through Saturday and lunch Monday through Friday. 2216 Pennsylvania Ave. 302-571-1492; ColumbusInn.net.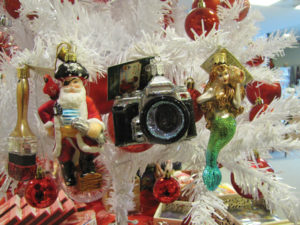 Celebrate the season at the Delaware Art Museum! Discover a variety of gift ideas including handcrafted jewelry, vases, ceramics, textiles and books at the Museum Store. On December 13 and 14, the annual Winter Arts Festival will feature holiday gifts from 20 regional artisans, music by local choirs and decorations. Winter-themed art projects will be available for children and their families and snacks and beverages will be available. 2301 Kentmere Pkwy. 302-571-9590; DelArt.org.
Put a little natural sparkle into the holidays with science and nature-related gifts from the Delaware Museum of Natural History, including rocks, minerals, amber and stone jewelry, kitchen accessories, candles and more. New this year are wrapping paper, notecards and tree of life posters by Fairhope Graphics. For children, stuffed animals, science kits, games or a gift certificate for summer camp. And, of course, dinosaur gifts! 4840 Kennett Pk. 302-658-9111; DelMNH.org.
Leave the stress of the mall behind and shop Hagley Museum & Library's newly renovated Museum Store. Find thoughtful gifts for everyone on your list. Items available include jewelry, china, decorative and functional home goods, stationery, toys, and Hagley-branded items. Stay for a tour of the Holidays at Hagley, "Christmas Trees: Past and Present." 200 Hagley Creek Rd. 302-658-2400; Hagley.org/Store or Hagley.org/Holidays.
back to top