Embracing Change & Empowering Our Future
Photos by Timlyn Vaughan Photography
West Chester continues to grow, improve and evolve, showing it could win the Great American Main Street Award again and again.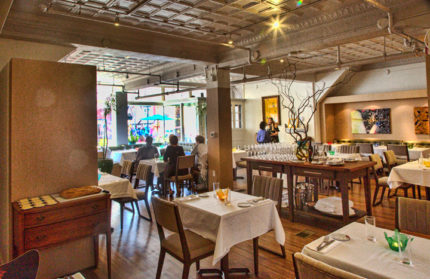 Looking for a place to dine, where the options range from fine to fantastic to fun, and where sidewalk cafes line walkable streets with charming brick sidewalks? There's a place where you can sip a glass of wine, quaff a craft brew, browse the boutiques, and still take time to catch up with friends. Downtown West Chester is that kind of place.
Catch sight of the new banners that bedeck lampposts along High Street displaying snippets from local artists' favorite works. On the reverse side of each eye-catching banner, sponsored by Elmark Signs, is a celebration of the Great American Main Street Award presented to West Chester's leaders by the National Main Street Center last year. Just more evidence that this 300-year-old town is happily embracing a contemporary style that exudes a renewed and energetic vibe.
The Great American Main Street Award was the first time in nearly 20 years that a Pennsylvania community has received that honor. "West Chester's transformation over the past 17 years has been truly remarkable," said Patrice Frey, president and CEO of the National Main Street Center. "The town has always had great architectural heritage, but under its downtown community leadership, it has grown into a haute-cuisine mecca, drawing not just locals but visitors from surrounding areas."
Even with the accolades and recognition West Chester receives, there's still a desire to keep making things better in the Borough. With that in mind, visitors may catch sight of an improvement project on East Gay Street later this summer to replace and update aging infrastructure.
Part of East Gay Street will be temporarily closed to traffic but only on weekdays—pedestrians will always have access on what may feel like a pedestrian mall. Throughout the weekends and every weekday after 4 p.m., the street reopens for more dining, shopping and strolling. Your best parking option is the Chestnut Street Garage at Walnut, just a half-block from East Gay Street and always open (it's even free on Sundays).
More New Dining
New West Chester businesses also reflect the charm of the town's historic roots. Though some may think white tablecloths and fine art on the walls are things of the past, that's not so at Andiario, a new eatery at 106 West Gay Street. Chef Anthony Andiario, along with partner Maria van Schaijik, have created an ambiance that's both chic and comfortable.
The contemporary feel complements a menu that includes such of-the-moment options as grilled Stoney Hill Farm heritage chicken with parsnip purée and onions roasted in live coals, or fresh fish seared to golden perfection, served in a mushroom and crab brodetto. Service in the dining room, situated by an open kitchen, provides what Maria describes as "a seamless link between guests and the kitchen, with an understanding of true hospitality creating an atmosphere that's warm and welcoming."
In too many cases, recipes of our grandparents have sadly been supplanted with processed ingredients. But not for Edie O'Neill, owner of Edie's Sweet & Savory Pastries, 136 East Market Street. Edie brings over 30 years of baking experience to her old-fashioned, hand-made pie crusts and seasonal ingredients along with a wide array of desserts. Don't miss her special occasion desserts including "Birthday Pies"—a hit at any party. And for something savory, try the pot pies—fresh, flaky and wholesome, the way Grandma would want them.
Dolce Zola, 134 East Gay Street, is the next generation of a restaurant opened by the Belfiore family to become a standard in an intimate setting. Here you'll find Northern Italian cuisine but with a twist—an artisan approach showcasing the best qualities of locally sourced food. Expect to see a menu with fresh-made pastas served with sauces brimming with local farm produce. Remember it's BYOB, so bring your favorite Italian wine.
Always More Retail
Home furniture and decor take a look back in time with the opening of Thrifty Vintage, 14 North Church Street. Owner Beth Stiles sells refurbished, refinished and recycled items, many of which have been upcycled by Beth herself. "My passion is for anything that requires imagination and originality," she says. "I love refinishing furniture, decorating homes, decoupaging and digital scrapbooking. It's about making memories."
West Chester has gone to the dogs, but the dogs love it. No surprise there's a new doggy niche for pooches and their loyal owners at All the Dogs, 13 South Church Street, soon to be known as doggy heaven-on-earth by canines of all (furry) stripes. Owners and sisters Becky and Cori dog-tested each product with sniffs and wags. Start by browsing the selection of collars, harnesses, leashes, beds and blankets along with plenty of toys for playtime. This will also be your destination for taste-tested healthcare products and skincare needs.
Another new business, headed by Dr. Jessica Yannelli, is Precision Eye Care, 113 West Gay Street, with a mission to provide comprehensive optometric services—diagnosis, treatment and management of eye disease. Stop by to find stylish ophthalmic frames and lenses, prescription and non-prescription sunwear, and contact lenses. You'll find the modern, full-service office and retail sections designed for exceptional patient care.
Plus Great Summer Events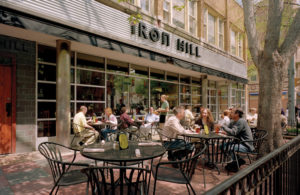 Summer in West Chester means festivals and all varieties of outdoor entertainment. Check out some of the offerings lined up to entice visitors and locals to come out and play. There's even more don't-miss fun in the Events section of this article.
The season kicks off on June 3rd with Super Sunday, from 11 a.m. to 5 p.m. on Gay Street in the heart of the downtown district. West Chester Parks & Recreation hosts this free family event filled with entertainment and eats. Kids can enjoy crafts, games and rides, while adults browse the four blocks of local food vendors and artisans as they listen to live bands.
July's highlight harkens back to a time before West Chester was called West Chester. In an earlier incarnation the town was known as Turk's Head, named after a tavern operated by Phineas Eachus in 1762 at the crossroads of what's now Gay and High Streets. The name stuck until 1788 when the Pennsylvania Assembly designated the village as a "county town" and renamed it West Chester.
Each year, with a nod to the early settlers and the colorful name, the Turk's Head Music Festival takes over Everhart Park, which comes alive on Sunday, July 15, from 11 a.m. to 8 p.m. The day-long line-up of popular regional bands joins a well rounded group of food vendors and artisan booths. The festival is free and fun for the whole family. Remember to bring a blanket or lawn chairs. Rain date is July 23, just in case.
August has its own special event worth marking your calendar for. "We're excited to bring professional bike racing back to the streets of downtown West Chester for the 13th consecutive year," says Mark Yoder, President of the Greater West Chester Chamber of Commerce, organizer of the Benchmark Twilight Cycling Classic taking place on Saturday, August 11 (rain or shine). The event is free in downtown West Chester.
Top-notch professional bike racing fills the streets as the Iron Hill Pro Men's Criterium and the Brumbaugh Wealth Management Pro Women's Criterium compete at breathtaking speeds on the downtown circuit for a chance to stand on the podium and receive their awards. Top amateurs compete in The Rothman Institute Amateur Criterium where top local riders go wheel-to-wheel in a brutal contest of endurance and speed.
There's also plenty of family fun with the West Chester Dental Arts Kids' Race, Tolsdorf Trike Challenge (for 18 and older), Kids' Zone, and the Community Festival on High Street between Market and Gay. "This is an exciting, family-friendly event in the heart of our community," says David LaSala, Benchmark Federal Credit Union President and CEO.
For outdoor fun any month this summer, take a leisurely bicycle ride through and around West Chester. Stop by the full-service bike shop at Hybrid Cycles, 126 East Gay Street, for a large selection of electric hybrid cycles as well as some of the finest in regular bikes. You can rent an e-bike, daily or weekly, to get a feel for how it performs. Already have a favorite bike? Hybrid Cycles can convert most brands to electric, if you're ready for a change of pace.
It's clear that this 300-year-old town is happily embracing a contemporary style that exudes a renewed and energetic vibe. With so much to do with dining, shopping and festival events, it's easy to take a day to relax and enjoy a great American.
Summer Events in West Chester
Through December
Chester County Historical Society
Through June, "World War I Commemorated." Through Dec. 31, "Many Nations/Chester County." 225 N. High St. Tues–Sat, 9:30 to 4:30. $4–$8. 610-692-4800; ChesterCoHistorical.org.
June 1
Resident Theatre Company
Season Preview Gala
An evening of live performances featuring a preview of next season. Chester County Art Association, 100 N. Bradford Ave. 6:30 pm. $100. RTCWC.org.
Fridays, June 1, July 6, August 3
First Fridays
Extended hours at galleries and boutiques, restaurant specials, entertainment and more. 610-738-3350; DowntownWestChester.com.
June 2
16th Annual "Up On the Roof"
See June Picks.
June 2
West Chester Spring Flea Market
& Bike Sale
Municipal Bldg., 401 E. Gay St.. 9 to 1. 610-436-9010; West-Chester.com.
June 3
Super Sunday
See West Chester article (above).
June 3–July 13
Uptown! at Knauer Performing Arts Center
June 3, The Mainliners Mens Acappella Chorus; June 8, July 19, Aug. 24, Dueling Pianos; June 9, Philadelphia Virtuosi Chamber Orchestra and Flamenco sensation Liliana Ruiz in Carmen; June 12, U.S. Air Force Heritage Winds Quintet; June 20–24, June 27–July 1, Soul Harmony: The Story of Deborah Chessler, Sonny Til and the Orioles; June 23, Extreme Doo Wop Acappella Concert; July 10, Opera Tutti! "That's Still Italian;" July 13, Better Than Bacon: Interactive Improv Comedy. 226 N. High St. UptownWestChester.org.
Thursdays, June 7–September 6
Swingin' Summer Thursdays
Great food, live music, clowns, artists, magicians, jugglers and more. Gay St. between High & Darlington Sts. or High & Matlack Sts. 6:30 to 9. 610-436-9010; DowntownWestChester.com.
June 10
Chester County Hospital Polo Cup
Enjoy live entertainment, a silent auction, beer garden, food and kids activities. Benefits the Prenatal Clinic and Chester County Hospital. Brandywine Polo Club, 260 Polo Rd., Toughkenamon. 1:30 p.m., with the match at 3 p.m. Tickets, $30–$35; VIP (includes open bar and food), $100. 610-268-8692; ChesterCountyHospital.org.
June 14–August 30
Town Tours & Village Walks
June 14, From Farmhouses & Meetinghouses to Mansions, tour kick-off in West Chester; June 21, Age of Steel Tour, Coatesville; June 28, An Industrial Giant, Isabella Furnace; July 12, The Birth, Growth and Future of the Mushroom Industry, Kennett Square. Tours continue through Aug. 30, 5:30 pm. Free. Some require registration. 610-344-6923; ChesCo.org/Planning/TownTours.
June 16
West Chester Craft Beer Festival
Enjoy an amazing line up of breweries and beers, food trucks, artisan vendors and live music. Benefits Charles A Melton Arts & Ed Center, 501 E. Miner St. $5–$50. WCBeerFest.com.
June 17
FatherFest at American Helicopter Museum
Treat Dad to a special day of antique cars, motorcycles, food trucks, a beer garden and maybe even a helicopter ride. 1220 American Blvd. 10 am to 3 pm., $10; helicopter rides, $60. 610-436-9600; AmericanHelicopter.Museum.
June 21, July 19, August 16
Music at Marshall Square Park
Come to the gazebo in Marshall Square Park for these picnic concerts. Visit the website for performers. 248 E. Marshall St. 6:30 pm. Free. 610-436-9010; MarshallSquarePark.org.
June 24
20th Annual BVHAC Challenge For Cancer Ride
Premiere bike ride in Chester County. 30-, 50- and 65-mile rides, 10- and 5-mile family rides benefit The Cancer Center of Chester County and the Neighborhood Hospice. Begin at Fern Hill Med. Campus, 915 Old Fern Hill Rd. Reg. 7:30 am. $45–$70. 610-431-5329; CCCRide.com.
June 28, August 9
Movie Night at Charles A. Melton Center
Movies announced later. 501 E. Miner St. Dusk. Free. West-Chester.com.
July 15
36th Annual Turk's Head Music Festival
See West Chester article (above).
August 7
6th Annual National Night Out Against Crime
The Borough Police Dept. invites families to enjoy live entertainment, refreshments, kids' activities, police, fire and EMS vehicles and a meet-and-greet with local responders. Henderson High School, 400 Montgomery Ave. 6 to 9. 610-696-2700.
August 11
Benchmark Twilight Cycling Classic
See West Chester article (above).
August 12
Touch A Truck Day
Kids love to see and touch different models of cars and trucks. Chester County Government Services Complex, 601 Westtown Rd. Noon to 4 pm. Pkg. $2. 610-436-9010; West-Chester.com.
September 8
Secret Gardens of West Chester
Garden tour featuring 12 private gardens. Tour, 10 to 3; plant sale begins at 10. Benefits the Horticultural Therapy Program. Barclay Friends, 700 N. Franklin St. 610-696-5211; BF.Kendal.org/Events.
September 16
39th Chester County Restaurant Festival
Great food, a beer and wine garden, live entertainment and vendors. Gay and Market Sts. The beer and wine garden is on Gay & Church Sts. Noon to 5. Raindate, Sept. 23. 610-436-9010; West-Chester.com.
For more events, check our Events Online or subscribe to our Events Newsletter.
Summer Dining in West Chester
Always a dining destination—West Chester spills out into the streets for summer.
Andiario
106 W. Gay St.
484-887-0919; Andiario.com
The Classic Diner
31 W. Gay St.
484-947-0809; TheClassicDinerPA.com
Dolce Zola
134 E. Gay St.
484-887-0760; DolceZola.com
Iron Hill Brewery & Restaurant
3 W. Gay St.
610-738-9600; IronHillBrewery.com
New American cuisine prepared in a scratch kitchen, paired with an on-site brewery producing fresh, award-winning beers, all in a friendly, comfortable atmosphere. Happy Hour specials available Monday–Friday from 5 to 7. Reservations and "call aheads" are accepted for lunch and dinner, seven days a week. Outdoor seating available, weather permitting.
Landmark Americana
158 W. Gay St.
610-701-9900; LandmarkAmericana.com
This is the spot to watch a game or get together with family and friends. Serving a wide variety of burgers, tacos, mac 'n' cheese and finger foods, as well as healthy options of soups, salads and lighter fare. They carry a full gluten-free menu plus kids' and late night menus. Large private room with full bar available. Open daily, 11 am to 2 am.
Limoncello
9 N. Walnut St.
610-436-6230; LimoncelloWC.com
The Lincoln Room
28 W. Market St.
610-696-2102; On Facebook
Enjoy a quiet lunch or cozy tea for two in one of West Chester's most famous historic buildings. Select from their extensive menu of specialty hot teas or seasonal iced tea, sweet and savory scones, seasonal quiches and daily tea sandwich specials. And don't forget dessert! BYOB. Private parties, Sun–Tues. Lunch and tea, Fri–Sat, 11 to 3. Reservations suggested.
Love Again Local
18 S. Church St.
484.266.7381; LoveAgainLocal.com
Más Mexicali Cantina
102 E. Market St.
610-918-6280; MasMexicali.com
If you haven't tried this town favorite (family-owned and operated) and award-winning Mexicali cuisine, put it on your "must do" list this summer. West Chester's only rooftop bar/restaurant serves your favorite Mexicali dishes with the freshest margaritas (no sour mix here) this side of the border. Curb-side dining. Sunday Funday Live Music on the Roof. DJ Fri Sat.
Mercato Italian Ristorante & Bar
33 W. Market St.
610-701-6326; Mercato33.com
Pietro's Prime Steakhouse
125 W. Market St.
484-760-6100; PietrosPrime.com
Pietro's Prime is an upscale, casual steak house and martini bar in the heart of downtown West Chester, serving prime cuts of beef and a variety of seafood selections. Dine in their rustic dining room setting or enjoy their outside patio seating. Stop by for live entertainment, Wed–Sat, in the bar area along with their signature martinis and cocktails.
Ram's Head Bar & Grill
40 E Market St.
484-631-0241; RamsHeadBarAndGrill.com
West Chester's first gastro pub, Rams Head specializes in upscale pub fare, craft beer and whiskey. Their seven-time award-winning Filet Mignon Cheesesteak was voted "Best Bite in Town" and their nachos are a must have. Throughout the summer enjoy their patio, featuring a dog menu. With daily specials and weekly entertainment, Rams Head has something for everyone.
Restaurant 51 Tap & Spirit
30 N. Church St.
484-887-8004; 51WestChester.com
Roots Cafe
133 E. Gay St.
610-455-0100; RootsCafeWC.com
Saloon 151 Whiskey Bar & Grill
151 W Gay St.
610-701-8489; Saloon151.com
Side Bar & Restaurant
10 E. Gay St.
610-429-8297; SideBarAndRestaurant.com
Side Bar and Restaurant is a casual restaurant and bar focusing on excellent and affordable food, craft beer and local spirts. They cater to young professionals, established business professionals and families. The restaurant and bar have a neighborhood feel and strive to be a place where a complete stranger will feel like a "regular."
The Social
117 E. Gay St.
610-738-3948; TheSocialWC.com
Spence Cafe
131 N. High St.
610-918-1272; Spence.Cafe
Teca
38 E. Gay St.
610-738-8244; TecaRestaurants.com
back to top