Around the World in West Chester
Photos by Timlyn Vaughan Photography
Destination dining with international options.
Download the PDF (Includes Map)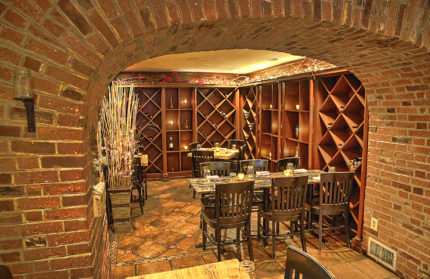 Downtown West Chester has plenty to offer, particularly with its wide selection of eateries. After all, the Borough got its reputation for destination dining the old fashioned way—it earned it restaurant by bistro by bar by café by diner by bakery.
But one thing that stands out from a quick review of the over 50-some dining choices is the international range of culinary styles served up with a heaping helping of cosmopolitan flair. And the West Chester dining scene just keeps getting bigger. And better.
In the past few months, international flavors have been introduced from around the world. So why not take your taste buds on a tableside trip?
Travel from Church to Gay Streets
Starting close to home, locavores will be delighted that Elena Mascherino opened Love Again Local (18 S. Church St.; LoveAgainLocal.com). Not only is every effort made to bring fresh Brandywine Valley food to the table, it's easily the most extensive vegan menu around. Enjoy healthy and satisfying sandwiches from ingredients that are all plant-based. Plus a selection of all-vegan GMO-free meats, cheeses and dressings. And save room for a delicious Love Chunk Vegan Cookie for dessert.
Chef John Brandt-Lee of Avalon Restaurant fame has recreated this popular downtown bistro, and transformed it into Bar Avalon (116 E. Gay St.; AvalonRestaurant.net). It's now being discovered by new fans of the expanded upscale bar menus that take you back in time with Prohibition-era novelties and handcrafted specialty cocktails and bourbons. The casual, bistro-style menu offers gourmet pizzas, handmade pastas, fresh fish and braised meats. For casual get-togethers and conversation, there's an extensive wine list and a dozen draft beers to complement meals and snacks. In addition to the stylish wine cellar and bar, the restaurant has large and small rooms, perfect for private events of all sizes—10 to 70 guests.
After months of expansion and remodeling, Dolce Zola (134 E. Gay St.; DolceZola.com) is now welcoming diners. No longer an intimate Italian restaurant like its predecessor, i-Pasta, Dolce Zola describes itself as a "Northern Italian Chef House." The feeling of a family-run restaurant is still there, but the enlarged seating area provides a more relaxed and gracious experience. It's still BYOB, so bring your favorite Italian wine. Inside tip: all plates are made to order, so on busy evenings, an appetizer or cheese plate adds to the relaxed experience.
Inspired by the beautiful Greek island of Mykonos, Opa Opa (122 E. Gay St.; OpaOpaGR.com) refers to itself as "The Small Big Greek Place," perfect for those looking for quick, fresh and authentic Greek food. Simple and freshly made gyro sandwiches and platters, melitzanosalata (eggplant dip), salads and traditional Greek entrees—moussaka and spanakopita—make for a quick lunch or easy dinner. Of course, their Greek yogurt is "unlike anything you've ever tasted." Eat in, take out or try their catering.
Restaurateur Anthony Mastroianni has fashioned his new eatery as a neighborhood bistro with a name that makes it easy to find: 39 West American Bistro (39 W. Gay St.; 39WestAmericanBistro.com). It's a wine-friendly BYOB, focusing its menu on seasonal ingredients from local sources, prepared with a contemporary flair. Whether it's a flat iron steak with house made fries and Bearnaise (the classic steak frites of every French bistro), or bucatini and littleneck clams, pancetta, with parsley and bread crumbs, all is served up in a casual and friendly atmosphere.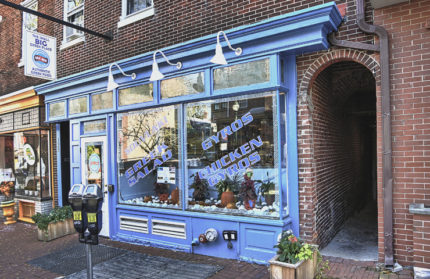 To Market and High
It's not often you see a restaurant billed as American Thai, but Matt and Tew Gourley—yes, one was born in America and the other in Thailand—decided there could no better combination. So they opened the Spicy Pig Café (234 W. Market St.; SpicyPigCafe.com). Looking for a traditional breakfast or brunch menu? Spicy Pig has it. Craving Asian soup or fried rice? You'll find that, too, at Spicy Pig.
When Tom Strauss and George Zeppos opened Pure Fire Pizza (30 S. High St.; PureFirePizza.com), they did so believing it would be their customers who would build their own best pizza. Don't worry: the friendly staff will walk you through it. Start by selecting a dough, there are four kinds (including gluten-free or cauliflower); then sauce, choose from six different kinds; cheese, seven kinds of cheese; then pick your protein, garden varieties, and top it all off with one of eight after-bake sauces (balsamic fig glaze, anyone?). You now have your own customized personal pizza to enjoy!
A college town like West Chester can never have too many places for great pizza, so there's another new option just a few blocks east. The first thing you notice at Rize Pizza (124 E. Market St.; RizePizza.com) is that there are two types of crusts. The signature Rize Crust is used for their selection of slices. It's square, airy, coated with sesame seeds on the bottom, and deceptively light. The Traditional Crust is thin and round, like a classic Neapolitan pie. Try the upside-down pizza served with a thick, deep, crispy Rize crust.
Authentic Japanese ramen and Hawaiian-inspired barbecue dishes are a welcome treat each day starting at 11a.m. at Rai Rai Ramen & Hawaiian BBQ (124 E. Market St.). Menu items include miso ramen, crispy fried shrimp ramen, curry charsiu ramen, spicy kim chee ramen, Japanese fried rice, rib eye steak, barbecue short ribs and barbecue chicken. Most orders can be prepared for vegetarian diets. Tofu is an excellent substitute for pork buns. And if you like it spicy, this is the place for you.
Cookie Explosion
For those who enjoy a little something sweet after a meal, be happy to be in West Chester, which can now brag that it's becoming a cookie capital. So get ready for some serious cookie sampling.
Baked (34 S. High St.; BakedWC.com) has warm cookies, plus edible dough, along with their signature ice cream. Insomnia Cookies (142 W. Gay St.; InsomniaCookies.com) loves serving warm, delicious cookies right to your front door. And Cookie Dope (28 S. High St.; TheCookieDope.com), which should be open by now, offers edible cookie dough, ice cream, divine toppings and self-described dope combinations, thus the name.
And, yes, late night delivery requests are welcome by all three! Who will know if you try them all?
back to top