Delaware Beaches Worth a Visit
These Delaware beaches are ready to welcome you back for your next family trip
Life is better at the beach. Though it took the Delaware beaches a little bit longer to reopen than the Jersey shore, these sandy destinations are now open and ready to welcome you back. Welcome to the state with the Summer Capital of the U.S. (for all the Washingtonian's who head to the beaches there.)
Peaceful wildlife refuges and state parks, friendly coastal towns and tax-free shopping—it's no surprise Delaware is home to some favorite vacay spots. Though COVID-19 precautions have required some restrictions, there are still plenty of reasons to plan a trip to the beach!
We've rounded up the best current information we could find to help you plan a vacation to your favorite Delaware beach town. From north to south, the beaches of the First State promise to help you make great summer memories.
Delaware's First Town
Roughly a half-mile square, the town of Lewes was founded in 1631 by the Dutch, and proudly claims to be "The First Town in the First State."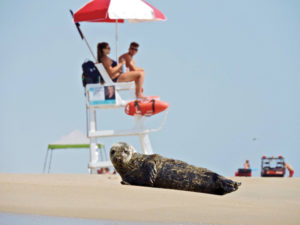 The beaches here are now open for sunbathing and swimming, with social distancing guidelines, so stay 6 feet away from everyone outside your party.
We suggest a stop at the Historic Lewes Farmers Market. Drop by the George H. P. Smith Park on summer Saturdays between 8 a.m. and noon for fresh produce, homemade jams and jellies, coffee and other treats.
If you want to take a tour of the local waterways, book reservations with the Cape Water Taxi. Choose from narrated, quiet, sunset and live music cruises. There's decreased capacity on the boats, with social distancing and mask required for boarding.
Or visit the Cape Henlopen State Park for miles of preserved beaches, nature trails and bird sanctuaries. Cape Henlopen—like Delaware's other state parks—is open for exercising, dog-walking and surf fishing (under limited conditions). Bring a mask, because you must wear one when near other people and social distancing isn't possible. And bring some money along, too, for the entrance fee.
Lewes.com or LewesChamber.com.
Family-Friendly Rehoboth Beaches
Making up one square mile, Rehoboth is the largest beach resort in Delaware, and a favorite for families because of its mile-long boardwalk, family amusement parks and beach patrols that keep visitors safe.
Like Lewes, the beaches and the boardwalk in Rehoboth are open for walking, exercising, sunbathing and swimming. Gather in groups of 10 or fewer and maintain social distancing. Remember masks are required on the boardwalk. Beach permits are on sale now.
While you're on the boardwalk, be sure to visit the shops and restaurants. Some businesses are now open at 30% capacity, as long as social distancing is maintained, while others now have outdoor dining for you to enjoy.
We also suggest considering a tour with Delmarva Discovery Tours. Normally, they offer brewery and winery tours, eco tours, farm tours, antiques trail tours and much more—though some may be on hold now. Reservations are required, so give them a call and see what's available.
Small Town Charm
Dewey Beach embodies that small beach town feel with a low year-round population of about 300 in an area about a mile long and two blocks wide. Still, its wide, clean and dog-friendly beaches make it a popular vacation destination.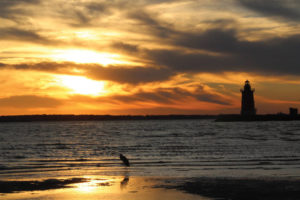 Parking permits for the Dewey beaches are on sale, just in time for your next visit! The beaches are open for swimming, sunbathing, volleyball, fishing and exercising, as long as you keep practicing social distancing. Bonfires are also permitted on the beach, with a permit. Check Dewey Beach's website for additional regulations.
If you're planning a visit in August, make sure to catch the annual East Coast Skimboarding Championships, August 7–9. Watch some of the best in this sport perform tricks as they compete for cash prizes.
And for a bite to eat, check out the list of restaurants available at VisitDelaware's website. While many offer pick-up, take-out and delivery, some are starting to reopen for limited seated dining. One to visit is Starboard, an iconic eatery known for its Bloody Mary smorgasbord and piles of beach fries—reservations required.
TownOfDeweyBeach.com or VisitDelaware.com.
Or Further South …
Near the southern-most end of Delaware are the small and laid-back beach towns of Bethany Beach and Fenwick Island. If a quieter vacation is more your style, either of these towns may be worth the longer drive.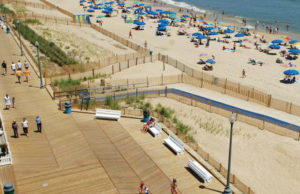 Like most of the Delaware beaches, Bethany Beach and Fenwick Island are open for you to enjoy. Grab your beach chair and towel, find a spot at least 6 feet away from anyone else, and sit back and enjoy the sunshine.
For more outdoor fun, Fenwick Island State Park is a serene place for sunbathing, fishing, windsurfing and more. There's kayaking, paddle boarding and sailboating rentals, instruction and tours offered by Coastal Kayak.
Or satisfy your cravings at Bethany or Fenwick's restaurants. VisitDelaware's website lists the full range these towns have to offer, with everything from fresh seafood and boardwalk favorites, to Italian comfort food and American cuisine. And if you prefer to do your own cooking, support local and shop at the Bethany Beach Farmers Market for farm-fresh produce, foods and flowers.
TownOfBethanyBeach.com, FenwickIsland.Delaware.gov or VisitDelaware.com.
back to top