Competition for the Ageless
Exercise vs. Fitness vs. Sports at Local Senior Communities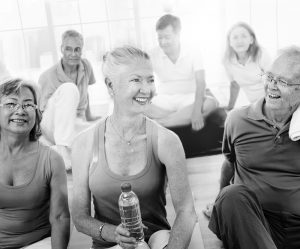 By now most of us are aware of the benefits of exercise. And those benefits are even more important as we age.
Yet like too many folks, most seniors haven't been keeping their activity level as high as experts advise. The Mayo Clinic, for example, recommends at least 150 minutes per week of moderate exercise, plus strength training twice a week. Rocking in a chair doesn't count. Nor does bragging about grandchildren.
Getting fit needn't be painful or produce injury, though. Make sure your exercise choices are low-impact to spare your joints—no jumping, hopping or running, nor sports like basketball or football, either. And, of course, consult your physician before any major increase in your activity level.
Exercise should be fun as well. And it should become more fun as you get better at your chosen activity. For the really exciting stuff … well, we'll get to that later.
Starting Slow
Assuming you're not (yet) what's generally considered to be in shape, your first efforts will have to be modest. Walking, swimming, maybe bicycling, possibly some light resistance training. Some may add yoga, tai chi or another stretching routine.
In general you'll find our local senior communities support these fitness goals. For example, at Friends Home in Kennett, residents can join the Walking Club. Whether it's venturing through the streets of Kennett Square or in local parks, residents look forward to the club's outings. The pace depends on the group of residents who attend on a given day.
Barclay Friends in West Chester has a Going Fit group of wellness advisers. The activities offered include things like aerobic fitness classes "to the beat of popular music," says Faith Woodward, Director of Marketing and Admissions. It may seem "more like a dance party."
At some communities the residents themselves take the lead on choosing fitness options, especially where there's land and on-site facilities. Much of the fitness activity at Kendal-Crosslands, for example, is resident-organized. Their residents will kayak, ride bicycles, play water volleyball, conduct putting green contests and hike the community's seven miles of trails.
Still, the staff do get involved. Kendal-Crosslands' Director of Communications and Public Relations, Michele Berardi, reports that their Vitalize 360 program is thriving. A life coach helps establish and track goals, both athletic and mental, for residents who then work toward those personal goals with daily walks and hikes, outdoor fitness classes and outdoor pool activities. Mindfulness classes, tai chi, spiritual groups and other activities offered by Kendal-Crosslands also may help "to keep the mind and soul healthy."
Picking Up Steam
Yet many seniors want something more challenging. They not only want to go faster, sport bigger muscles, move more easily and gracefully, but aspire to do something that's even more fun!
Again, we find many senior communities offering that level of activity on their campuses.
Echo Lake, a Sage Life facility in Malvern, has a sports simulation lounge, a fitness center and walking trails. In the simulation lounge, residents can practice golf swings, skeet shooting or play a round of "Best Ball" golf. Echo Lake also has pickleball and bocce courts beside its 25-acre lake, making the campus sound a bit like summer camp!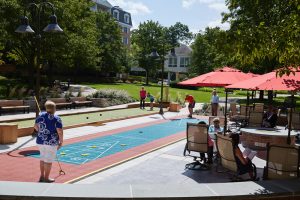 For the fitness minded, Media's Riddle Village has a fitness center (open 24/7), an indoor swimming pool and a full-time fitness and wellness coordinator leading classes in yoga, balance, stretching, water fitness and meditation. Residents also enjoy their time at a bocce ball court, shuffleboard court and putting green. The community promotes participation in these activities by scheduling competitive tournaments. Kristen Lampana, Director of Marketing, says that bocce ball "is probably the most popular."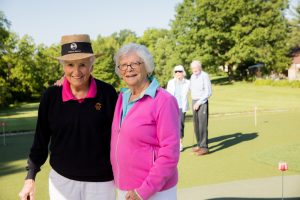 In Newtown Square, Dunwoody Village similarly offers classes, according to its Community Relations Coordinator Monica Knauss, and it also encourages competition, socialization and interaction. Classes include morning stretch, strength class, pilates/yoga, balance and tai chi. The residents also walk on Dunwoody's nearly two miles of trails or inside on walkways where distances are marked to encourage residents to track their progress and steps.
But that's only part of the story. Dunwoody encourages residents to take up sports like pickleball, bocce, bowling and golf. Dunwoody resident Peter Hubbard, a former tennis competitor, now plays pickleball at the local YMCA during the week and on campus every Saturday. About seven play at Dunwoody, mixing their partners, in what Hubbard describes as a "very social" and "friendly game." Still, you must be in good shape for their level of play.
Eileen Hooper, another active Dunwoody resident, is on their sports committee. She participates in golf—putting, that is—and the other activities, including ping pong, shuffleboard and croquet. On Fridays, Dunwoody has contests, awarding plaques to the winners.
Driving It Home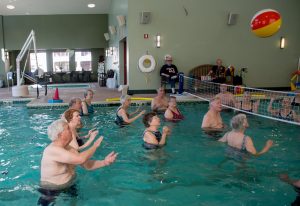 Acts Retirement-Life Communities two facilities in County Lines country—Lima Estates and Granite Farm Estates—are both known for their extensive fitness and athletic programs. These two communities include fitness centers, heated pools and hot tubs, as well as fitness classes. Residents participate in strength training, low-impact aerobics, balance, stretching, line dancing, chair exercise and aquatic exercise classes.
There are also walking trails at both facilities, as well as organized walking programs, including "virtual" walking of a long trail or road where residents keep track of the minutes, miles or steps they do each day. Residents can select a trail somewhere in the U.S. and track the miles until they complete their virtual trail.
Residents of either community can also avail themselves of bocce courts, putting greens, shuffleboard courts, ping pong, table shuffleboard and other facilities and equipment. Tournaments, both within the community and between communities, are scheduled in corn hole, billiards, Wii bowling, water volleyball and other sports.
Both communities have Cyber Cycle equipment (combining a stationary bike with virtual reality, competition and videogames) and have competed in several Cyber Cycle Challenges with other Acts Communities as well as on the Cyber Cycle Worldwide Challenges.
Residents also participate in an annual OlympiActs, competing against other communities in our region in various events. In essence, they are stoking your competitive spirit!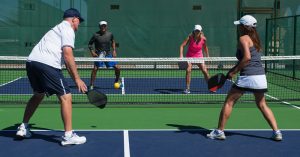 Among the senior communities in County Lines country, Hershey's Mill provides perhaps the widest opportunity for sports. "Sports have really exploded at the Mill," declares Jack Keeley, its Director of Advertising.
Keeley enjoys playing pickleball on Hershey's Mill's eight courts. He reports there's competition scheduled every day on the pickleball courts, and there's typically several players waiting for a turn.
Hershey's Mill's bocce tournament, with 72 people involved, is extremely popular, lasting all summer. On campus, Hershey's Mill also offers four courts for tennis, two courts for bocce ball, two for shuffleboard and two for horseshoes. Its cycling club just came back from a 25-mile ride at Jim Thorpe, PA. Many resident cyclists often use the Mill's five-mile circuit course. For swimmers, there's a pool with lap lanes and diving area.
And Hershey's Mill has access to a nearby championship par-71, 18-hole golf club with multiple tees for various levels of play, along with a practice facility including chipping, putting and a driving range.
Phew! You can get winded just thinking about it!
The bottom line is that sometimes you should exercise for your health. And that's certainly a good reason—to live longer, to live free of disabilities. On the other hand, sometimes you just want to have fun. You don't get fit just to get fit. You strive to be fit so that you can play! And compete! Luckily many of our local senior communities are making that possible.
back to top