Bridal Boot Camp
The benefits behind this growing trend
You've probably heard about bridal boot camp or the phrase "sweating for the wedding." Both may conjure up comical images of a beautiful bride dressed up in her flowing white gown, wearing a veil and combat boots while doing pushups.
What may seem like just another gimmick in the bridal industry is actually a surprisingly helpful part of wedding planning that can reap benefits that last long after memories of the toasts and "I do's."
Why exercise before the big day?
We all know exercise is a great way to get in shape, and a workout can do much more than build muscle and burn fat to help you look great in a wedding gown or tuxedo. The mental and emotional perks of exercise are also important for brides and grooms as they prepare for their big day. And exercise will help improve the quality of your sleep, too.
The stress of planning a wedding—and, let's be honest, life in general—can take a toll on everyone involved, even extending to the couple's family members and busy members of the bridal party. Mothers of the bride are known to feel pressure before
the nuptials, and those of a certain age may be attending several weddings during the busy peak wedding season.
Luckily our bodies have a way of combatting this stress naturally. All we have to do is get moving!
Special Plans for The Wedding Party
Many gyms and fitness studios offer special programs and packages geared specifically towards brides. And most are happy to extend these offerings to others involved in the wedding—like the groom, mothers of the bride and groom, maid of honor and even the entire wedding party.
The goal for the pre-wedding exercise plan is simple: to help you look and feel your best on your special day. There are countless ways to accomplish this. The trick is finding the right exercise plan for you—one that doesn't have to feel like boot camp.
Of course it's best to start your training as early as possible—especially for ambitious goals for the big day—but four to six weeks out can produce noticeable results you'll see and feel.
Here are some options.
One-on-One. Whether you want to shed extra pounds or just tone your arms for the beautiful strapless wedding or bridesmaid gown you'll be wearing, a personal trainer can help you get specific results in the shortest time. Workouts are tailored to your personal fitness level and fitness goals. And a trainer can work around your busy pre-wedding schedule.
Better Together. Working out with your fiancé can be a powerful bonding experience where you support one another and work together toward shared goals. Or, maybe someone else in your life would make a great workout buddy—your mom or your maid of honor. It can be a great motivator to work out with someone who can help keep you on target, while you do the same for them. Ask your trainer about partner rates to share your training session.
Make It a Party! What better way to shake off those pre-wedding jitters than with a fun workout class filled with your friends? As more people realize a good sweat session might be what they need when they feel overwhelmed, Bridal Bootcamp Parties are becoming a regular part of the wedding weekend festivities. It's a great way to boost your energy and calm your nerves at the same time. And if your bridal party is local, you can even make it a weekly workout building up to the big event of the wedding day.
The right fitness routine will stick with you long after the dress gets packed away. Starting healthy habits now will be the best investment you can make in yourself as you begin a brand new chapter of life.
Showing off your hard work as you stand next to your life partner in front of your family and friends will make all the sweat and effort worth it!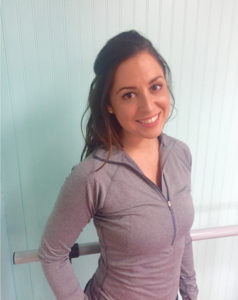 Ann Marie is co-owner of Class-Fit Studio, a boutique fitness studio in Newtown Square. The studio offers a variety of fitness classes and specializes in personal training and small group training, with special packages for brides and others preparing for weddings. ClassFitStudio.com.
back to top