Books That Inspire
Lift your spirits with a good book.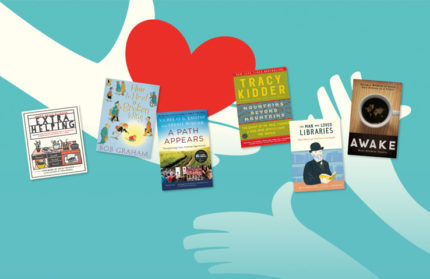 Charity has a protean nature. It's a word too often wrongly associated with the idea of a handout and not often enough with the ideals of goodwill and basic decency.
These six books offer definitions of charity that encompass the gifts of food and knowledge, the perspectives of a doctor and a child, and the practical ways we might go about making our part of the world a better place for each of us.
Extra Helping: Recipes for Caring, Connecting and Building Community One Dish at a Time
by Janet Reich Elsbach and Anna Brones
How often have you prepared a meal for family members or those of a larger community? Making and serving food to others is the oldest communal act of our species—the offering of sustenance becomes an offering of love. Most of the foods in this book are a kind of comfort fare: kebabs, noodles, chicken, rice, zucchini, muffins, soups, twice-baked potatoes. The authors then provide combinations of ingredients and complementary dishes so the host can create a gustatory harmony for guests. One reviewer described this book as "a master class in the art of nurture." This is a cookbook for those who wish to give joy and solace through the meals they make for others.
How to Heal a Broken Wing
by Bob Graham
No one else in the city stops for or even sees the pigeon with the broken wing except for Will, a child, who insists on taking it home and caring for it. He enlists his parents' help. He seems to convince them with his intensity. The bird heals. Will releases it. It flies away. That's it. The text is a bare narration. None of the characters speak. In the midst of crowds hurrying past, Will alone acts to allay the suffering of a creature that would have died without his insistence on compassion. Graham never uses the words charity, kindness or care, but he shows that a child may lead the way to the core of all three of those words.
Mountains Beyond Mountains: The Quest of Dr. Paul Farmer, A Man Who Would Cure the World
by Tracy Kidder
Since 1987, Paul Farmer, a Harvard educated doctor, has worked in the poorest country in the Western Hemisphere. He provides medical care, runs a series of clinics and advocates for the poor with whatever leaders are in power. Farmer believes "the world's problems [cannot] be fixed without any cost to [ourselves]. … There's a lot to be said for sacrifice, remorse, even pity. It's what separates us from roaches." His charity is of this specialized kind: his life is the charitable endeavor and he lives within his acts of charity. As such, he has acquired moral authority and unparalleled credibility in terms of analyzing and offering solutions to the calamities of poverty and disease.
A Path Appears: Transforming Lives, Creating Opportunity
by Nicholas Kristof and Sheryl WuDunn
Husband-and-wife team Kristoff and WuDunn have created a philosophical case that global problems are not hopeless but can be solved by an application of creativity, concerted effort and funding. They show how to create the paths that lead to these solutions. One example, a $40 operation can alleviate the blindness of millions of Africans as caused by trachoma.But before charitable giving can make a difference, one must be able to make a conduit through which it can flow. Kristoff and WuDunn offer this formula: vision coupled with a focused desire to help creates practical results. They have written a book that fosters hope.
The Man Who Loved Libraries: The Story of Andrew Carnegie
by Andrew Larsen and Katty Maurey
Sometimes charity reads like expiation. Andrew Carnegie, a brilliant industrialist and businessman, was also partially responsible for the Johnstown Flood and a lockout/strike at his Homestead Steel Works that led to deaths, many injuries and permanent bitterness in the community. He spent his final years giving his money away—in the process building over 2500 libraries. He said, "A library outranks [anything] a community can do to benefit its people. It is a never-failing spring in the desert." The illustrations in this book, done in warm colors, combine a love of books with the special intimacy of libraries—a space apart from the push and shove of life outside their sanctuary.
Awake: Doing a World of Good One Person at a Time
by Noel Brewer Yeatts and Aimee Lilly
Who has not been staggered by a sense of helplessness in our daily encounters with human suffering? How are we to begin to act to ease all that pain? Yeatts and Lilly propose these suggestions: pay attention to suffering, and then, person by person, case by case, decide you will humbly act to help make one life better. They say we must learn to see the suffering, then move towards it and create "a ripple effect that can change the world." Charity begins with one, not with many.
Find the Wellington Square Bookshop on Facebook, Instagram and Twitter. The Bookshop hosts a café, weekly story times on Tuesdays for children (ages 1–5), monthly fiction and nonfiction book clubs, author events with book signings and an Avid Reader podcast available on Podomatic. 549 Wellington Square, Eagleview Town Center, Exton. WellingtonSquareBooks.com.
back to top