A Feast for the Eyes Only
Come holiday time, grand historic homes and museums in Delaware will have tables set with a spectacle of holiday dishes and grand feasts that look so real the only thing missing is the aroma. But it's all fake food.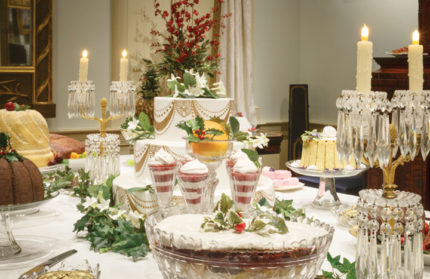 Transforming historic homes into holiday extravaganzas is a gargantuan undertaking that requires many people to remove, pack and store all sizes of countless decorative items and antiques as well as move furniture to other rooms not on display.
There's another part of the process to set the tables for the holiday feasts. Here's a peek behind the curtain.
Winterthur Museum's 40th Yuletide
The childhood home of Henry Francis du Pont was elegant and festive year round, but never more so than at Christmas with tables bedecked with sweet and savory wonders. More than 175 years later, the holiday festivities continue, and the tables are laden with culinary delights.
Today, none of the food is real.
"This is our 40th anniversary of Yuletide at Winterthur," says Interpretation and Collections Assistant, Catherine Westbrooks. "Forty years ago that food would have been real, sitting on period dishes. The staff refrigerated and changed out the foods. Washing and drying table settings that were part of the historic collection meant the potential for damage was considerable."
In time, freeze-dried food was used. But when a freeze-dried piglet named Portia began to reconstitute while in storage, it was clear this system couldn't continue. Fresh foods could attract pests that could then impact the collection objects. Now, making, ordering and storing faux food is the common practice.
The faux oysters are painted Model Magic. The game pie, pig's foot and petit fours are works of art in clay and plaster. The tea and coffee are painted round Mylar inserts that sit inside the cup just below the rim.
"The goal isn't just to make food; the goal is to make the food look historically accurate," says Catherine. "Chickens of yore were smaller, scrawny and far from perfectly smooth. Apples and other fruits weren't the colorful beauties we expect today, so we have to be historically true to not only what foods were being eaten but what they looked like."
Much research goes into historic foods before their mock ups reach the table. Old recipes, books on hearth cooking and historic recipe books give creators a chance to make the real foods first so they know what the finished products look like before trying to replicate them from other materials.
Winterthur's perfectly roasted turkey was made so long ago no one remembers how it was made, but it is beautifully constructed and carefully stored. Today, a faux turkey can cost several hundred dollars.
And come the holidays, every museum needs a turkey.
Nemours Estate's Grandeur & Beauty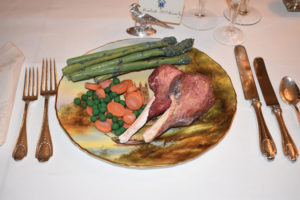 If you know the home of Alfred I. du Pont contains more than 70 lavish rooms, then the display on the dining room table might not be a surprise in its grandeur and beauty. Be prepared to be surprised anyway.
"We have shopping lists and seating charts, but we don't have any menus from this house detailing exactly what was served historically, so the foods on our tables are open to interpretation and a lot of creativity," says Paula Phipps, who has been Supervisor of Interpretive Programs for the past two and a half years. "The new director, John Rumm, wanted to make Nemours more welcoming and thought there was no better way to do it than to display a veritable feast of food."
Paula should know. In the past two years, she has made most of the food, all magnificently sculpted from clay, paper or plaster that embellishes the main dining table and the social areas around the house.
"I've made casts in order to make multiple foods," says Paula. "I used a dog's toy to make a cast for the lamb chops. The fried chicken is made of plaster using latex molds made from real pieces of fried chicken. The ham began as a plastic bottle. Ice cream and mashed potatoes are the same recipe: corn starch and hair conditioner.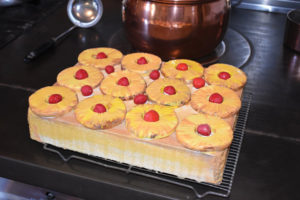 "When I had to make Fritos, a favorite snack here, I used thin sheets of Styrofoam, painted them, and heated them until they curled. It was the first thing I ever made," she says.
After that, it was Paula in her kitchen creating vegetables, condiments, main dishes and tea sandwiches. Her pineapple upside down cake of Styrofoam and clay will leave guests drooling and in awe.
When asked what she would like to have that she doesn't, in spite of closets bursting with her artistic efforts, there is a pause and then Paula says, "We need a turkey."
Hagley Museum's Twelfth Night desserts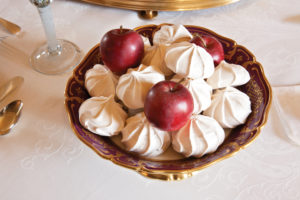 Visitors with a sweet tooth should head to the home of E. I. du Pont, the founder of the DuPont Company, at Hagley. "We do a traditional Twelfth Night display of desserts because we know from our archives that Twelfth Night parties actually took place here," says Debra Hughes, Curator of Collections and Exhibits.
"We've had many years spotlighting a raspberry bomb, a Styrofoam cake covered in artificial raspberries. However, this year, we've done an actual Twelfth Night cake," says Debra.
The cake, made of painted plaster, rests upon a more contemporary cake plate that can take the weight, a reminder that faux foods on period plates must be light so as not to cause damage. Surrounded by faux sugary lady fingers, the cake is a masterpiece. There are also glasses of colorful plastic gelatin along with plates of petit fours, fruits, and wedges of faux sweet potato pie.
Debra says, "We order or make everything. I even pick up things from craft shows. If someone has made a very real looking ceramic cherry or apple pie, I buy it."
This year, the theme is going to be Christmas Past and Present, and once again, Debra is going to be in her kitchen creating garnishes called Frosted Boxwood, a recipe from 1837. Though a time-consuming effort, they are the perfect sparkling touch to the many faux delights that adorn Hagley's sweet, dessert-laden table.
Odessa's Storybook Meals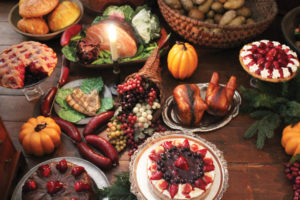 Guests in love with children's books will be visiting the Corbit-Sharp House or the Wilson-Warner House. Since 1986, this town has welcomed guests young and old into the holiday season with an exciting and nostalgic journey through classic children's literature.
"Each year we choose foods for the table and decorate one of these homes based on themes from children's tales and poems," says Brian Miller, Associate Curator. "This year's theme is The Secret Garden." Visitors from previous years walked through Sleeping Beauty, Peter Pan, Hansel and Gretel and Beatrix Potter stories.
Odessa boasts a remarkable collection of faux foods. "I've made a few things," says Brian, "but it's a lot of work and messy. Last year, we inherited a good stash of wonderful faux foods from a former staff person of Colonial Williamsburg who made these pieces. She was downsizing and gave us not only the foods, but many of the molds as well for nearly 50 different foods including rockfish, meats and vegetables."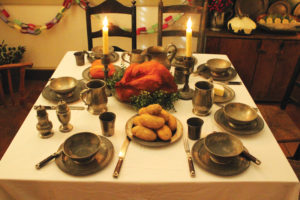 For guests who have secretly drooled over the tarts and candies, Brian recommends going on the Curator Candlelight Tour held the last Thursday before Christmas. Brian will choose plaster and clay delicacies from the tables to hand guests.
For those planning holiday tours of any of these grand homes and museums this season, go for the history, go for the spirit and the fun … and now … go for the food. You won't believe your eyes.
For years, Karen Jessee has been a contributing writer to local publications. A former teacher and business woman, she's now a speaker on women's history and the accessories and clothing that tells women's stories.Her articles and presentations have won both state and national awards. More at BustlesToBras.com
back to top