18th Taste of Phoenixville
Share the warmth on January 16, 2020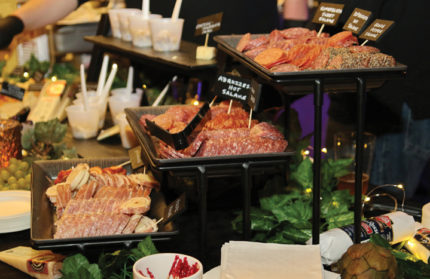 On a frigid night in January, the lights will be twinkling at Franklin Commons in Phoenixville, as Good Samaritan Services welcomes about 500 people to the Art Gallery. Take off your coats. Shake off the cold. On this night, share the warmth.
Smiling chefs and restaurant staffs will stand ready at their tables, trays steaming. Guests will eat fabulously—crab cakes, barbecue, sliders and more. And they'll drink, mostly local.
Guest will also dance and can join in a Wine Grab. A few will win much more!
Don't miss the huge table of Silent Auction items. Diners can bid on tickets to amusement parks, theaters and museums, or on baskets of kids' activities, pet accessories, dining experiences, sports memorabilia or  assorted spirits.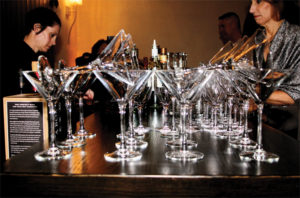 About 25 restaurants and caterers will set out tables. About five will supply the brews, wine and spirits. (See sidebar for the current list). For VIPs, Manatawny Still Works will pour whiskey and Goose's Montecristo Cigar Lounge will offer cigars.
But all will open their hearts to a good cause—helping the homeless of Chester and Lancaster Counties. Good Samaritan Services serves about 200 people per day in its four housing facilities—a men's shelter, a women's and children's shelter, and two permanent housing services. The group also provides scholarships, car loans, micro-loans, matched savings program and job training.
Nate Hoffer, Good Samaritan Services' Chief Executive Officer, asks that we "guard our hearts" and not fall into blaming the victims. Guided by Christian faith and compassion, he calls for generosity and looks to implement the organization's goals through community partnerships, by taking responsibility for the resources granted, and by expressing gratitude for the help it receives and shares.
On its face, Taste of Phoenixville is a big party: tasty, filling and fun, bringing Phoenixville together in the dead of winter. But the party is all the more precious for all the people it serves.
Come, join in this good cause.
If You Go:
WHEN:   January 16, 2020, 6 to 10 p.m. VIP Reception, 5 to 6 p.m.
WHERE:   Franklin Commons, 400 Franklin Ave., Phoenixville
FOR TICKETS:  TasteOfPhoenixville.com
Restaurants for 2020
Guests at Taste of Phoenixville

Bistro on Bridge

Bluebird Distilling
Bridge Street Chocolate
Drexelbrook Catering
Foresta's Market
Great American Pub
Green Lion Bakery
Heart Stone Coffee
Limoncello Ristorante & Caterers
Manatawny Still Works
Molly Maguire's Irish Restaurant & Pub
PJ Ryan's Pub
Rivercrest Golf Club & Preserve
Robert Ryan Catering & Design
Root Down Brewing Company
Sedona Taphouse
Sly Fox Brewing Company
Sodexo
St. Peter's Bakery
Stable 12 Brewing Company
Stone House Grille
Tony's Family Restaurant
Uncle B's Bar B Q
Vesta BBQ & Catering
Your Mom's Place
back to top