Working Late
Great autumn plants for the garden and arranging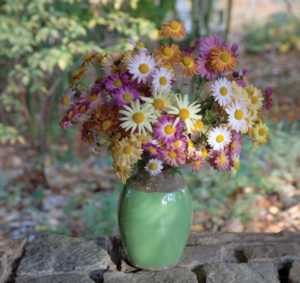 One of the many rewards of having a garden is bringing that beauty into your home by cutting a lush bouquet. Luckily, many plants that are statement makers in a complex fall landscape are also spectacular cut flowers.
In spring and summer, flower arrangements from the garden are usually filled with colorful blooms. But in the fall, the palette for arrangements becomes more diverse and rich—using fall flowers but also relying heavily on grasses, seed heads, fruit and branches of changing autumnal color.
Here are suggestions for additions to your garden to grow what's needed to create a fabulous fall bouquet.
Start with Perennials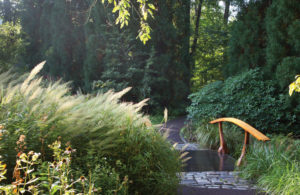 One of the fall floral staples in most gardens, including Chanticleer Garden, are chrysanthemums. These flowers can be much more diverse than the mums you buy at your local grocery store.
For example, Korean Chrysanthemums are perennials that come in a wide variety of colors—from dusky reds, to yellows, to soft peachy pinks, to white. Although the stems can be fragile, the late-season blooms (often in November in our area) are a welcome, cheery and vibrant addition to the garden and your bouquets.
Other great fall-blooming perennials to consider adding to your garden are Tatarian Aster, Japanese Anemone and Rattlesnake-master—all offer late-season flowers—as well as Bluestar for its mottled fall color.
Add Low-Maintenance Self-Sowing
Annuals and Biennials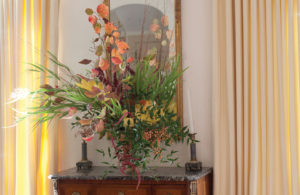 Self-sowing annuals and biennials can fill in visual gaps and add spontaneity to your garden. Their name tells their added low-maintenance benefit.
Clary Sage has classic sage-like soft purple flowers that bloom in June, but the showiest part of these flowers are the bracts that remain all summer and into the fall, long after the flowers have disappeared. The long life of the bracts allows this plant to have a persistent and impactful role in the garden and to makes a real statement in arrangements.
Also look for Kiss Me Over The Garden Gate, which is also late to flower in the garden.
Try Ornamental Grasses
Grass seed heads add beautiful soft texture and movement to the garden, and the tawny brown of these seed heads makes for a surprisingly pleasant background for other colors to pair with. Most grasses need to be used en masse to make an effect in floral arranging. Try placing them in bouquets a handful at a time.
An exception to this rule is the Feather Reed Grass. This grass has large fluffy seed heads that develop in September and have a significant mass, so you don't have to use as many stems to make an impact.
Other favorite grasses are Little Bluestem and Oriental Fountain Grass.
Remember Shrubs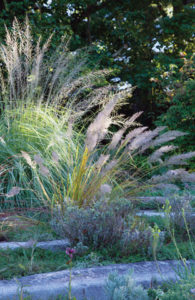 Many hydrangeas have a long-lasting presence in the garden, in addition to having a beautiful early summer floral display. The part of the hydrangea that's typically thought of as the flower is actually a sepal, which is why the flower head can persist so long into the fall and winter.
The Panicle Hydrangea is a white hydrangea with massive heads that create drama in the garden and in flower arrangements. By autumn the flower turns a subtle tan, often with a rosy pink blush that plays beautifully with the colors of fall.
Other notable shrubs are Large Fothergilla and Willow Leaf Spicebush for their outstanding fall color, Sea Myrtle for its soft, fuzzy flowers, and Heavenly Bamboo for its bountiful fruit.
Consider Small Trees
One of the plants that visitors to Chanticleer ask about year round is the Trifoliate Orange. This small tree has beautiful white flowers in the spring that will develop into fragrant, bright orange, clementine-sized fruits. These fruits are edible, although full of seeds. They're also high in pectin, and are best used to make sweet jams and jellies.
The fruit makes a showy display in arrangements and in the garden. Fair warning: this tree has very sharp thorns that are beautiful, but can hurt if you get poked. Cut branches are used best after the leaves drop in the fall to show off the architecture of the thorns and because the leaves shrivel after being cut from the tree.
Also consider Japanese maples that are bred for attractive, colorful bark—'Sango kaku' and 'Bi Hoo' both have vibrant stems and are well worth considering.
Tess Kuracina has worked at many gardens in the Philadelphia area and is currently a seasonal assistant horticulturist at Chanticleer.
Images courtesy Chanticleer Garden, taken by Lisa Roper.
Chanticleer has been called the most romantic, imaginative and exciting public garden in America. It's a garden of pleasure and learning, relaxing yet filled with ideas to take home. The garden is open through November 4th, Wednesday–Sunday, from 10 to 5, closes for the winter and reopens March  27, 2019. Chanticleer is located at 786 Church Rd., Wayne. 610-687-4163; ChanticleerGarden.org.
back to top