Foodscaping for the Home Gardener
Flower garden or vegetable garden—why must we choose one or the other?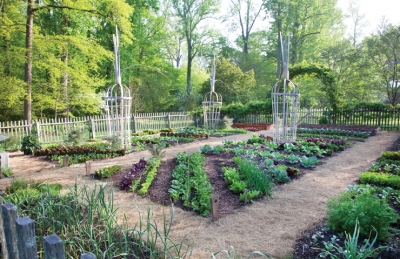 Each spring, gardeners across the country decide how we'll divvy up our time and space outdoors. A general rule of thumb says that ornamental beds must highlight the fronts of our properties, while vegetable gardens are relegated to fenced-off patches out back.
But does this division have to be so?
The practice of foodscaping has emerged as a means of blending ornamental and food gardening. In essence, foodscaping encourages us to approach vegetable crops as attractive annuals while also taking advantage of the edible and medicinal qualities of ornamental plants.
It's a simple shift in perspective.
At Chanticleer in Wayne, expert horticulturists have integrated edibles in their designs for years. A quick tour through the grounds offers visitors countless tips on how to weave edibles and ornamentals with style and grace.
Here are three ideas to inspire you to consider foodscaping in your garden this spring.
Step 1: Re-Imagine The Veggie Garden
The simplest way to practice foodscapingis just to tweak our approach to traditional vegetable gardening. Instead of viewing our veggie patches as solely utilitarian, we can re-imagine them as ornamental spaces where designs highlight intermixed successions of diverse annuals. And it just so happens that the whole thing is edible!
Surrounded by a rustic, wooden picket fence, Chanticleer's vegetable beds are laid out in geometric lines that are efficient for the gardener and visually intriguing for visitors. Both entrances to the garden are framed by woody plants—the front by a weeping blue Atlas cedar and the back by a hardy kiwi that bears fruit at the end of the growing season.
In Chanticleer's impeccably tended vegetable plot, gardeners take care to mulch pathways with salt hay so the lines between beds and pathways are crisp. Yellowing leaves are removed from plants, which improves attractiveness while also promoting plant health. Artful structures (think tuteurs) are used as trellising support for peas and beans, and tomatoes are staked with precision.
Throughout the garden, taut lines of jute run above newly seeded beds to indicate what's going on below the soil. David Mattern, Chanticleer's vegetable gardener, values the importance of showing "signs of intent" like this. Something as simple as this—a taut string over bare soil—can be an effective design element and an educational experience for visitors.
Even a vegetable garden's borders can integrate traditional ornamental features. Cucumbers are woven through the picket fence at Chanticleer like showy gourds (their botanical cousins). And herbs line the perimeter, offering refreshing scents and a comforting reference to the cottage style of English gardening.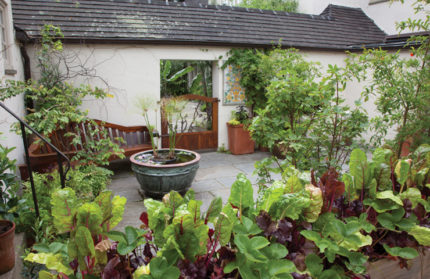 Step 2: Ornamental Integration
The next level in the art of foodscaping is using edible crops beyond the bounds of the vegetable garden. Fortunately, a lot of vegetables also happen to be beautiful plants.They fit seamlessly into ornamental beds by virtue of their aesthetics alone. And with the added benefit of providing food, their wider use is a no-brainer.
Herbs are especially easy to highlight in ornamental landscapes. One popular option is creeping thyme, which happily inches through the cracks of stone walkways. Another option gaining popularity is fennel, whose height and thread-like foliage provide a structural element that is equal parts sturdy and gentle. Sages, oregano and basil can all be used as bedding and edging plants, while mint is best displayed in pots or a confined bed—to prevent it from taking over the garden!
In other areas, how about using asparagus as a seasonal hedge, as Chanticleer does alongside its cut-flower garden? The sight of early morning dew on the fine foliage of a mature asparagus plant is absolutely extraordinary. The whimsical gardeners at Chanticleer have even trained an asparagus up a decorative post in the teacup garden. Why not?
Also in the teacup garden, kales have been used as bold structural elements—punctuation marks alongside traditional bedding plants and potted succulents. Nasturtiums are an excellent filler, in garden beds as much as in summer salads. Lettuces and mustards provide early-season color and texture, and are harvested just in time to install summer annual displays.
This process can be repeated in reverse when fall arrives.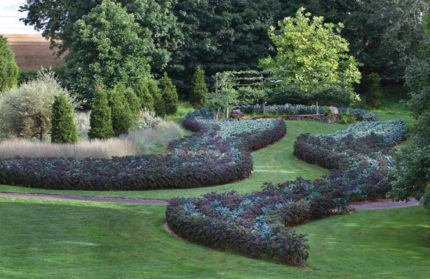 Step 3: Recognizing What's Already There
A third option for the foodscaper is to learn more about the edible and medicinal qualities our ornamentals already offer. How about popping some flowers off our marigolds and throwing them in a summer salad? Or harvesting some dogwood fruits and making a fall jam?
There are many books and websites dedicated to harvesting "wild edibles," but we might do well to see just how many of these "wild" plants are cultivated right in our own backyards.
From serviceberry compote to homemade coffee from the Kentucky coffee tree, there is a surprising abundance of food in our landscapes just waiting to be harvested!
Christopher Freimuth interned at Chanticleer in 2016 and is now a garden designer in New York City. CFGardens.com.
Photos credit Lisa Roper, Chanticleer Garden.
For more inspiration and information about how to integrate edibles and ornamentals, take a stroll through Chanticleer and talk with the gardeners about their methods. For a resource, try the recently published "Foodscape Revolution" by horticulturist and garden communicator Brie Arthur. Chanticleer is a garden of pleasure and learning, relaxing yet filled with ideas to take home. 786 Church Rd., Wayne. ChanticleerGarden.org.
back to top