Woody Sez: The Life & Music of Woody Guthrie
At People's Light August 1–26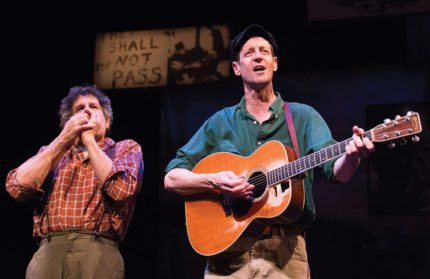 Americans of all ages adore Woody Guthrie's classic folk songs—"This Land is Your Land" is even taught in schools. So why don't more people know the full, fascinating portrait of the man behind the guitar?
David M. Lutken, who stars as Guthrie in Woody Sez and co-created the production, wants to change that. "It's his personal history," Lutken explains, "his restless, tragic, prodigal, triumphant, gut-wrenching and defiant life that gives astonishing depth and dimension to his achievements and his famous obscurity."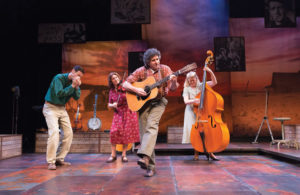 Guthrie is revered as a folk poet who gave voice to a working class devastated by the Great Depression, the Dust Bowl and World War II, wielding his guitar that famously proclaimed: "This Machine Kills Fascists." His influence extended well beyond his death in 1967, inspiring an entire songwriting tradition from Bob Dylan to Ani DiFranco.
First produced at People's Light in 2014 and returning by popular demand, Woody Sez is comprised almost entirely of Guthrie's own words and shares the often-forgotten story of Guthrie himself. Featuring four actors, 15 instruments and 25 of Guthrie's songs ("The Ballad of Tom Joad," "Bound for Glory" and more), the production captures his jaunty defiance and quiet moral force as he traveled the country in the mid-20th century.
Woody Sez has roots in a children's play Lutken created based on an outline from Guthrie's manager, Harold Levanthal. In the early 2000s, Lutken developed the material into an adult version with Nick Corley, Darcie Deaville, Helen J. Russell and Andy Teirstein, and the finished work has since delighted audiences around the world.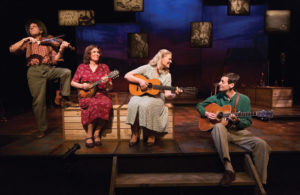 "The music of Woody Guthrie is rebellious, heartfelt and joyous," says Zak Berkman, People's Light Producing Director. "His call to arms came with an embrace. And there's no one better to give that embrace than David Lutken. He's an American treasure who brings Guthrie's spirt to life in ways our passionate and thoughtful audience will relish."
Local musicians and music-lovers alike are invited to join the cast of Woody Sez for hootenannies following the Thursday performances on August 9th, 16th and 23rd. Bring your instruments and jam! Plus, there's a Relaxed Performance at 2 p.m., Sunday, August 19th.
If You Go:
Where: People's Light, 39 Conestoga Rd., Malvern
When: August 1–26
Tickets: $29 and up, available online at PeoplesLight.org and by calling 610-644-3500
Coming Soon: Such Things as Vampires
back to top