Winter Lights in Downtown West Chester
Photos by Timlyn Vaughan Photography
Come see the lights and share the holiday spirit in the Borough.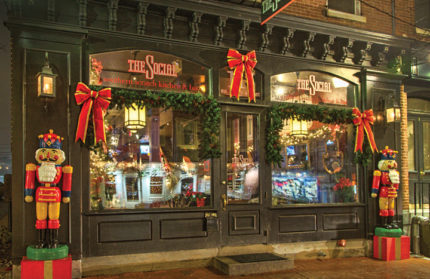 Additional Segment: Holiday Events in West Chester (PDF)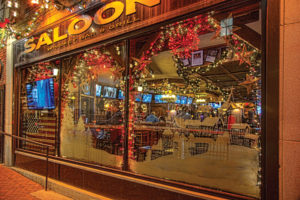 As Old Man Winter makes his annual visit to West Chester, casting his festive blanket of seasonal cheer, the shops and restaurants once again light up their windows to welcome shoppers and diners adding to the holiday spirit.
Holiday-themed events add to the good cheer, from roving carolers and a cozy Breakfast with Santa to the all-out, televised extravaganza that is the QVC West Chester Christmas Parade, attracting thousands. West Chester beckons residents and visitors alike to share the magic of the season in a town that knows how to celebrate.
There are so many great reasons to make a trip to the heart of this historic downtown. Here are a few new places to visit, plus a few of our favorites, along with a shopping map and roundup of don't-miss events.
Windows and Shuttles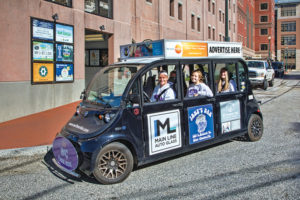 This holiday season, you'll notice as you stroll through West Chester's streets that local businesses have stepped up to the challenge to be selected as one of downtown's best decorated storefronts. The 2nd Annual Holiday Decorating Contest, presented by the West Chester Business Improvement District and the Borough Public Arts Commission, is in full swing!
There will be plenty to see, so be sure to invite family and friends to come downtown to enjoy the beautiful variety of lights and holiday displays, both big and small. It's a window-shopper's wonderland.
Among the novelties you can enjoy this month—and throughout the year—is the new West Chester Free Ride. This all-electric, five-passenger transit vehicle service, started by Keith Hontz, takes passengers nearly anywhere in the Borough in the evening.
Dinner downtown followed by a performance at West Chester University? No problem. Want to try that dessert place on the other side of town? That works. Details at WCFreeRide.com.
A Bounty of Boutique Shopping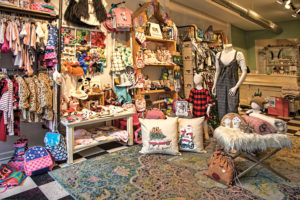 An exciting trend continues downtown as many of the independent boutiques offer private label styles that bring designs customized to local shoppers. Whether you're looking for sassy and saucy or elegant and graceful, there are plenty of sources for stylish shopping.
You won't want to miss visiting two new boutiques, each with its own unique brand.
Emily Scott, owner of Compendium Boutique, 134 East Market Street, showcases contemporary clothing "for the girl with her own style." Featuring fashions for college-aged women, Compendium strives to bring flattering and chic styles from limited productions. Visit often because new styles arrive every Friday. Bonus feature: same-day delivery options for West Chester University dorms.
Jacqueline's Boutique, which Jacqueline Tucker opened at 141 West Gay Street, was created as a place for women to come and enjoy a pleasant shopping experience. The boutique's hip and sophisticated clothing lines are selected to provide clients with a sense of confidence and beauty.
Regular shoppers will notice expansions, new locations and new names among some of their favorite stops for shopping locally.
If vintage clothing intrigues you, Malena Martinez's eponymous West Chester mainstay Malena's Vintage Boutique, corner of Gay & Church Streets, has expanded its collections. Be sure to visit the Specialty Showroom, next to the main store. There's always something new—yet old—at the place where styles that stand the test of time continue to rule.
More long-term boutiques have relocated and expanded downtown. H. Rose Boutique, now located at 148 West Gay Street (across the street from its prior location), has new items for every lady in the family from 6 to 60. It's "a boutique for mom-mom, mommy and me," says proprietor Rachel Becker. Go for multi-generational shopping for apparel, accessories and gifts.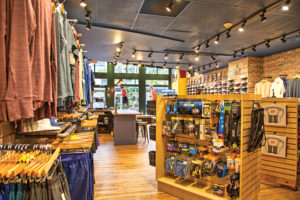 G-Spot Thrift Boutique, has also moved. You can now find Gigi and her eclectic collections—"a modern retro boutique and uncommon objects emporium featuring vintage and designer fashion and accessories for men and women, antiques, original and unique art and decor, vinyl records and CDs, vintage electronics and kool kitsch"—at 144 East Market Street.
Think of it as a runners' boutique with a new name but the same location and mission. It's now Bryn Mawr Running Co., at 24 South High Street, where they love running and comfortable feet. This continues to be the place to meet with experienced runners about footwear needs for serious racers or casual enthusiasts. Join them six days a week for group run workouts. Other locations in Media and, of course, Bryn Mawr.
Boutique-Quality Services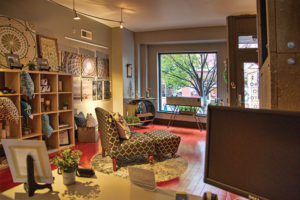 There's little doubt Kara Larkin has quickly become a fashion influencer with the opening of Cinq: a Kara Larkin Salon at 25 South High Street. Growing up among three generations of five girls each—thus the name Cinq, French for five—has given Kara a knack for connecting with women in special ways. "We listen closely to each client so we can make their inner beauty part of their outer beauty," says Kara. Services also include bridal parties. "It's always a joy to be part of a celebration for such a major event in someone's life," she says.
For home improvements with beauty and sophistication, try Interiors by DECO (part of TONO Group's family of companies) located at 121 East Market Street. DECO, from the word décor, draws on years of interior design experience to select, procure, stage and install furniture, artwork, lighting and décor. "Our team of design professionals adds all the finishing touches to corporate, institutional, hospitality and residential spaces," explains Sharlee Van Tine, TONO Group's Director of Architecture. "We tap into an unlimited selection of high-quality brands to create interior packages that include every last decorative detail."
Final Bits of News
This wouldn't be a tour of West Chester without at least one mention of food, right? We don't want to disappoint.
When certified yoga teacher Kari Dandrea began following a holistic approach towards health and nutrition, she started blending her own tea. After sipping a myriad of concoctions, Kari's favorite eight blends became Pureblend, now in a small production room at 16 South Church Street. "As I continue to create the freshest, purest blends, it's always my desire to bring better quality and value to the tea drinking experience," she says. "I think of it as a blended cup of joy." Find Pureblend at growers markets, select shops in West Chester, and local retail outlets, cafes and coffee shops.
And happily Chester County Historical Society did well enough in the nationwide National Geographic "Vote Your Main Street" challenge to get its much-needed new roof! The "Under One Roof" campaign was a worthy effort at community building. Stop by to see the treasures that are protected under that roof.
As you shop local and shop small this holiday season, consider doing all your shopping in a pleasant afternoon walk around West Chester. Carolers will be singing holiday favorites (full schedule at DowntownWestChester.com) while Christmas decorations brighten the historic Courthouse lawn to keep the holiday spirit alive.
Elle Steinman contributed to this article
#WCHolidayWindows
More Favorite Boutiques
Shops for Gifts and Decor
The 5 Senses' functional art objects satisfy the senses. Hand-crafted, local and fair trade items—each with a story. 133 W. Market St.; The5Senses.com.
Experience Old Soul Décor's unique curated collection of home decor items and thoughtful gifts. Plus design services. 119 W. Market St.; OldSoulDecor.com.
Bring on the Bling
You'll find personalized service at Big Diamonds' wholesale shop where they assist customers in selecting the perfect diamond for engagement rings, wedding bands, or fashion jewelry at any budget. 15 W. Gay St.; BigsDiamonds.com.
Sunset Hill Jewelers features unique jewelry including antique, vintage, contemporary and classic designs, as well as fine quality jewelry made in the US. Plus a fine arts gallery upstairs. 23 N. High St.; SunsetHillJewelers.com.
back to top