Wine for Every Holiday
There are a great choices for every variety of celebratory meal this season.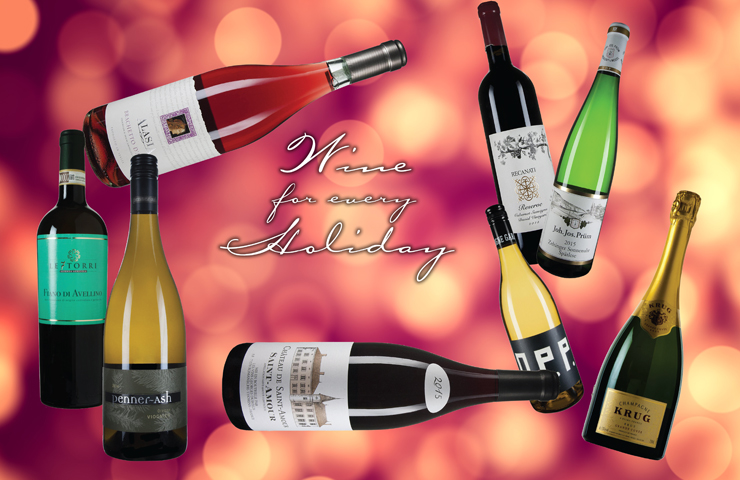 The holiday season is a time for friends, family, fun and feasts! Whenever you get together for the holidays—Christmas, Hanukkah, Diwali, Kwanzaa—a great glass of wine can help make the most of your meal.
Whether you're hosting the event or choosing a gift, here are suggestions to bring good cheer.
For Christmas
For the many traditional dishes served at Christmas dinner, each calls for a different style of wine. Ham, for example, tastes best served with wines with some sweetness, like a German Riesling. Another option is a chenin blanc from the Vouvray region of France, with its gorgeous off-dry taste. Try Domaine Pichot Domaine Le Peu de La Moriette Vouvray 2015 (92 points Wine Enthusiast, $18.99) for its lovely minerality with touches of stone fruit and ginger.
When choosing wine, remember that sweetness in food makes wine taste less sweet and more acidic, so select a wine that's sweeter than the dish. If your ham is honey-baked or brown sugar-glazed, a good choice is Moscato d'Asti or Alasia Brachetto d'Acqui 2015 ($11.99), a light red with strawberry, raspberry and white pepper flavors.
For turkey, stick with whites that match the flavors in your side dishes, such as Neil Ellis Sauvignon Blanc Groenekloof 2015 (89 points Wine Advocate, $16.99). To pair with side dishes heavy on rich spices, try Penner-Ash Viognier Oregon 2014 (94 points Wine Enthusiast, $24.99), which has exotic spice and floral accents.
If you love reds, Beaujolais is a great red wine option for ham and turkey pairings. The nouveau styles are lighter and much fruitier, while the Cru Beaujolais have more structure and finesse. Georges Duboeuf Château de St. Amour 2015 (92 points James Suckling, $21.99) is silky smooth with red fruit and wet stone on the palate.
Another go-to choice is pinot noir, especially the elegant styles from Burgundy. A great value from a very small production winery, Domaine Frederic Esmonin Gevrey-Chambertin Clos Prieur 2015 ($32.99) shines with berry, perfume and supple structure.
For a meal with prime rib as the main attraction, try something bold like Les Hauts de Canon la Gaffeliere Saint Emilion 2014 (95 points Wine Spectator, $42.99), a well-structured Bordeaux with plum, tobacco and blackberry flavors.
On Christmas Eve, if you're at a Feast of the Seven Fishes—an Italian-American tradition—stick with Italian wines that work with a variety of seafood dishes as well as pasta. Le 7 Torri Fiano di Avellino 2015 ($11.99) has good acidity and bright lemon and stone fruit notes with minerality to balance the complexity of the flavors on the table. Or choose Cavicchioli Vigna del Cristo Lambrusco di Sorbara 2016 ($14.99), a refreshing, light red sparkling wine with notes of violets and red fruits that also goes well with fried fish, vegetables and heartier sauces.
For Hanukkah
And what wines for Hanukkah, the eight-day Jewish Festival of Lights, with a nightly menorah lighting, dreidel games, prayers, gift giving and food? Try O'Dwyer's Creek Sauvignon Blanc New Zealand 2015 ($16.99), a crisp white with tropical fruit, orange, citrus and grass hints for a great match with latkes, kugel and smoked salmon.
A single vineyard wine with dense truffle, tobacco and black currant on the palate, Recanati Cabernet Sauvignon Reserve Series Galilee 2014 (94 points Wine Enthusiast, $24.99) has the fullness to stand up to brisket.
For Diwali
An Indian holiday celebrating the triumph of good over evil, Diwali is also known as the Festival of Lights and is celebrated with games, fireworks and parties with large feasts and lots of sweets. Choose a riesling with sweetness to tame the spiciness of the meal and to match the delicious desserts. A good choice is Joh. Jos. Prüm Riesling Spätlese Zeltinger Sonnenuhr 2015 ($38.99), which has ripe peach and apricot flavors balanced by smokiness from the slate soil.
For Kwanzaa
Kwanzaa is a week-long celebration of African-American culture, where each day focuses on a virtue of the community. One day focuses on supporting African-American-owned businesses, so why not drink wines from African-American-owned wineries?
Mouton noir are unique garage-made wines from Oregon grapes sourced by André Mack. The line includes O.P.P. (Other People's) Pinot Noir Willamette Valley 2014, with cherry, spice and earthy notes, and O.P.P. Pinot Gris Willamette Valley 2015 ($19.99), bursting with apple, peach and pear.
Charles Woodson Wines come from a retired football player who discovered his love for wine in Napa while training with the Oakland Raiders. The wines are produced from Bordeaux varietals from a vineyard in Calistoga and include TWENTYFOUR Cabernet Sauvignon Napa Valley 2010 (93 points Wine Spectator, #58 on Top 100 of 2014, $89.99), with dense licorice and dark berry flavors, and TWENTYFOUR Sauvignon Blanc Napa Valley 2015 ($24.99). As you may have guessed, 24 was Woodson's jersey number with the Raiders.
Finally, for New Year's Eve
New Year's Eve is a time to reflect on the past year while making resolutions for the coming one. And, on this occasion it's all about the bubbly.
For an inexpensive, dry sparkling wine, prosecco is a great way to go. Lighter than Champagne, Bianca Vigna Prosecco di Conegliano Valdobbiadene Brut NV ($15.99) has a nice mix of fruitiness and minerality.
Of course, if you want to go big, there's nothing like classic Champagne. One of my favorites is Krug Champagne Grande Cuvee NV (96 points James Suckling, $159.99), layered with complex flavors of grapefruit, pear, chalk, nuts and spiced biscuits.
Rosé sparkling wine is pretty and festive, but tends to be more expensive than white sparklers. For a great quality wine at half the price, try a crémant (a traditional-method French sparkling wine made outside Champagne). Château du Petit Thouars Crémant de Loire Rosé NV ($19.99) is crisp and refreshing with subtle hints of strawberry and baked bread.
On the sweeter side, the still serious Schramsberg Cremant Demi Sec Napa Valley 2012 ($39.99) has delicious flavors of marzipan, white peach, baked apples and candied flowers.
In the end, no matter what holiday you're celebrating, may it be full of love, good company and great wine. Cheers!
Kayleigh Thompson has worked in the wine industry for over seven years and earned the Certified Specialist of Wine certification from the Society of Wine Educators. She works as a Wine Specialist at the Fine Wine & Good Spirits Premium Collection store in King of Prussia, on DeKalb Pike. Learn more at FineWineAndGoodSpirits.com.
back to top