Spirited Red Wines
Red wine and bourbon barrels—the makings of a beautiful relationship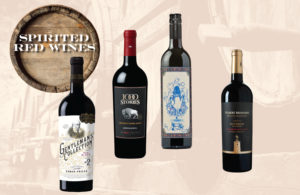 You're likely aware that the popularity of whiskey in general and bourbon in particular has grown drastically in recent years. We've also seen a trend among experimental distillers and brewers of aging their products in unusual vessels to add new flavors and additional complexity to your drink options.
Some Scotch is aged in sauterne, port and sherry barrels, for example. Similarly, certain beers are aged in all sorts of different whiskey barrels. And recently, Jefferson's Reserve bourbon was aged in cabernet sauvignon barrels from Napa Valley's Groth Vineyard, after, of course, the required aging for all bourbon in new oak barrels.
Though winemakers tend to adhere more closely to tradition than do distillers or brewers—in part because of stricter laws—we're finally beginning to see some innovative winemakers navigate uncharted waters. A few winemakers are creating wines that are aged in whiskey casks. That's right—you can drink bourbon barrel-aged wines!
Wine purists may shake their heads. But don't knock these delicious wines until you try them. To be clear: this innovation is done by aging the wine in whiskey barrels, not by adding bourbon to wines. And contrary to the fears of some skeptics, the resulting wines do not taste like whiskey bombs.
Intrigued, yet unsure if I'd like these new concoctions, I decided to give them a try. What follows are my tasting notes from four different options found at Fine Wine & Good Spirits stores and sampled side by side with a few friends. Note: These whiskey barrel-aged wines are still relatively rare. But since oak barrels are expensive, perhaps the recycling trend will grow.
Gentleman's Collection Red Blend Batch No. 2, California 2014 ($16.99), produced by Lindeman's, is a modern red blend aimed at men. Dr. Henry J. Lindeman started making wine in 1843 in Australia, a hard-drinking colony that he hoped to spur into more gentlemanly pursuits.
The Gentleman's Collection wines are a line from California that features old-fashioned labels with a mustached man and "guides to chivalry and integrity." For example, "Rule No. 2: Forgo Frills" is the advice on the red blend bottle.
A mix of shiraz, grenache and cabernet sauvignon aged in bourbon barrels, this red blend boasts dark fruit flavors with caramel, charred oak and sweet bourbon notes on the finish.
From the tasting, I found it heavy, lush, dark and smooth, with a delicious, long-lasting finish of sweet oak and caramel plus a hint of bourbon. Despite its relatively low 13.9% alcohol by volume (ABV), this wine came across as very heavy, but still very consumer-friendly. It has a slightly sweeter finish than many of the other wines we tried.
Gentleman's Collection would be a nice match with baked beans, chorizo, antipasto or meatloaf.
A new venture from Fetzer Vineyards and winemaker Bob Blue, 1000 Stories Bourbon Barrel Aged Zinfandel, California 2014 ($19.99) is made from zinfandel with a bit of syrah and petite sirah aged for six months in French and American oak. After that, the wine is aged further in new and used bourbon barrels, which impart characteristics of charred vanilla, dried herbs and a hint of caramel. It's made in small lots, to borrow some bourbon terminology.
Though the alcohol is high at 15.5% ABV, this wine is surprisingly the lightest and most fruit-forward of the group, with notes of cherry and raspberry dominating the palate. I could recognize the bourbon-barrel influence—with subtle hints of caramel and charred oak—but the finish was much more subtle than for the Gentleman's Collection Red Blend.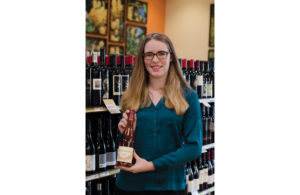 I love a tasty zinfandel, and this was good with a little sweet, smoky twist, one that makes it an even better pairing for grilled burgers, pizza and barbeque pork.
The third selection, Southern Belle Red Murcia 2013 ($18.99), is certainly an experiment that paid off. Winemaker Dan Phillips created this blend of monastrell and syrah from southern Spain and aged it in Pappy Van Winkle Bourbon barrels.
The barrel choice was an idea he had after a conversation with his friend Julian Van Winkle about trading barrels. For non-bourbon drinkers: Pappy Van Winkle is a world-renowned and hard-to-get bourbon. The infusion from the barrel aging adds a complex elegance to the already refined, garnet-colored wine.
This wine comes across as the most serious offering—with notes of black currant, tar, charred oak and violets. Austere, with great structure, complexity and depth of flavor, Southern Belle is distinctly Old World in style. It drinks like a Rioja or a Barolo with a bit of bourbon tang. The noticeable hint of alcohol on the finish was surprising, as this wine is lower in alcohol, at 14.5%.
Pair it with stuffed peppers, grilled lamb chops or Manchego cheese.
Lastly, Robert Mondavi Private Select Bourbon Barrel Aged Cabernet Sauvignon Monterey 2014 ($14.99) is a limited release wine made from 85% cabernet sauvignon, 10% malbec and 5% petit verdot grapes grown in coastal Monterey County vineyards. It's aged for 10 months in traditional wine barrels, then aged for another three months in new and used charred Kentucky bourbon barrels to add complexity and toasty flavors of brown sugar, smoke and vanilla to the rich black cherry and blackberry profile.
The Robert Mondavi wine was the favorite of most of my friends, as it did the best at balancing all the different flavor components of the previous wines. It was smooth but bold, full-bodied and had delicious flavors of blueberry, smoky oak and caramel, plus a velvety mocha finish with a bit of bourbon flair. Again, the wine with (relatively) lower alcohol content, at 14.5%, had a more noticeable flourish of bourbon.
Try this wine with bourbon glazed ribs, hearty pasta dishes, grilled steaks or charcuterie.
Now go get your hands on some bourbon barrel-aged wines, get some friends together and hold a tasting for yourself!
Cheers!
Kayleigh Thompson has worked in the wine industry for over six years and has earned the Certified Specialist of Wine certification from the Society of Wine Educators. She works as a Wine Specialist at the Fine Wine & Good Spirits Premium Collection store in King of Prussia, on DeKalb Pike. Learn more at FineWineAndGoodSpirits.com.
back to top