Wilmington's Riverfront: From Landing at the Rocks to Lounging on the Riverwalk
A little history before we get to this year's summer fun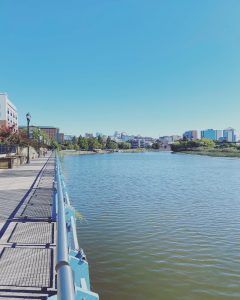 In the mid-20th century, Wilmington's riverfront was an industrial powerhouse, a center for shipbuilding, serving the chemical, railroad and steel businesses that had become Wilmington's industrial backbone. By the late 20th century, that had all but disappeared. Instead, the core of the economy has been replaced by museums, restaurants, a baseball stadium and other amusements.
Some four centuries ago, however, none of the 21st-century conditions could have been anticipated. What would become the city of Wilmington was then home to the Lenape tribe, periodically raided by the more war-like Minquas, who gave their name to the river on which the Lenape lived — Minquaskill.
Only in 1638 did two Swedish ships arrive, the river was renamed the Christina, and the surrounding settlement became New Sweden, before ultimately becoming Wilmington.
New Sweden
From your history books, you may recall the name Peter Minuit. In 1624, on behalf of the Dutch West India Company, Minuit closed a major real estate deal, paying 60 guilders of wampum for an island today called Manhattan. By 1631, having been recalled and dismissed, he took his talents elsewhere — to Sweden — and made a deal with that government to establish a colony on the Delaware River.
In 1638, the New Sweden Company, as it was called, bought 67 miles of waterfront, built a fort (named Christina after Sweden's 12-year-old queen) and sought its fortune in the tobacco and fur trades. (A model of Fort Christina is at the New Castle County building at 800 N. French Street.) The settlers established good trade relations with the local tribes. Several hundred settlers built houses in the Delaware River valley over the next 40 years or so.
Yet the colony lacked the continued backing of its investors. And after some altercations — first with the Dutch and then the English — in 1681, what had been New Sweden became part of a land grant to the Englishman William Penn. In 1739, it was chartered as Wilmington, named after the Earl of Wilmington.
Kalmar Nyckel, the Rocks and the Copeland Maritime Center
When Minuit's expedition arrived in 1638, it came on two ships — the Kalmar Nyckel and the Fogel Grip — and moored at a location known as the Rocks, a formation that served as a natural loading dock. You can visit both of these. Well, one and a replica.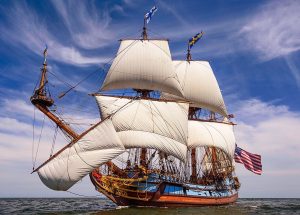 Today the Rocks is located near the Kalmar Nyckel Shipyard at the Copeland Maritime Center at 1124 E. 7th Street. It's marked by a beautiful statue of the tall ship, dedicated by the people of Sweden in 1938. The Copeland Maritime Center features a host of exhibits, including a 3D animation of the conversion of the original Kalmar Nyckel, the ship's arrival at the Rocks, models of over 70 ships, and Wilmington's role as a center of shipbuilding and railroads through World War II.
Unfortunately, since 1652 the actual Kalmar Nyckel has been somewhere at the bottom of the North Sea off the east coast of Scotland, near Buchan Ness. It was sunk in the first engagement of the Anglo-Dutch War. That's the sad news.
The happy news is that, since 1997, you can sail on a full-scale replica of the Kalmar Nyckel, also known as the "Tall Ship of Delaware." For example, you can take a 90-minute cruise on the Christina River during the last week of June and first week of July for $40.
Old Swedes Church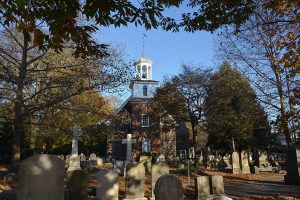 While you're in the neighborhood of the Copeland Maritime Center, visit Old Swedes Church at 606 N. Church Street, about a quarter mile away. The Church was built in 1698, but the cemetery — and its 15,000 or so gravesites — dates back to the initial While you're in the neighborhood of the Copeland Maritime Center, visit Old Swedes Church at 606 N. Church Street, about a quarter mile away. The Church was built in 1698, but the cemetery — and its 15,000 or so gravesites — dates back to the initial settlement of New Sweden. The oldest legible gravestone is ascribed to William Vandever and marked 1718.
Old Swedes Church welcomes visitors during the entire month of June. It offers a tour focused on the architecture and architectural evolution of the church, as well as of the nearby Hendrickson House. Built by farmer Andrew Hendrickson and his wife Brigitta Morton, the Hendrickson House is the oldest surviving Swedish- American home in the United States. The house was originally built in 1690 in Ridley, Pennsylvania but was moved to the current site and restored in 1958.
Russell Peterson Wildlife Refuge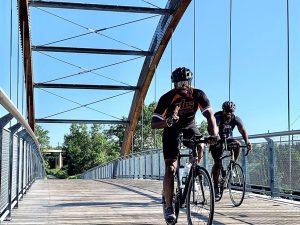 At the southwest end of the Riverwalk, at 1400 Delmarva Lane, you'll find the DuPont Environmental Education Center, located in Russell Peterson Wildlife Refuge. Located on the Christina River, the Refuge is 212 acres of freshwater tidal marsh, home to bald eagles, ducks, herons, beavers, dragonflies, otters, painted turtles, snakes and more. The staff offers tours by canoe or kayak. If you're free, join them on June 3 and 23 or throughout the summer.
If you prefer to tour by foot or wheels, the Refuge offers access to the newly completed Jack Markell Trail, a combination boardwalk/ asphalt trail running 5.5 miles from Wilmington to New Castle. Together with the connecting Riverwalk and New Castle's Battery Park Trail, the ride end-to-end is about 10 scenic miles. You can rent bicycles at the DuPont Center.
Constitution Yards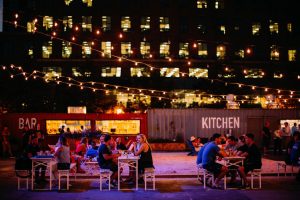 Constitution Yards is essentially a playground — an adult sandbox, right off the Riverwalk — at 308 Justison Street. You can throw axes, play corn hole, swat a badminton birdie or bowl a bocce ball. Life-size Jenga and Connect 4 are also available. Have a snack, beer or frozen cocktail while you're lounging there. It's a great place to relax!
There are special events all month. A different live band — WTF, Alice, Bad Avenue, Bad Hombres, Jukebox Trio — appears almost every Friday and Saturday night. June 3 is "Kickback Country Night," Tuesdays are for "Yappy Hour," and "High Noon Pool Party" is in the afternoon on June 24. Plus there's more fun throughout the summer. The music — and fun — doesn't stop!
Baseball at Frawley Stadium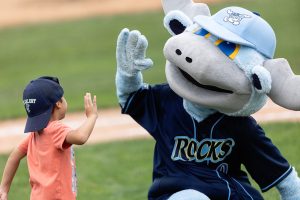 Starting back in April and continuing through September, you can enjoy minor league baseball at Frawley Stadium at the southern end of Riverwalk. In June, from the 13th to the 18th and the 20th to the 25th, the Blue Rocks will battle teams from the Jersey Shore and Aberdeen, Maryland. For $17, you'll have one of the best seats in the house!
Museums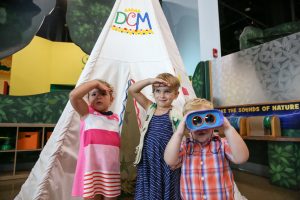 The Delaware Children's Museum, at 550 Justison Street (open Wednesday to Sunday), may be planned for kids, but adults enjoy it as well. One of the exhibits features a hollowed out, crawlable trunk of a sycamore tree. Another allows kids to interact with a car, boat or train. The kiddos can don a hard hat and draw up blueprints, while their parents dream of them becoming architects, engineers or …
Take a short walk from the Riverfront to The Delaware Contemporary, a museum focused on work by local, regional, national and international artists. Located at 200 Madison Street, it has no permanent collection but includes seven galleries and 26 studios, where it presents more than 24 exhibitions annually.
Slated for June 11 at The Contemporary, a day of art-based activities and performances — indoors and outdoors, including vendors, food trucks and refreshments — will be offered at the 4th Annual West Street Art Festival. The Children's Museum, the Delaware Blue Coats and local artists will contribute to the fun.
Music
On June 22, from 6 to 8 p.m., enjoy Art + Music of Cadence at The Contemporary. Hear original music and covers by an emerging local talent. Cadence's performance playlist includes classic alternative rock favorites, contemporary indie rock and original compositions.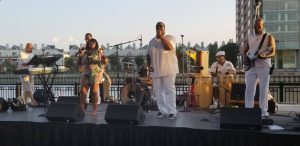 Those are not the only performances. Each Thursday in July and August (beginning July 8), from 7 to 8:30 p.m., the Riverfront Summer Concert Series is held at Tubman-Garrett Riverfront Park, 80 Rosa Parks Drive, overlooking the Christina River. The performers have yet to be announced, but the lineup is designed to encompass many modern forms: blues, folk, pop, alternative, hip hop … One thing is certain — the concerts are free!
Restaurants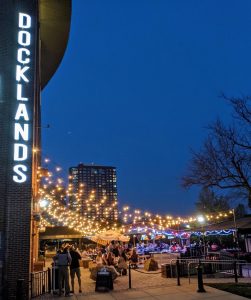 You won't go hungry while at the Riverwalk, given the wide variety of choices. For seafood, try Banks Seafood Kitchen, which has garnered a long list of awards. Other options include Big Fish Grill at 720 Justison Street or Docklands at 110 S. West Street, both specialize in maritime treats.
For Mexican fare, Del Pez at 400 Justison Street is a good bet. And for a bit of Asia, the Ubon Thai Kitchen & Bar, 936 Justison Street, is an excellent choice.
A visit to Iron Hill Brewery & Restaurant is always good, both here on the Riverwalk or at its other area locations (West Chester, Media, Phoenixville, etc.). Farther south on Riverwalk, Timothy's is another great place to grab a burger, wings or pizza.
If you're looking for lots of options, try the Riverfront Market, at 3 S. Orange Street, which is like a food court.
Yes, Wilmington's riverfront has come a long way in four centuries — from a Native American stream, to the mercantile hopes of Swedish, Dutch and English investors, to the heart of a great industrial city, to today's urban playground of museums, naturalists, ballparks, concerts and restaurants. Enjoy it all!
For more, go to VisitWilmingtonDE.com.
More Fun In and Around Wilmington
Through June 21
Spring Tours at Historic Odessa Foundation. Tours include a guided walk through the heart of Odessa, including the Foundation's five main properties, outbuildings, gardens and grounds. Tues–Sat, 10 to 4:30; Sun, 1 to 4:30. HistoricOdessa.org.
Through August
Kalmar Nyckel, Tall Ship of Delaware. Find adventure and outdoor fun, maritime history and cultural events with annual community festivals. July 8, Captain Kidd's Pirate Adventure Day, noon to 4 pm; Aug. 12, Underground Railroad Superhero Fun Day, noon to 4 pm. Copeland Maritime Center at the Kalmar Nyckel Shipyard, 1124 E. 7th St. KalmarNyckel.org.
Through September
The Music School of Delaware. Hosting over 100 performances, events, workshops and master classes at several locations. Performances include diverse musical styles and feature expert faculty, regional artists, internationally acclaimed guests and students. Most are free. MusicSchoolOfDelaware.org.
Through September
Third Thursdays
Auburn Heights After Hours. Come out to the Marshall Steam Museum for scenic views, craft brews and games. Food trucks, featured groups and fun activities. Friendly, leashed dogs welcome. 3000 Creek Rd., Yorklyn, DE. 5 to 8 pm. $3–$6. AuburnHeights.org.
Through October 31
Brandywine Treasure Trail Passport. The Passport provides access to 12 of Wilmington and the Brandywine Valley's top attractions, including thousands of acres of gardens, the grand estates of the du Pont family, incredible works of art and rich American history. $49–$99. VisitWilmingtonDE.com.
Through December
Winterthur Museum, Garden & Library. Winterthur hosts many events throughout the season. Visit their website for everything from garden walks, special events, workshops, demonstrations and much more. 5105 Kennett Pk., Winterthur, DE. Tues–Sun, 10 to 5. $15–$30. Winterthur.org.
June 1–20
At The Grand in Wilmington. June 1, Sara Evans: Copy That Tour; June 9, Morris Day and the Time; June 10, Pat Metheny Side-Eye; June 16, Iris DeMent with special guest Ana Egge; June 20, Ben Folds: What Matters Most Tour. 818 N. Market St., Wilmington. Times and tickets, TheGrandWilmington.org.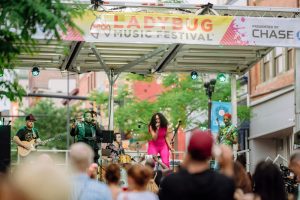 June 2
The Ladybug Music Festival. A celebration of women in music with a 100% female- fronted lineup, giving platforms to women in all areas of music event production. Venues located along Lower Market St. Times and tickets, TheLadybugFestival.com.
June 4–November 5
First Sunday each month
Steamin' Days at Auburn Heights. Climb into an antique automobile or board one of the trains and experience what it was like to travel at the turn of the 20th century. Tour the 1897 mansion that was home to three generations of the Marshall family. 3000 Creek Rd., Yorklyn, DE. 12:30 to 4:30 pm. $8–$12. AuburnHeights.org.
June 7–August 30
Wednesdays
Summer Nights at Hagley Museum & Library. Bring a picnic to enjoy at the picnic pavilion on Workers' Hill or at a table along the Brandywine. Dogfish Head craft beer and Woodside Farm Creamery ice cream are available for purchase. 200 Hagley Creek Rd. 5 to 8 pm. $5. Hagley.org.

June 11–18
St. Anthony's Italian Festival. Italian-American festival featuring great food, entertainment and cultural activities, games, rides and more. Benefits St. Anthony of Padua Grade School. 901 N. DuPont St. Visit website for hours and admission, SAPDE.org.
June 21–25
Clifford Brown Jazz Festival. A large, free jazz festival hosting world-class and Grammy-winning musicians. Rodney Square, N. Market and E. 10th Sts. CliffordBrownJazzFest.org.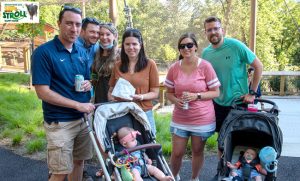 June 22, July 20, Aug. 17 & Sept. 21
Sip & Stroll at Brandywine Zoo. Go a little wild at the family-friendly event. You'll sip, stroll and learn while enjoying beer and touring the zoo after hours. Fun animal encounters and activities for all ages. Limited number of tickets. Beer sold separately. Brandywine Park, 1001 N. Park Dr. 5 to 7. BrandywineZoo.org.
June 24
Old-Fashioned Ice Cream Festival. Bring your chairs and blankets to relax outdoors at beautiful Rockwood Park as you browse the shops of the Cottage Maker Market, listen to live local music, get food and enjoy local ice cream and other sweet treats. Rockwood Park & Museum, 4651 Washington St. Extension. 1 to 9:30 pm. NewCastleDE.gov.
August (Date TBD)
Annual Delaware Burger Battle. Delaware's top chefs offer their best burgers. Benefits Food Bank of Delaware and Delaware ProStart. Rockford Tower, Rockford Park, 2000 Lookout Dr. Noon to 3:30. Pay one price to sample burgers all day, $12–$50. DEBurgerBattle.com.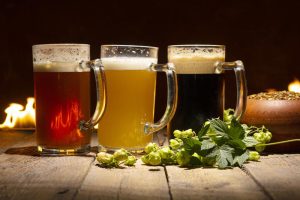 August 4, September 15
Wilmington & Western Railroad — Brews on Board. Local craft brews are served aboard the train for your tasting pleasure on a leisurely 2-hour round-trip through the Red Clay Valley. Must be 21. WWRR.com.
August 20–27
August Quarterly Festival Celebration. The nation's oldest African American festival celebrating freedom of religion and speech and the right of assembly. Tubman-Garrett Riverfront Park, Rosa Parks Dr. AugustQuarterly.org.
September 9
Historic Odessa Brewfest. Enjoy 50 local, regional and national craft breweries, live music, gourmet food and artisan vendors. Benefits Historic Odessa Fdn. 202 Main St., Odessa, DE. VIP, noon to 6, $75; general adm., 2 to 6, $60. 302-378-4119; OdessaBrewfest.com.
September 9–10
Brandywine Festival of the Arts. Over 200 artisans from all over the country display and sell their work. 1001 N. Park Dr. Sat, 10 to 6; Sun, 10 to 4. $5. BrandywineArts.com.
For more fun things to do, VisitWilmingtonDE.com.
back to top