What's New in West Chester?
Photos by Timlyn Vaughan Photography
An Open-Air Marketplace Comes to Downtown West Chester. Sometimes good things come from difficult times.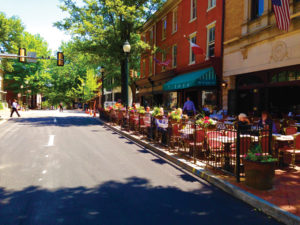 Downtown West Chester, like all other Main Streets throughout our country, is reinventing how business is done. This new mission is not only a response to how the COVID-19 pandemic is changing our culture, it's also a recognition that our downtown needs to transform as it makes the safety of shoppers and diners a first priority.
The ongoing health crisis affects all West Chester restaurants and retailers as well as many services and professional businesses. Some believe it may take up to three years before what will be the 'new normal' is firmly in place. And we all need to be prepared to face the fact that the new conditions may be far from what we'd consider normal today.
Main Street Strong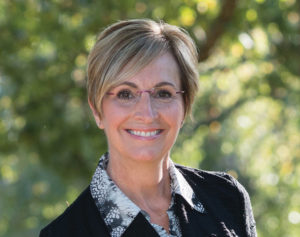 To address our challenging future, West Chester Mayor Dianne Herrin convened a task force called Main Street Strong. Comprised of local business leaders, planners and public safety officials, this group developed a recovery plan to guide the downtown community as everyone adjusts to new standards and requirements.
The task force's first order of business was creating an Open-Air Marketplace on Gay Street along the four blocks between Matlack and Darlington Streets. This space is to be used primarily by pedestrians who will find additional open space to more easily maintain safe social distancing. Cars can still access the north/south streets—on Walnut, High, Church and Darlington Streets—which remain open, along with Market Street.
This newly created informal pedestrian mall allows restaurants to move more of their tables outside, on to the closed street, for open air dining. During the 'Yellow Phase' of reopening, diners may order to-go meals and simply take them to a nearby outside table to enjoy. Many restaurants will have designated tables, so be sure to check before you settle in. Otherwise, tables will be found every day for each meal.
Once the 'Green Phase' of business reopening arrives, restaurant table service will begin again, with certain limitations. Your favorite restaurant will be happy to explain how things are working until the all clear sign appears.
West Chester's many shops are also setting up retail displays on the sidewalks, while providing space for safe browsing. Remember, ask about pick-up and delivery service, as well as shopping appointments, offered by the retailers.
And rest assured there's plenty of parking at nearby public garages and parking lots as well as other metered,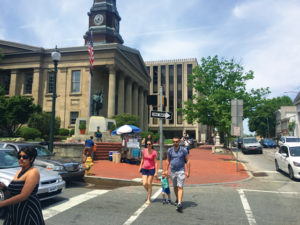 on-street parking on other streets near Gay Street. The open-air marketplace occupies a small number of metered parking spaces along just a few blocks of Gay Street.
"This is a very challenging time," says Mayor Herrin. "Yet we're finding this situation is also opening doors to new opportunities. It allows our community to come together with a collective mindset of creative problem-solving, define how the town will reopen to maximize success, and seize the opportunity to address deficiencies in the status quo way of doing business."
More information about this new program can be found at DowntownWestChester.com.
A World of Hearts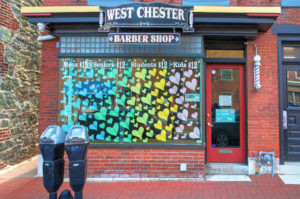 An early indication of our community response and efforts to work together began with a campaign started by Amy Trout, owner of the new Charlie & Co. Barbershop (130 North Church St.). Amy spearheaded "A World of Hearts" campaign, along with a handful of merchants, with a simple idea: place colorful, paper hearts in shop windows.
Soon everyone "was on board to share the love by placing hearts in windows and to let our neighbors know we're all in this together," observed one shop owner.
Artist Heather Johnston Carey was inspired to create a series of watercolor paintings featuring storefronts embraced by hearts. The project has even received national recognition from Main Street America, which is using it to inspire other downtowns across the country.
Mayor Herrin says this show of solidarity demonstrates the broad commitment to saving our downtown. "By actively protecting our Main Street and our creative economy, we can give West Chester a decisive economic advantage in the times to come."
Downtown Is Still a Destination
While the Open-Air Marketplace may be one of the more visible changes taking place, there are still plenty of attractions throughout downtown. Market Street, along with most other streets, remains open for easy access to the many restaurants and shops that have also expanded onto the sidewalks lining this walkable street.
All your favorite restaurants and shop along Market Street are open, with expanded outdoor space. So diners can enjoy a steak dinner at Pietro's Prime (125 West Market St.), hand-crafted beer at Sterling Pig Public House (113 West Market St.), plus southern Italian cuisine and Neapolitan pizza at Mercato Ristorante & Bar (33 West Market St.).
Carlino's Specialty Foods & Catering (128 West Market St.) offers a large selection of fresh groceries and homemade dishes for those who choose to eat at home. And La Baguette Magique (202 West Market St.) continues to bake classic French pastries and breads.
High Street
You'll find more of your favorite places to enjoy during a day or evening visit downtown on High Street. Barnaby's of West Chester (15 South High St.) offers patio dining, while Meatball U (30 South High St.) is well educated in meatball dishes.
On North High Street, Spence Cafe (131 North High St.) continues take-out selections and is planning to open their patio when allowed. Lorenzo and Son's Pizza (27 North High St.), known for their giant slices, continues to serve up great pizza and more.
Sweet treats abound at places like Baked (34 South High St.), Cookie Dope (28 South High St.), and Playa Bowls (22 South High St.).
New eateries
Even during a pandemic, there's always something new happening in downtown West Chester. The dining scene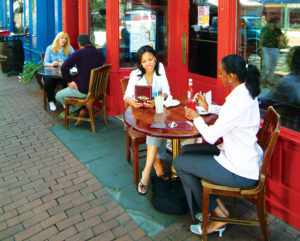 welcomed a few newcomers that opened recently.
Check out Mae's West Chester (39 West Gay St.) if you're in the mood for delicious farm-to-table delights. Be sure to check out their menu featuring a variety of take-out options, including their family-style BBQ meal, grilled flatbread with avocado & scallion salsa, and even Sunday Brunch specials.
Newly opened La Tartine (109 West Gay St.) offers a partial menu with more to come. If you're in the mood for an açaí bowl, fresh juice/smoothie and crepe (including gluten free, too), then there's a new place to try.
For dessert, a snack or just because it's Wednesday, be sure to check out West Chester's newest sweet spot, Scoops 'N' Smiles Ice Cream & Water Ice (8 East Gay St.). The sister location in Malvern has been bringing smiles to loyal customers.
Gift Some Gift Cards
Support your favorite local boutique or eatery by purchasing a gift card from them to give to a friend to use some time in the future—a win-win situation!
Another example of creative responses to the impact of the coronavirus is the Greater West Chester Chamber of Commerce's virtual tip jar. This innovative program allows Venmo and PayPal tips to help support the restaurant servers and other service industry employees severely affected by business closings—think your hair stylist, aesthetician and the like.
There are surely more thoughtful efforts to help us make it through these difficult times. We need to be aware and support them.
We truly are all in this together.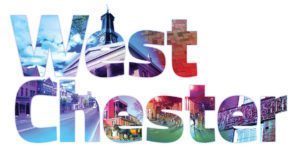 For more information, visit
DowntownWestChester.com.
Elle Steinman contributed to this article.
Summer Dining in West Chester
There's a new normal in town, and West Chester restaurants have stepped up to the challenge.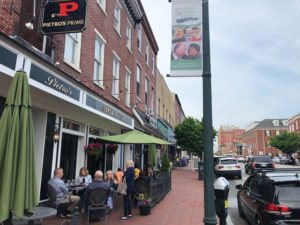 There are so many options to take your custom-made dinner home or have it delivered to your door. With plans to expand open-air seating this summer, these restaurants are ready and eager to welcome guests once again.
Here's a sampling of some of the restaurants and what they're doing now. Check in to their
websites often, as things are always changing. And visit our Guide to TakeOut and Delivery at CountyLinesMagazine.com/Article/Takeout-and-Delivery-Guide.
Andiario
106 W. Gay St. 484-887-0919; Andiario.com
Serving seasonal food straight from farmers. Takeout meals and wine are available. Dinner includes an appetizer and entree, plus bread and dessert from La Baguette Magique. A limited menu for the day is posted by noon on their website and Facebook page.
Now open for patio seating, Tues.–Sat. 5 pm to close.
Bar Avalon
116 E. Gay St. 610-436-4100; AvalonRestaurant.net
Serving takeout and delivery options and giving customers the chance to donate dinners to local nurses. Also offering a delicious variety of cocktails. Check the website!
Open for pickup and outside seating Tues.–Sun., from 4 pm; Sun.Brunch 11 to 2
Bon Bon Sushi
22 N. Darlington St. 610-696-3069; BonBonSushi.com
Calling all sushi lovers! Open for pickup and delivery.
Open Mon.–Sat., 11:30 to 9. Order for pickup online; delivery through DoorDash.Saloon
Iron Hill Brewery WC
3 W. Gay St. 610-738-9600;
IronHillBrewery.com/West-Chester-PA
Made-from-scratch food and craft beer available for takeout, curbside pickup and delivery. Buy half-priced growlers and $5-off 4-packs for takeout and curbside pickup only. Or try a Craft Kit, with all the ingredients for a meal at home—like DIY pizza or Steak and Bake.
Patio seating now open. Mon.–Fri., 4 to 8; Sat.–Sun., 11 to 3. Takeout and delivery also available.
Kildare's Pub
18 W. Gay St. 610-431-0770; KildaresPubWC.com
Full menu plus family-style options. Order online for curbside pickup or delivery. Call for pickup and someone will bring your food and place it in your car—six-packs included! During Covid-19 restrictions, get 25% off gift cards.
Open for takeout and delivery Mon.–Thurs., 4 to 8; Fri.–Sun., noon to 11 pm.
Kooma Asian Fusion and Sushi Bar
123 N. Church St. 610-430-8980; KoomaFusion.com
A fusion of Asian cuisine offering plenty of choices, letting you pair a Sashimi Sampler with Bibimbap, or Hibachi with Pad Thai Udon if you choose.
Open Mon.–Wed. 11:30 to 10 pm; Thurs. 11:30 to 11 pm; Fri. 11:30 to 12 am, Sat. noon to 12 am; Sun. 11:30 to 9 pm. Call to order takeout or delivery.
La Tartine
109 W. Gay St. 484-288-2044; LaTartineWC.com
Authentic Mediterranean food—from crepes to falafel, from smoothies to shawarma, plus açai bowls and cookie butter coffee.
Now open Mon.–Thurs., 9 to 4; Fri.–Sat., 9 to 6; Sun., 9 to 3.
Limoncello Ristorante
9 N. Walnut St. 610-436-6230; LimoncelloRestaurant.com
Authentic Italian cuisine perfect for a date night at home. Beer and wine available for pickup and delivery as well.
Open for outdoor lunch, Tues.–Sat., 11:30 to 4; outdoor dinner hours are Tues.–Sat., 4 to 9.Curside pick up hours are Tues.–Sun., 12 to 9, taking orders until 8:30.
Mae's West Chester
39 W. Gay St. 610-955-4452; MaesWC.com
A new farm-to-table spot offers take-out, catering and, soon, full service dining, when conditions permit. From brunch dishes, pressed Cuban sandwiches to cedar plank salmon, they also have family meals (for 4).
Open for take out and outdoor seating. Wed.–Thurs., 4 to 8; Fri., 11 to 8; Sat. 11 to 8; Sun., 9 to 2.
Market Street Grill
6 W. Market St. 610-429-5328; TheMarketStreetGrill.com
Takeout doesn't have to be for just dinner! Market Street Grill can satisfy your breakfast and lunch cravings.
Open Mon.–Sun. 7 to 2:30; breakfast all day; lunch starting at 11. Breakfast only on Sun. Takeout and delivery available. Call to order or use Grub Hub.
Mercato Ristorante and Bar
33 W. Market St. 610-701-6326; Mercato33.com
With good food, wine and company, time pauses, and that's how you'll feel sharing Mercato's Italian cuisine—"Born in Italy, served in West Chester."
Open for outdoor dining Mon.–Thurs., noon to 10; Fri.–Sat., noon to 11; Sun., noon to 9. Takeout available daily, noon to 8.
Nudy's Cafe
300 W. Market St. 610-696-4550; NudysCafes.com
Order from their wide selection of sweet 'n' savory breakfast and lunch options online for takeout and pickup. Delivery TBD.
Open Mon.–Fri., 7 to 4; Sat.–Sun., 7 to 3.
Opa Taverna
40 E. Gay St. 610-696-4100; OpaTavernaPhilly.com
Travel to the Mediterranean in spirit. Order classics like gyros, souvlaki or lamb chops for takeout, curbside pickup or delivery.
Lunch and dinner 10 to 10 daily; brunch Sat.–Sun., 10 to 3. Order online.
Pietro's Prime
125 W. Market St. 484-760-6100; PietrosPrime.com
Looking for a special meal? Maybe for stay-at-home date night? Order Surf 'n' Turf favorites from Pietro's, with steak and chops ranging from 8 to a whopping 24 ounces plus plenty of seafood options for entree or appetizers. Credit card payments only. Free delivery within a 10-mile radius.
Open for takeout and delivery Tues.–Sat., lunch 11:30 to 2:30; dinner 2:30 to 7:30. Call to order.
Roots Café WC
133 E. Gay St. 610-455-0100; RootsCafeWC.com
Sustainable menu with daily vegan options. Ingredients are sourced from local farmers, so you're supporting more than one local business with your order!
Check their Facebook page for updates. Open for outdoor dining and curbside pickup, Wed.–Sun., 10 to 3.
Ryan's Pub
124 W. Gay St. 610-344-3934; Ryans-Pub.com.
Ryan's Pub is offering a customized takeout menu. Choose from a wide variety of wings, apps, entrees, burgers and a children menu for your kiddos! Available for pickup only; must pay by credit card.
Yellow phase menu available for dine in or take out. Mon.–Thurs., 4 to 9; Fri.–Sun., noon to 9.
Saloon 151
151 W. Gay St. 610-701-8489
Get all your favorites from Saloon 151—they're still open daily. Check out their Instagram page, @Saloon151, for daily specials.
Open for pickup Sun.–Thurs., noon to 8; Fri.–Sat., noon to 9. Free delivery.
Slow Hand
30 N. Church St. 484-999-8638; SlowHand-WC.com
Call to make your reservation or to place your pick up order. Customers can also make a donation to the Chester County Food Bank when ordering.
Open Mon.–Sat. 11 am to 2 pm; Sun., 11 am to 11 pm.
Spence Cafe
131 N. High St. | 610-918-1272; Spence.Cafe
Operating on a limited menu, the cafe is offering family style entrees that can feed up to three people. Find daily entree choices and prices on social media or by calling.
Call ahead to order between 12 and 3:30, for pickup from 4:30 to 6:30. Pickup your order in the alley behind the café (away from the High Street traffic).
Taco Mar
122 E. Gay St. 610-455-1400; TacoMar.com
Order your favorites online from their Burrito and Salad Bar, Taco Stand and Baja Grill. Meals are made to order with vegan options available.
Open Mon.–Fri., 5 to 8; Sat.–Sun., 12 to 8 for takeout and delivery. Call to order.
back to top