What is Your Book Club Reading?
Here are some suggestions to add to your list.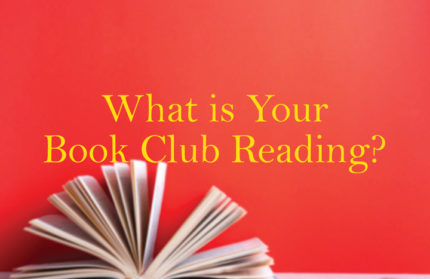 Book clubs gather both the shy and the garrulous to a circle eased by coffee and tea—and often wine—to share stories of books and their own lives. That sharing is key. The books offer the opportunity to connect. It's as important to look into others' eyes, speak and be heard, as it is to read a common story.
Ideally, the book should have a narrative drive that never flags and characters, real or imagined, with whom readers can blend their own experiences. But in the end, the chosen book is the invitation to be companionable. It's the meeting that matters, and reading is the love that propels all of this.
But you still must have books to fuel the gathering. Try these.
The Rosie Project
by Graeme Simsion
If we aren't longing for love, we often wish (quietly, secretly) it could be better. Why does it require such searching, such mess? Don Tillman, a scientist, wants to be married but also to avoid the turmoil of getting there, so he creates a survey for a potential spouse. Then Rosie, the unknown variable, intervenes. Science confronts romance. You can figure which wins. Every book club needs a light touch. This is one.
Lilac Girls
by Martha Hall Kelly
Perhaps because we believe our lives are mostly predictable, we like stories of conflicts, comfortably removed, where characters haphazardly cross into experiences they never would have met, and are dramatically turned away from conventional paths for a life. When Hitler invades Poland, three women meet, and one is a monster in waiting. This novel expands time to include entire lifetimes—another quality we love in stories since we can't see our own lifetime as a whole. We often want a sense of completeness and the unexpected—as one character says, "a night [that knocks] something loose, something long overdue to be knocked."
Pachinko
by Min Jin Lee
Some books open up all their promise with a sublime first sentence: "History has failed us, but no matter." We want to know who is "us" and how history has failed them. The last three words imply a strength that we immediately hope would be our own if history were to fail us. The reader is hooked, and book clubs need stories that sink those hooks in deep and early so its members will want to turn each page. A novel about a Korean family's life in Japan during the war years and after will be for many readers a journey into a little-known era and setting. After Pachinko, the readers' inner life will be richer, their understanding of humanity's common conditions broader, and the discussion around the table even better.
The Song of Achilles

by Madeline Miller
We live in a time suspicious of mystery, when we want even our heroes and heroines open to our gaze. Miller plays upon that desire with her portrait of Achilles, the Iliad's great killer and seeker of glory. Today we want to know the inner and intimate life of a man who could say of himself, "There are no bargains between lion and men. I will kill you and eat you raw." Miller also gives us a love story and a killer who loves deeply—always a great reading.
News of the World
by Paulette Jiles
Some selections sell themselves. Recite the kind of premise that suggests adventure and a primal kinship, one where a child comes under the protection of an adult, and every book club member will clamor to read that suggestion. Promise them a journey across hundreds of dangerous miles of the 1870s American West in the company of a 72-year-old veteran of many wars named Captain Jefferson Kyle Kidd, who agrees to take a resourceful 10-year-old girl, ransomed from Kiowa captivity, back to her family. Kidd can handle a Colt revolver and is unperturbed by both bad men and bad weather. Tell me you, too, don't want to read this book.
Thirteen Ways of Looking
by Colum McCann
McCann uses Wallace Stevens' poem "Thirteen Ways of Looking at a Blackbird"—about the mysteries of perception and grace found in unexpected forms—as the inspiration and pattern for these novellas. He gives us four ways of looking: a story about a witty old man who will be murdered, a meta-story about a young female Marine sniper waiting in the dark in Afghanistan, another story about a mother terrified for her autistic son's safety after he disappears, and a final story about a nun who travels to confront the man who almost destroyed her. This is fiction that combines lyricism with breathtaking, emotional power.
---
Maybe after everything else is said, book club members, like all of us, want stories that appeal to the heart and to our desire for beauty.
Find the Wellington Square Bookshop on Facebook, Instagram and Twitter. The Bookshop hosts a café, weekly story times on Tuesdays for children (ages 1–5), monthly fiction and nonfiction book clubs, author events with book signings and an Avid Reader podcast available on Podomatic. 549 Wellington Square, Eagleview Town Center, Exton. WellingtonSquareBooks.com.
back to top