West Chester for the Holidays
Photos by Timlyn Vaughan

Download the events listing and map (PDF)
Great holiday shopping, a spectacular parade and dining destination all year long.
You may have heard that Santa visited West Chester early this year with the gift of the Great American Main Street Award, one of the nation's most prestigious honors. Presented last May by the National Main Street Center, this designation provides downtown West Chester with yet another reason to celebrate. The livability of the community is preserved through its historic and cultural heritage, while the downtown continues to transform itself into a shopping and dining destination.
Yes, it is the complete package!
West Chester continues to aspire to a higher standard with the opening of a new Visitors & Information Center at the corner of High & Chestnut Streets. This collaboration between the West Chester Business Improvement District and Greater West Chester Chamber of Commerce, among others, will make West Chester even more vital and attractive. The final touches are scheduled for mid-December, when the center should be up and running. Stop by and see for yourself.
Seasonal Celebrations
Mark you calendar now for holiday fun! The QVC West Chester Christmas Parade, downtown's grandest parade, takes place Friday, December 1, starting at 7:15 p.m. Once again it promises to be the highlight of the winter holiday season with marching bands, cold air balloons and performance groups. Singer/songwriter Ashlee Keating will release a brand new song to kick-off the parade.
This year's Holiday Village on High Street will offer some unique experiences. Visitors can look forward to very special photo opportunities in a human-sized Snow Globe sponsored by QVC and then head for the world's largest Rocking Horse, courtesy of Wells Fargo Bank. Both stops make picture-perfect souvenirs for holiday memories.
Starting at 5 p.m., dozens of other events surround the parade, including complimentary hot chocolate from First Resource Bank. So come downtown early and immerse yourself in the glow of West Chester's Christmas spirit—all presented by the Greater West Chester Chamber of Commerce.
During the rest of December, holiday carolers will be singing seasonal favorites at several locations throughout the downtown district. Check the West Chester Christmas page at DowntownWestChester.com for the best times to see—and hear—them.
Another fine tradition returns for its second year after its revival— the Chester County Historical Society Volunteer Organization's Greens Sale & Holiday Crafts. The event offers a stunning array of beautiful and affordable locally handcrafted wreaths, ornaments, garlands and floral arrangements. And for the do-it-yourselfer, there are generous bags of greens and holly.
The Historical Society volunteers will also sell luminaria kits (no sand needed) that are reusable year after year.  The sale runs December 8 & 9: on Friday, 9:30 a.m. to 8 p.m., and Saturday, 9:30 a.m. to 2 p.m., at the Chester County Historical Society, High & Chestnut Streets.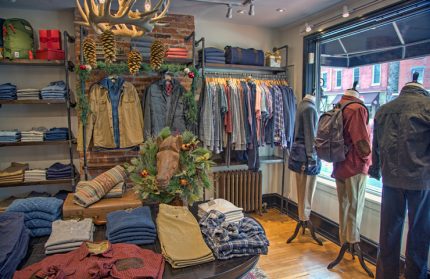 Shopping small is BIG
There are more than 150 small shops and restaurants that are independently owned by friends and neighbors in downtown West Chester. Since Thanksgiving weekend, #ShopSmallWC has been encouraging patrons to shop and eat locally, where our neighbors work.
In addition to your long-time favorite shops and boutiques, there are six retail shops new to the downtown retail district offering items you won't see anywhere else.
For those looking for personal and home accessories to express their individuality, VK Veruzka's Store (113 N. High St.) is intended to enrich your lifestyle with art, style, culture and creativity. Their pieces have a worldwide influence with items created by artisans from North and South America, Asia and Africa.
Searching for something serene? Tracey Wang Stuligross was born in China where her family owned a tea house, and from their business she became an expert in all aspects of tea—from selecting the best leaves, proper brewing techniques, and the connection between tea and the Zen approach to life. Tracy now brings her love and knowledge to West Chester with the opening of TranquiliTEA Temple (127 N. Church St.). Her shop offers tasting and a wide range of loose tea to bring comfort to a busy life.
When Bob Strehlau became the new owner of Bove Jewelers, he already had 15 years of experience with the now 88-year-old jewelry store. Even more notable, Bob's family has been in the jewelry business since 1879! Yes, Bob knows jewelry. Whether it's custom design or repair, Bove welcomes customers to their new West Chester location (113 W. Gay St.).
Walk into Modern Tribal Arts (148 W. Gay St.) and the first thing that hits you is the beauty and craftsmanship that only the highest quality luxury carpets can provide. Owner Adam Corson has developed strong relationships in the international hand-knotted rug industry. His carefully curated selection of rugs offer collections exclusive to Modern Tribal Arts such as Thibaut Van Renne, Wool and Silk Rugs, Sahar Carpets, Ariana Rugs and Paulig Teppiche.  Find a magic carpet perfect for your home.
There's no question that style thrives in West Chester. So why wouldn't La Chic Boutique expand with a second location in the heart of downtown (14 W. Gay St.)? Owner Alysha Martinelli personally selects each designer item, from belts to dresses, to suit the desires of both working and trendy customers.
Looking for something that's not just American made, but West Chester made? Despite rapid growth of Tesoro, co-owners Brittany Reed and Emily Pisano chose to stay in downtown West Chester, where they design and manufacture high quality leather goods. Better still, now they have a storefront (230 W. Market St.) where you can choose hand-made leather products that never go out of style. "We believe features such as a reversible option and removable/adjustable straps will take you from the boardroom to a cocktail party," say Brit and Emily. "Style should never be sacrificed for functionality, and our bags prove that it's possible."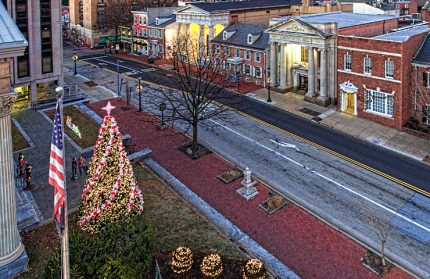 Family Fun
Yes, the Christmas parade is a top reason to visit West Chester for the holidays, but there are more things on the holiday fun list. The West Chester Railroad, which began running in 1858, presents Santa's Express. This popular Chester Valley excursion runs through December. Check availability at WestChesterRR.net.
On Saturday, December 9 at 2 p.m., the wildly hilarious Story Pirates will collect audience members' ideas for an impressive improv show that validates the power of human imagination! At Madeleine Wing Adler Theater (817 S. High St.). Information at DowntownWestChester.com.
And finally, what's Christmas without a Charles Dickens holiday classic? A Christmas Carol comes to life as the Resident Theatre Company re-enacts a live 1940s radio broadcast complete with vintage commercials and live sound effects. Performances at the Uptown! Knauer Performing Arts Center (226 N. High St.), December 15–31.
back to top