Weddings with Perfect, Personal Touches
Sometimes it's the little things...
View PDF version here.
When Hannah and David married, every moment and every detail of their wedding weekend told a story of love, family and friends.
They exchanged vows in front of a grand stone fireplace at a park bordered by a farm belonging to generations of Hannah's family and close to David's family's home. Between festivities, guests hiked trails among ferns, evergreens and bubbling brooks to a suspension bridge — the site of the couple's engagement photo.
The couple's scrumptious, sumptuously decorated wedding cake was adorned with chocolate peanut butter cups, a favorite of the groom. As in the Quaker tradition, families and friends had the opportunity to speak during the ceremony — to share special memories, bestow wisdom and welcome them as a married couple.
Whether sparkling fairy tale, simple ceremony or event like no one has seen before, weddings today are personal — reflections of the couples and their lives.
As Time Goes By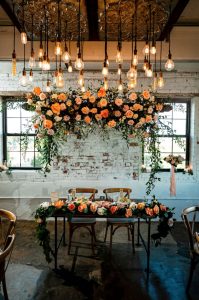 Casablanca — one of Chester County's newest micro-wedding venues — gives a nod to the classic romantic drama about love. Its backstory is an inspiring tale that reminds couples and their guests of romance, mystery and intrigue that are part of every couple's journey.
Longtime wedding photographer Matt Lloyd was visiting the sand dunes of Morocco with friends in March 2020 when the pandemic became an international crisis. Countries' borders began to close. While European airports shut down, Matt searched for any combination of airports that could ferry him to any location in the U.S. He left on one of the last flights from Casablanca to the Middle East and flew from there to Atlanta.
Returning to Pennsylvania, Matt's plans to open a photography studio changed. The new goal was to create a place where people could escape to feel love, family and a new start. Enter the venue, Casablanca.
Once a factory, the boho chic venue's white brick walls and Moroccan touches, including a structure for suspended floral arrangements or glass ornaments, lend themselves to a couple's creative expression. Its affordable packages streamline tasks — booking caterers, finding flowers or wondering which bakery is a trusted source for cake or nontraditional desserts (such as a heart-shaped almond cake or tiers of cannolis from Casablanca's preferred vendor Bakers of Buffington). Services leave couples time and energy to focus on their upcoming marriage, instead of stressing about preparation.
Say Yes … to the Shoes, the Veil and the Dress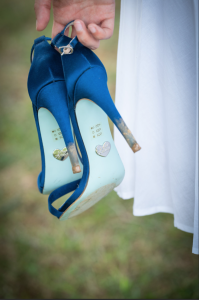 Recently, a bride-to-be waltzed into bridal boutique Ever After with a glamorous gift from her future mother-in-law: wedding shoes. Not just any shoes — Manolo Blanik's royal blue stilettos with dazzling jewel buckles, rendered iconic by "Sex and the City" movie character Carrie Bradshaw when marrying Mr. Big. Not unlike Cinderella, first she said yes to the groom, then to the glass slippers, and then to the gown to fit the spectacular shoes.
According to Ever After's owner, Andrea Oligasti, women consider many options for dresses. They ensure comfort for eating and dancing, often ending up with detachable trains, sleeves and overskirts. When caught between two choices, they return to the shop with the eyes of a trusted advisor — often selecting a modern style when helped by friends or a traditional style when supported by a mother or grandmother.
Ever After recently helped two brides looking for dresses to wear with their mothers' veils. An heirloom sheer tulle cathedral-length veil was breathtaking with an elegant dress with button-down back. A late 1980s lace veil paired perfectly with a modern gown with a sheer lacy, beaded overlay.
Memorable Touches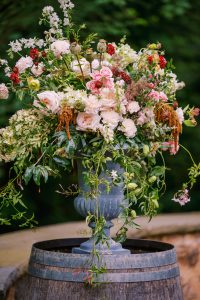 Flowers, too, are meaningful touches. At Hannah and David's December reception, a table with roses and boughs reflecting the park's evergreens held photos of their parents' weddings.
This year, Hilltop Flower Design harvests wedding flowers from two local farms. Blooms travel from field to cooler, to their shop and then wedding venue. Owner-designers Dannie and Amanda work closely with couples and, if a bride feels overwhelmed, use their creativity to generate ideas for color palettes and styles. Wild, whimsical table designs match hues of linens with complementing blossoms, candles of different heights and room arrangements, including increasingly popular aerial arrangements.
Wearable flowers are trending, including Hilltop's wrist corsages attached to gold bracelet cuffs, flower crowns and a new accessory for tuxedos. Pocket square boutonnieres look like miniature gardens growing out of a breast pocket. These inserts eliminate the need for a pin that will accidentally poke someone sooner or later.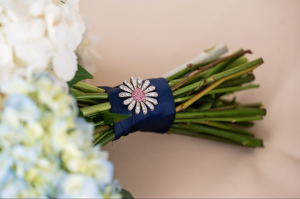 Last year Hilltop's English garden-style urns appeared at an outdoor ceremony — still popular for health and beauty — at the Inn at Grace Winery.
A sprawling estate in Glen Mills, Grace Winery offers space for indoor or outdoor weddings and related festivities. From glorious weekend affairs at the historic farmhouse-turned-inn and charming guest cottages to engagement parties with delectable fare or pre-wedding wine tastings, the options are numerous. Every inch of the property is a photo backdrop: pink and purple sunsets over the stone inn and grapevines, a bridal dance under the barn's beams or sublime moments when a horse or alpaca wanders to the fence to find out what the music is all about.
Something Old, Something New
At Kerkula's, a new jewelry shop in West Chester, every piece is custom made. Owner-jeweler Kevin Kerkula says he repurposes grandmothers' or great-grandmothers' jewelry to become sparking new engagement rings or wedding bands tailored for and by newer generations.
With the aid of three-dimensional software, jeweler and couple create a design with modern flair, more diamonds or different precious metals until a ring is their dream come true.
Just for Fun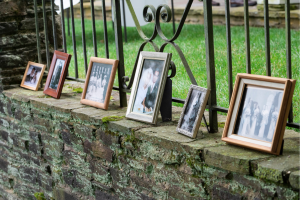 Latest festivities also create moments that are fun, fanciful and for smiling. Before the nuptials, brides paint the ring finger with a color different from the rest of the manicure — "so he can't put the band on the wrong one?" postulated Hannah.
Family wedding photos, amusing backdrops and customized corn hole games entertain guests at festivities. Fun fare — Greek sliders or crispy cheesesteak egg rolls at a Grace Winery bridal shower, or donuts and charcuterie boards between vows and receptions — leaves everyone with a great taste in their mouth.
Perfect, personal touches leave a lasting reminder that "I do" is just the beginning.
For more unqiue weddings and inspiration, click here.
Gorgeous Wedding Gowns
Sincerity Gown, style 44165

Sabrina Ann Couture
128 N. High St., West Chester
484-999-8326; SabrinaAnn.com

Allure Bridals Romance Collection, style R3604

A sheath gown with floral lace applique.

Claire's Fashions, Inc.
1312 Philadelphia Pk., Wilmington
302-798-1312; ClairesFashions.net
back to top