Visit Lancaster County
After a few months at home, even a short road trip can feel like an adventure. That's a great reason to consider a daytrip or weekend excursion to nearby Lancaster County. With rolling Amish farmlands, wide open spaces and timeless places, outdoor recreation options and roadside stands, Lancaster County attracts visitors with its simple goodness. So whether it's just a chance to drive and put some space between you and your stay-at-home spot or a more organized photo excursion to capture nature's beauty, here's a destination to consider.
Pick a Region
Consider exploring one (or more) of the five diverse areas in Lancaster County, each with its own flavor. The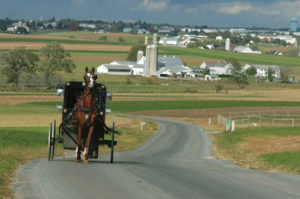 Amish and PA Dutch area in the eastern portion of the county is the closest to most of us and perhaps the best known, offering a glimpse of a different time. To the north, the Antiques Capital, around Adamstown, has an astounding collection of antiques shops with treasures for any budget. The Small Towns and the Northern Countryside region is very much as the name implies—a bit of Norman Rockwell atmosphere in towns like Ephrata, Mt. Joy and Lititz.
Lancaster City, the county seat and the only real city, is located in the center of the county and is a surprisingly cosmopolitan destination, with lively arts and restaurant scenes. And finally, to the west along the Susquehanna River, you'll find the Riverlands, with plenty of history to accompany a variety of outdoor recreational activities. Find out more in our April issue article "Spring Getaways in Lancaster County."
Covered Bridge Tour
For a quintessential Lancaster County experience—and perfect for social distancing—explore some of the 25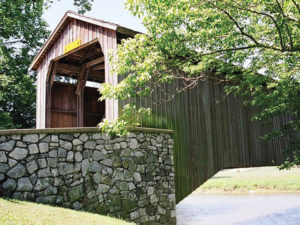 covered bridges that mix charm and romance. The romance part comes from the name "kissing bridges," another term used to describe these structures where many couples have strolled and paused to … reflect on the remarkable architecture.
Choose one of five driving tours, each with directions, a bit of history and suggestions for places to stop and things to do along the way. (Check to make sure the tempting restaurants and other attractions recommended are open.) Or BYOP (bring your own picnic).
Hiking, Biking and More
Lancaster County's open space is an ideal setting for outdoor fun. Parks and preserves offer a variety of scenic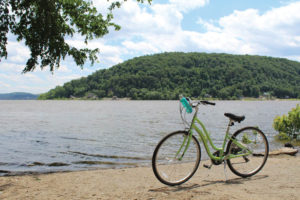 trails, whether you're wearing sneakers or hiking boots broken in on the Appalachian Trail.
For example, the Susquehanna Heritage area draws visitors to 40 parks, trails and nature preserves. Enjoy flowering fields, verdant woods and views of wildlife. You can even hike the famous Mason-Dixon Trail.
Rolling hills and back roads attract cyclists looking for a scenic ride. Established bike trails are also available for those who prefer a guided tour of lush farmlands, river views and plenty of fresh country air. There's even a bike route that takes you through covered bridges.
And yes, there are scooter tours in Strasburg, rock climbing at Chickies Rock, and kayaking on the Susquehanna River. DiscoverLancaster.com.
Finally, the Wolf Sanctuary in Lititz is worth adding to your itinerary. For nearly 40 years the Darlington family has provided a refuge for gray wolves and wolf-dogs. This educational facility on 80-some acres offers guided tours to let visitors meet the Wolves of Speedwell. Can't visit for the Full Moon Fundraiser event? Book a professional photography session or adopt a wolf to help support this nonprofit. WolfSanctuaryPA.org.
Things to Do from Home
Much like other tourist attractions, Lancaster County has been busy finding ways folks can enjoy what they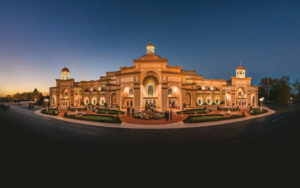 have to offer, but virtually.
If you've tried every educational resource from local sources, then check out the STEM offerings from The North Museum, with new material added each week. Hands-on engaging activities are available to download. Try the Geology or Dinosaurs sessions for Pre-K for $5.
A fan of Sight and Sounds shows? Buy DVDs of popular shows to watch at home. Available exclusively through the theater and filmed in front of a live audience, the Jesus DVD includes director's commentary. Other shows—Johan, Joseph, Noah, Ruth or a collection—also available.
For train fans, tune in to the webcams and Google Streetviews at the Strasburg Rail Road to see what's happening there. StasburgRailRoad.com.
TIP: Just for fun, learn to speak like the Amish people with online lessons at AmishFarmAndHouse.com. A new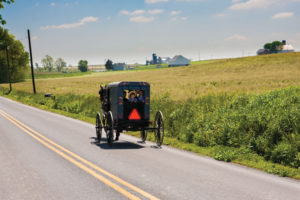 word is posted each day, and you can review prior posts to expand your vocabulary. Heemet = home
(pronounced hay-met), pannhass = scrapple, rock = dress. You'll also learn about Amish culture, e.g. Amish women wear dresses every day, and the dresses are long, of solid colors, without designs or ornament.
back to top