Understanding Biodynamic Wine Production
Mysticism or meticulous wine making? Sip and decide for yourself.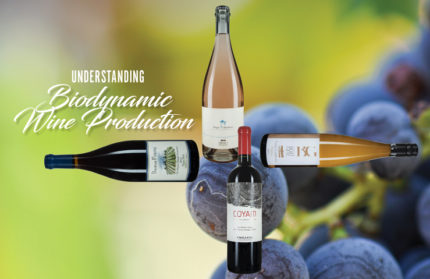 Just like the desire for purity in the food industry, the biodynamic wine trend grows bigger every day. Wait, biodynamic? What exactly does that mean?
The short version: Biodynamic agriculture is a holistic approach to farming that joins organic practices with ethical and spiritual principles. Dating back to 1924, Austrian philosopher and scientist Rudolf Steiner warned farmers about the dangers of chemical fertilizers and agricultural industrialization, which he believed caused soil degradation. Biodynamic farming is the oldest, anti-chemical farming movement, pre-dating organic agriculture by 20 years. (Organic wines are a topic for another column.)
Biodynamic ideology is rooted in the ideas that the earth—and each vineyard—is a living organism that we must care for and protect, and that everything in the universe is interconnected by energies we must seek to keep in balance.
This type of farming avoids the use of chemical pesticides, herbicides or fertilizers, and minimizes the use of sulfites. Typically, grazing animals are used in the fields to reduce pests and to create compost to fertilize the land. Flowers, trees and other ground cover is planted or retained to increase biodiversity and supply nutrients to the soil. If organic agriculture seeks to maintain the natural life of the soil, biodynamic agriculture seeks to enhance it and aims for the vineyard to be a self-sustaining ecosystem.
In addition, biodynamic wine producers don't use manufactured yeasts during the wine-making process, relying instead on the wild yeasts present on the grapes to cause spontaneous fermentation. Rather than using GMOs, these producers have a stock of self-bred seeds, plants and animals. Dyes, enzymes and powdered tannins are also avoided.
Some biodynamic practices are considered controversial. For example, biodynamic farmers use soil supplements—developed by Rudolf Steiner and intended to increase soil vitality and balance its energy—including preparations of dandelion, yarrow, chamomile, oak bark, valerian and stinging nettle to compost. Or, manure or silica may be buried in cows' horns for half a year and dug up later to use the resulting rich, decomposed soil in the vineyard. Like I said, controversial.
Biodynamic farmers may also plant, water, prune and harvest according to an astrological calendar to harmonize terrestrial and celestial energies. This is a farming method that has been practiced for much of history and is evident in the Farmer's Almanac as well. Despite this historical basis, these practices contribute to perceptions of the biodynamic movement as mere mysticism.
Winegrowers can join a biodynamic association—like Demeter and Biodyvin—to gain certification for their vineyards and wines. Today, over 700 vineyards are biodynamic certified around the world, including an increasing number of top estates, but no Pennsylvania wineries … yet.
Proponents of the practices cite their successes. Wine-makers from the prestigious estate Domaine Leflaive in Burgundy have claimed that biodynamic practices saved a severely diseased estate vineyard that now produces some of their top wines.
Other biodynamic producers have reported that since employing these practices, they have better sugar/acid balance in their grapes, as well as more vibrant, floral flavors, greater expression of terroir and longer aging potential in their wines. The wines are described as "natural in character" and "alive in the glass."
The good news is that whether you believe in biodynamics or not, the wines tend to be quite delicious! When you think about it, any winemaker who puts that much time and effort into their vineyards will likely put the same exacting care into their wines. Biodynamic wines have, in fact, consistently scored better in blind tastings by wine critics compared to conventionally farmed wines.
Here are some of my favorites for you to sample and begin exploring this exciting wine category.
Matthias Hager converted his vineyards in Kamptal, Austria to biodynamic cultivation in 2005 and is one of the youngest members of Demeter. Hager's wines include a unique kind of sparkling wine called a Pétillant Naturel, commonly shortened to Pét-Nat. This style is made by bottling the juice in the middle of fermentation, so some of the carbon dioxide is trapped in the bottle, producing a natural sparkling wine with light bubbles and no additives. Matthias Hager Zweigelt Österreich 2016 ($24.99) is a delicious pale pink bubbly with strawberry, green apple and citrus notes and a full and creamy mouthfeel. Try it by itself, with bagels and lox, or summer salads.
Domaine Bott-Geyl, a respected producer in Alsace, France, is a member of Biodyvin. Domaine Bott-Geyl Points Cardinaux Métiss Alsace 2014 (91 points—Wine Enthusiast, $16.99), a blend of 40% pinot blanc, 40% pinot auxerrois, 10% pinot gris and 10% pinot noir, is vinified as a white wine with spontaneous fermentation lasting eight months. With lovely bright citrus and orange blossom notes, this wine should be enjoyed within the next five years. Pair it with shellfish, turkey or eggs benedict.
The winegrowers at Beaux Frères in the Willamette Valley have been practicing biodynamic cultivation for the last 15 years. The Beaux Frères Vineyard Pinot Noir 2014 (95 points and #3 of Top 100 of 2016—Wine Spectator, $89.99) is sourced entirely from fruit grown in the winery's original estate vineyard. Complex and brooding, this medium-bodied wine is bursting with plum, black cherry, spice and violet flavors that are well integrated with a touch of oak. Drink this over the next ten years with roast pork, duck and grilled salmon.
Emiliana, the largest organic wine producer in Chile, practices biodynamic farming as well. Emiliana Coyam Red Blend Colchagua Valley 2013 (93 points—James Suckling, $34.99) is a blend of 48% syrah, 24% carménère, 11% merlot, 10% cabernet sauvignon, 3% mourvèdre, 3% malbec, and 1% petit verdot. Bold, rich and spicy, Coyam exudes aromas and flavors of ripe red fruits, walnuts, earth, minerality and vanilla. Enjoyed over the next 10 years, this wine pairs well with herb-crusted lamb, eggplant and empanadas.
I hope you enjoy these delicious biodynamic wines and are inspired to seek out others. With the biodynamic wine category growing every day, there will be more to explore!
Kayleigh Thompson has worked in the wine industry for over seven years and has earned the Certified Specialist of Wine certification from the Society of Wine Educators. She works as a Product Education Specialist at the Fine Wine & Good Spirits Premium Collection store in King of Prussia, on DeKalb Pike. Learn more at FineWineAndGoodSpirits.com.
back to top