Piedmont Picks
From dry reds to sweet wines, a region with range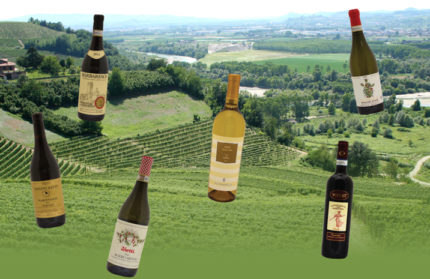 Piedmont, Italy is a winemaking region that has it all—age-worthy dry reds, crisp whites, sweet wines, sparkling—and does it all well! This area has the country's highest concentration of DOCG production (Italy's top-level designation for wine), with 84 percent of its wines earning this designation.
The region is also unusual because, for the most part, it resists planting common international grapes like cabernet sauvignon, pinot noir and chardonnay. Instead, the focus of Piedmont wine growers is on their unique and traditional local varieties.
I frequently turn to Piedmont wine for many occasions because the variety of unique grapes and wine styles pair with everything—from shellfish to steak to crème brûlée. Plus, they're really good!
Here are some of my favorite grapes by wine style below—at least, the ones you're likely to find in local wine stores. Although there are many other great grapes from Piedmont, some—because they aren't widely grown or exported—can be harder to find.
Dry Reds: Dolcetto, Barbera, Nebbiolo
With a name like dolcetto ("little sweet one"), this grape sounds like it would make a sweet wine. Surprisingly, dolcetto makes a delicious medium-bodied, low-acid, tannic red with black cherry and licorice flavors with a hint of almond on the finish. It's meant to be drunk within a few years.
Luigi Einaudi Dolcetto di Dogliani DOCG 2015 (92 points and #38 Top 100 of 2017 Wine Spectator, $17.99) has a rich purple color and complex bouquet of blackberry, earth, blueberry, graphite and a characteristic slight almond finish. Drink it with pasta dishes and pizza.
Barbera, the most widely planted red grape in Piedmont, makes a medium-bodied, dry, ruby red wine with high acidity and lower tannin levels. Lighter versions are known for their red cherry, berry and dried fruit flavors. Although most of these wines are intended to be enjoyed young, those made from older vines or with reduced yields often have better fruit and acid balance, so with a bit of oak aging, can be cellared for many years. Barbera is grown perhaps most famously in Barbera d'Asti DOCG, which has lighter, more elegant expressions, and Barbera d'Alba DOCG, which produces more powerful versions.
Michele Chiarlo Le Orme Barbera d'Asti DOCG 2014 ($14.99) is made from barbera grapes selected for optimum exposure and aged for eight months in large French oak casks to add complexity. Medium-bodied, with flavors of ripe cherry, blueberry and raspberry, this wine pairs well with roasted chicken with wild mushrooms, grilled pork or salmon, and pasta with red sauce and sausage.
The most prestigious grape of the region is the native Nebbiolo. Its two most famous wine appellations, Barolo DOCG and Barbaresco DOCG, have been called by experts the king and queen of Italian wine, respectively.
This grape is named after the Italian word for fog (nebbia), which covers the vineyards in thick layers in October. Nebbiolo wines are an orangey, brick-red color and are flavorful, elegant, tannic and exceptionally age-worthy (for almost two decades), sometimes requiring many years to mellow the tannins to balance with other characteristics.
These wines have aromas and flavors of tar, violets, truffles, roses, tobacco, herbs, black cherries and plums. Barbaresco DOCG wines are lighter and have less mandatory aging before release (21 months total, 9 months in oak) than Barolo DOCG (3 years total, 1 year in oak). Both regions must make wines from 100% Nebbiolo grapes, and both have several sub-regions that produce different styles due in large part to the chalk, clay and marl (lime-rich) in the soils and different sun exposures.
Other famous appellations include Gattinara DOCG, Ghemme DOCG and Roero DOCG, all of which may blend Nebbiolo with a small amount of other red grapes and produce lighter, earthier styles worth exploring. Prices for Nebbiolo run the gamut, though high-end bottlings from prestigious regions can easily cost hundreds.
Produttori del Barbaresco Barbaresco DOCG 2014 (94 points Wine Advocate, $39.99) is made by a 52-member cooperative and aged in large oak casks for two years. It's a beautiful, medium-bodied wine with fragrant notes of licorice, cherry, rose, strawberry, tar, earth and jasmine with grippy tannic structure.
Renato Ratti Marcenasco Barolo DOCG 2013 (95 points and #54 Top 100 of 2017 Wine Enthusiast, $49.99), aged in oak casks for two years, is elegant, full-bodied and refined with aromas of herbs, tar, blackberries, violets and baking spice and flavors of cinnamon, pepper, tobacco and cherry that last through the velvety tannic finish.
Pair these fantastic wines with venison, grilled steak, egg pasta and long-aged cheddar cheese.
Dry Whites: Cortese and Arneis
Very productive, Cortese grapes have been grown for more than four centuries in Piedmont and create excellent wines when their yields are restricted. They may be labeled Cortese di Gavi, Gavi or Gavi di Gavi. The wines are light- to medium-bodied, crisp, dry whites with aromas and flavors of citrus, wet stone and green apple.
Fontanafredda Gavi di Gavi DOCG 2016 ($18.99) is full of character. The wine is straw yellow with notes of lily of the valley, green apple, lemon, flint, wet stone and a hint of vanilla. It pairs excellently with spinach and artichoke dip, fish with herb butter, asparagus risotto, shrimp scampi and pasta with pesto sauce.
Arneis is native to the Roero Hills sub-region and has grown there for more than six centuries. It faced extinction in the 1960s but was brought back into the limelight by two famous Barolo and Barbaresco producers, Vietti and Bruno Giacosa. The name Arneis (little rascal) refers to its difficulty to grow. It's a lovely, heavy-bodied dry white with complex notes of stone fruit, white flowers and almonds.
Vietti Roero Arneis DOCG 2016 (90 points Wine Advocate, $19.99) marks the 50th anniversary of their first production of this wine. The pale yellow, full-bodied wine is electric with a unique bouquet of pear, citrus, saline, melon, white peach, herbs, white flowers, chalk and cashews. Serve with crab cakes, creamy chowder soup, fish tacos with cilantro, or roasted chicken with saffron rice.
Sweet Wines: Moscato Bianco, Brachetto, Malvasia di Casorzo
In Piedmont, Moscato Bianco (Muscat Blanc à Petits Grains) is the most planted white grape and the star of two famous wines, Moscato d'Asti DOCG and Asti DOCG. The first is the frizzante (slightly effervescent, sweet white) that's achieved huge popularity in recent years, and the second is a sweet, fully sparkling wine. Moscato Bianco delivers aromatic, musky notes of honeysuckle and ripe fruits.
Vietti Cascinetta Moscato d'Asti DOCG 2016 ($13.99) is pale golden yellow and entices the nose with aromas of ginger, peach, orange, melon and honeysuckle. Try it with orange chicken, creamy lobster dishes, blue cheese, baklava and crème brûlée.
The Brachetto grape could be Moscato's brother. Also sweet and bubbly, Brachetto d'Acqui is a very aromatic red wine with berry, honey, rose and white pepper flavors.
Bersano Brachetto d'Acqui DOCG NV (87 points Wine Spectator, $13.99) has alluring strawberry, raspberry, cherry, orange, spices and rose petals flavors. This bright ruby wine is a treat with raspberry cheesecake, fresh berries or milk chocolate.
Another sweet red frizzante wine, Malvasia di Casorzo has darker fruit flavors with chocolate and floral notes. It's made from a dark red, local variant of the Malvasia family of grapes, which include both reds and whites.
Antichi Giochi Piemontesi Voület Malvasia di Casorzo DOC 2016 ($12.99) is a cherry red color with flavors of concord grape, raspberry, plum, wild berry,and rose. Pair it with spicy barbecue, peach cobbler, chocolate cake, or dark chocolate.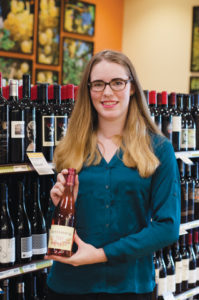 With so many styles to choose from, you're bound to find a wine from Piedmont that will suit any occasion. Or better yet, have a Piedmont wine party and potluck with friends and family and create an occasion to try them all!
Kayleigh Thompson has worked in the wine industry for over seven years and earned the Certified Specialist of Wine certification from the Society of Wine Educators. She works as a Wine Specialist at the Fine Wine & Good Spirits Premium Collection store in King of Prussia, on DeKalb Pike. Learn more at FineWineAndGoodSpirits.com.
back to top