Tough Mudder
Mud and Blood: Tough Mudder Comes to Plantation Field, May 20 & 21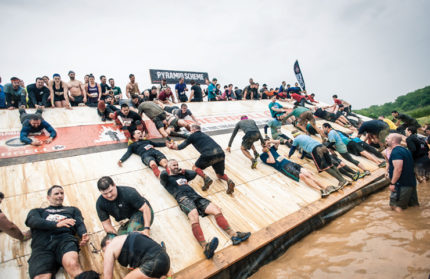 It will be fun! Spend the day at an obstacle course: swinging ropes, tall walls, dirty ditches … Get muddy. Pretend to be a Marine, yelling oorah and all that. It's about teamwork and camaraderie.
It can't be that hard: after all, it's open to the public. It's not a race. All you have to do is finish. You'll make some muddy memories. Are you in?
On May 20 and 21, the Tough Mudder event will come to our area, at Plantation Field in Coatesville, one of over 30 scheduled in the U.S. this year. The event planners expect 10,000 participants.
This event is special because it includes a Tougher Mudder, with a competitive, timed twist. With cash prizes, it's one of six qualifiers—8 hours, starting a midnight—for the World's Toughest Mudder, offering $5,000 in prizes and held in the Midwest in November.
The Toughest Mudder is an endurance event, measured by the number of 5-mile laps completed in 24 hours. That's right: 24 hours.
You probably won't sign up for the 24-hour version, at least the first time. But the shorter Tough Mudder Full—10 to 12 miles, 20 obstacles—or even shorter Tough Mudder Half—5 miles, 13 obstacles—will undoubtedly test your resolve.
The names of the obstacles—Kiss of Mud, Killa Gorilla, Arctic Enema—give a taste of what to expect. Electroshock Therapy is, by many accounts, "the worst"— 10,000 volts, dangling live wires, 50 torturous feet, the ever-present mud.
Where's the kids' version? Oh, there it is—the Mini Mudder  for 7 to 12-year-olds.
For the Greater West Chester Chamber of Commerce, this is the third Tough Mudder event partnership since 2015. GWCCC President Mark Yoder says that the Chamber "is proud to partner with Tough Mudder and help gather volunteers to serve beer to the participants." It's rounded up nearly 200 so far.
After hours of running, crawling, climbing, toil and mud, for many, it may be all about the beer. And the t-shirt and headband. 
Find out more or sign up at ToughMudder.com/events/2017-Philly.
Plantation Field, 387 Green Valley Rd., Coatesville.
back to top