Thornton Wilder's "Our Town"
At People's Light July 31–August 25
Long after it won the 1938 Pulitzer Prize for Drama, Our Town remains one of the most popular plays of all time, reminding us that there's beauty in the ordinary. Celebrate love, family and community with a music-infused production of Thornton Wilder's masterwork, on stage through August at People's Light.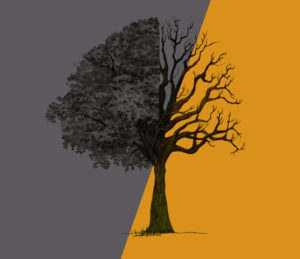 This American classic tells the story of Grover's Corners, a small New England town at the turn of the 20th century, and the day-to-day lives of the people who live, love and die there. Our Town distinguishes itself among Wilder's plays through its use of meta-theatrical devices, or aspects of the production that draw attention to its very nature as a play.
You'll see actors speaking directly to the audience and acknowledging that characters onstage are performers, as well as a very spare use of sets and props. "No curtains, no scenery," Wilder instructs. Grover's Corners lives in the imagination of the audience, so Our Town can become any town, or every town.
Fan-favorite troubadour David Lutken (recently seen on the Malvern stage in Woody Sez: The Life and Music of Woody Guthrie), returns as the famous "Stage Manager," our guide to the people and places of Grover's Corners. With him, David brings back post-show hootenannies—BYOI (bring-your-own-instrument) musical free-for-alls after select performances.
Musicians and music enthusiasts are welcome to hoot, holler and sing along. Our Town will feature live music performed on pump organ, fiddle and harmonica, and community volunteers will appear as the Grover's Corners church choir.
Our Town marks the final production of the 2018/2019 Season at People's Light. "All year we've been asking big existential questions—lots of hard stuff, but often told with laughter and grace," says Abigail Adams, People's Light Executive Artistic Director and director of the production. "Our Town is a capstone to this exploration. Wilder captures the ordinary experiences that we all share and makes them sacred."
Come celebrate another season of live, local theater.
If You Go
Where: People's Light's Leonard C. Haas Stage, 39 Conestoga Rd., Malvern
When: July 31–August 25
Tickets: $35-55 (includes fees); Discount tickets available; peopleslight.org/tickets/
back to top