The Wizard of Oz
Go somewhere over the rainbow this holiday season with Media Theatre's production of The Wizard of Oz.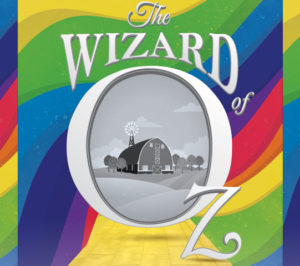 Be enthralled by the beloved tale of a Kansas farm girl discovering the magical power of home that has entertained audiences for generations. After its 1939 release, the movie version has been an annual treat on the small screen for families and kids of all ages.
Now the story comes to life in this stage musical version by Media Theatre.
As a whirling tornado sweeps young Dorothy away to the magical Land of Oz, she must use her wits and three brainless, cowardly and heartless allies to find her way to the City of Oz to convince The Wizard to take her back home.
But her journey is fraught with peril. The Wicked Witch of the West is after Dorothy and the ruby shoes the Good Witch Glinda gave her for the journey. Will she make it to Oz safely? No spoilers here! See the show to find out.
For this special production, a live orchestra conducted by Media Theatre's Resident Music Director, Ben Kapilow, will perform on a raised platform throughout the show to highlight the memorable songs, including "Over The Rainbow," "If I Only Had A Brain/A Heart/The Nerve" and "We're Off To See The Wizard (Follow The Yellow Brick Road)."
Anna Rosenthal is off to see the wizard, as she plays Dorothy. This talented young actress from Philadelphia is no stranger to Media Theatre's stage, with prior roles in Billy Elliot and Bridges of Madison County.
Oz is brought to life by a professional cast of actors, including several other of Philadelphia's award winning stars—Jennie Eisenhower (Wicked Witch), Elisa Matthews (Glinda), Kelly Briggs (Cowardly Lion), Bob Stineman (Tin Man), and Carl Smith (Scarecrow). JP Dunphy is Uncle Henry and the Gatekeeper, and Media's own Roger Ricker is The Wizard.
As a special treat, two separate casts of youngsters, ages 6 to 13 from The Media Theatre's School, will join the talented cast as The Munchkins, singing such favorites as "Muchkindland"—better known as "Ding Dong! The Witch Is Dead."
So grab your flying monkeys, but leave your buckets of water at home, and witness the incredible journey down the yellow brick road.
~Mackenzie Jaros
If You Go
Where: 104 E. State St., Media
When: November 13 to January 14
Tickets: $34–$59, available at MediaTheatre.org
Coming Soon: Julius Caesar
back to top