The Way Back
The Paintings of George A. Weymouth, at Brandywine River Museum of Art through June 3, 2018.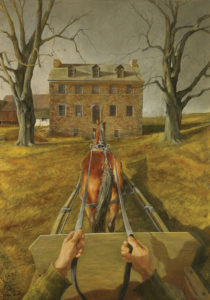 George A. "Frolic" Weymouth (1936–2016) was perhaps best known for his philanthropic endeavors, in particular as one of the founders and long-time chairman of the Brandywine Conservancy & Museum of Art.  He was also a remarkable artist.
Much like his friend and artistic mentor Andrew Wyeth, Weymouth was very private about his painting. Also, as they were for Wyeth, Weymouth's subjects tended to be friends and family and the scenery that surrounded him—in Weymouth's case the bucolic landscape of his estate in Chadds Ford.
Artists going back to the 19th century—among them Jasper Cropsey and William Trost Richards—have celebrated the beauty of the Brandywine Valley. Weymouth both carried on that tradition and created its next chapter. And it's especially fitting, then, for the Brandywine River Museum of Art to organize the first comprehensive exhibition of Weymouth's artistic career and examine his contribution to American painting.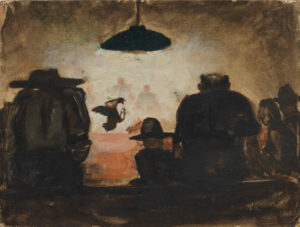 "The Way Back: The Paintings of George A. Weymouth" features 65 of Weymouth's best works chosen by guest curator Joseph J. Rishel. The selection reveals the breadth of the artist's visual investigations across many mediums.
Encouraged by his mother, Dulcinea "Deo" du Pont, Weymouth expressed an early interest in art. Formal training came when he took art classes while at St. Mark's School and later at Yale University. As the exhibition displays, his early oils, such as Chicken Fight (1948), reveal a loose, energetic style and monochromatic palette.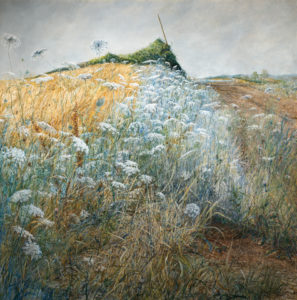 For the rest of his career Weymouth, influenced by Andrew Wyeth, worked in both watercolor and egg tempera to create haunting, hushed landscapes—such as August (1974) and Swelter (2011)—that speak eloquently of his passionate love of nature. In these paintings and in his insightful portraits—Gathering Storm (1964) and Portrait of William W. Scranton (1969)—Weymouth created rich atmospheric works and demonstrated his skill in capturing the effects of light.
The exhibition also includes pencil and watercolor studies Weymouth did in preparation for his tempera paintings. These rarely seen works provide a rich understanding of Weymouth's keen eye and his artistic process.
Make plans now to see this unique exhibit with very local connections.
If you go
Where: Brandyine River Museum of Art, 1 Hoffman's Mill Rd., Chadds Ford
When: January 27–June 3; Daily 9:30 a.m. to 5 p.m.
Admission: $6–$18
Information: 610-388-2700; Brandywine.org
back to top