The Road to the Roses
West Chester University's marching band heads to the Rose Parade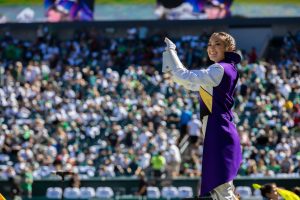 If you've been to a football game at West Chester University's Farrell Stadium, you know the Incomparable Golden Rams Marching Band. At halftime, 350 students from over 60 majors take the field to perform — combining music, marching, choreography and even props to create innovative and artistic shows. As a WCU and "RamBand" alum, I can say with certainty their shows are a must-see. Don't believe me? Check them out on YouTube.
For the Golden Rams, "incomparable" is more than a moniker. The band has earned a reputation as a leader in the marching arts, performing at the Macy's Thanksgiving Day Parade, Philadelphia Thanksgiving Parade and at Eagles' and other NFL games. In 2019, they became the first NCAA Division II band to receive the prestigious Sudler Trophy, considered the Heisman Trophy for college marching bands.
On New Year's Day 2024, the RamBand will take the national stage, marching in the 135th Rose Parade in Pasadena, California. They were chosen to perform from a pool of international applicants, based on musicianship, marching ability and entertainment or special interest value. The parade has a live attendance of 700,000 and over 28 million television viewers.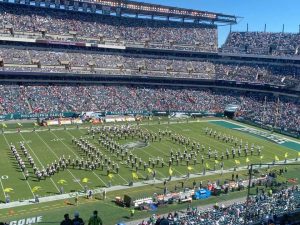 The band has big plans for their performance. "Since receiving the invitation to the Rose Parade, we've been inspired to create a showcase for our entire region before a global audience of millions," says Dr. Adam Gumble, director of athletic bands. "We've created a mural highlighting our community, including iconic imagery from West Chester University, the city of Philadelphia and the scenic Brandywine Valley." The mural will be printed on flags and incorporated into their performance, a medley of Philadelphia favorites.
The path to Pasadena takes hard work, dedication and community support. Wells School of Music Dean Christopher Hanning says, "The Incomparable Golden Rams Marching Band is the university's largest ensemble. We kindly request the support of the university community, as well as the surrounding community, so the band's 350 members can perform at the Rose Parade."
To fund expenses, the WCU Foundation launched the RamBand's Road to the Roses '24 campaign with a goal of $1 million ($648,000 so far). To contribute, find them on GiveCampus.com.
"Marching in the Rose Parade has been a longtime goal of the band," says Gumble. Tune in on January 1, 2024 for an unforgettable — or incomparable — performance.
back to top