The Road to Best in Show
Does your pet have what it takes?
We all think our dog is the best — and in my opinion, we're all right about that. But have you ever wanted to prove it? Get someone else to say your dog is the best? If you've seen dog shows on TV or watched Eugene Levy's film Best in Show, maybe you wondered, "Could my dog do that?"
My Dog as Best in Show?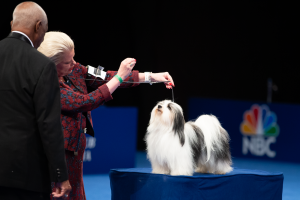 Dog shows, as it turns out, are serious business. It's not just about which dog is the cutest or best behaved (yours). These shows evaluate dogs based on their conformation, meaning how closely they conform to specific breed standards — more than just beloved pets.
To find out more, we talked to David Frei, one of the nation's foremost dog show experts who cohosts the National Dog Show Presented by Purina, held in nearby Oaks and aired on NBC each Thanksgiving. Frei says showing your dog is a major commitment: "You've got to devote time, energy and some expense to the sport."
Think you and your dog have what it takes? We spoke with Frei and other experts to find out how to get started on the dog show circuit — and perhaps take home that coveted blue ribbon.
Pedigree Pups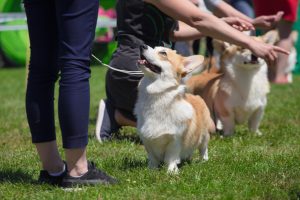 When we talk about conformation, that means competitions for purebred dogs — breeds that have acknowledged standards. To compete in a purebred dog show, your dog must be registered with the American Kennel Club — you should have received a registration form from your breeder.
The AKC is the largest registry of purebred dogs in the U.S. and hosts hundreds of shows throughout the year, ranging from specialty club shows (featuring only one breed or group) to large, all-breed shows like the National Dog Show and Westminster Dog Show in New York City. If this doesn't sound like your pooch, there are other shows and events you can enter — see below for details. Note: There are other kennel clubs that hold dog shows, like the Continental Kennel Club and United Kennel Club, with similar rules and requirements. Check online for details.
If you don't have your dog yet and want to be part of the dog show circuit, get one from a reputable breeder that breeds dogs specifically for conformation showing. Be aware of any conditions before you agree to purchase a show dog. Some breeders may require you to sign a contract obliging you to show the dog, while others might request coownership so they can breed your dog in adulthood.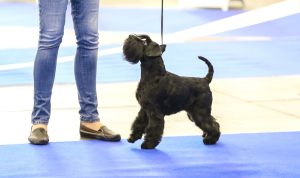 Next, be sure your dog qualifies. That means your dog must be an AKC-recognized breed and have no disqualifying faults as stated by the official breed standards (like lack of ridge in a Rhodesian ridgeback or blue eyes in an Alaskan malamute). Disqualifying faults vary from breed to breed — find your breed's standards at AKC.org/Dog-Breeds.
Then check that your dog will be at least 6 months or older by the day of the show, unless there's a special Puppy class (for pups 4 to 6 months old). Your dog can't be "altered" (spayed or neutered), must be in sound health and be up to date on vaccinations (see County Lines' August 2022 issue for more on pet vaccines).
Finally, consider your dog's personality and whether your dog is suited for showing. Your dog should be confident and comfortable in a busy situation — friendly but calm around strangers and lots of other dogs. "Dog shows are a reflection of us as real people with real dogs," says Frei. "If you're properly inspired, you need to make sure your dog is, too."
Prep Your Pooch … And Yourself
Once you've ensured your pup is eligible to compete, it's time to prepare — both your dog and yourself! Frei recommends finding a mentor to show you the ropes. A good mentor is an invaluable resource and can give advice, recommend handlers and groomers, and give honest opinions and feedback — including whether your dog is actually "show quality."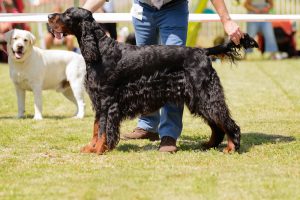 A good place to start is to ask your breeder or veterinarian. Or make connections by joining the national parent club for your breed or a local all-breed kennel club. Frei suggests going to dog shows and talking to owners and handlers there as well.
"Ask questions, but do it unobtrusively — people are often on a tight schedule," Frei says. "Most will have patience and time to talk to you about their breed. It's their pride and joy, their family." Another option is the AKC New Exhibitor Mentor Program, designed to connect experienced handlers and breeder with newcomers. Learn more at AKC.org/Sports/Conformation/Mentor-Program.
In addition, a crucial step in show prep is to take conformation handling classes. Even if your dog is well trained, preparing for a dog show is a special skillset. Register for classes at your local kennel club or the Dog Training Center of Chester County in Exton. Scott Sensenig, who teaches show handling classes there, says when it comes to dog shows, "There are a lot of nuances that people don't see."
In show handling classes, you and your dog will learn exactly what's expected in the ring. "You need to learn how to stack [pose] your dog properly, how to move your dog, how to hold the leash, how to step off," Sensenig explains. "People always tell me, 'There's a lot more to this than I thought.'"
If you find show handling isn't for you, consider hiring a professional handler. But that can get expensive.
In addition to classes, it's important to socialize your dog often and with as many people and dogs as possible. Your dog must also be used to being handled by strangers — judges will touch your dog extensively, including the tail and inside the mouth. Smaller breeds will stand on a table to be judged, so practice this with your dog. Your dog also needs to be extremely comfortable around other dogs and in a loud, busy environment, like a show ring with an audience.
Another important aspect of dog-show prep is grooming. Some breeds require more upkeep than others — some are "wash and wear," while others need a strict regimen to maintain their coat. If your dog falls in the latter category (like terriers or long-coated breeds), find a professional groomer who knows how to groom for the show ring. Your breeder or mentor may have recommendations. Plus, all dogs need clean teeth and well-tended nails as well, so desensitize your pup to this type of grooming early on.
A great way to prepare yourself for dog shows is to attend them in person. Familiarize yourself with what happens at a show, from arrival to awards and everything in between. It's also a place to make connections with other owners, breeders and handlers. Observe how they act and handle their dogs both inside and outside the ring — especially professional handlers.
And, consider entering your dog in match shows. These are informal, educational shows that can be practice runs before a competitive event. Seasoned handlers, judges and fellow dog owners will be happy to provide guidance and feedback.
Show Day
After all the preparation and training, you'll finally be ready to enter your first show. Although shows may differ a bit, here's a quick overview of what to expect.
To begin, find the type of show you and your dog can enter. All-breed shows offer competitions for over 175 AKC-recognized dog breeds and varieties — like the National Dog Show. Specialty shows are restricted to a specific breed or varieties of breed. For example, the Bulldog Club of America Specialty is only for bulldogs, and the Poodle Club of America's specialty show is open to the three types of poodle (standard, miniature, toy). Group shows are limited to one of the AKC's seven groups — Sporting, Hound, Working, Terrier, Toy, Non-Sporting or Herding.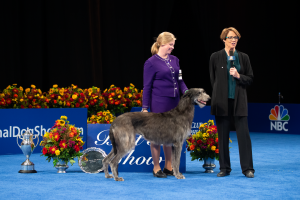 Most dogs are competing for the title of AKC Champion. To become a champion, a dog needs to win 15 total points at shows, including two "major" wins (three- to five-point wins) and awarded by at least three different judges. The number of points awarded at a show depends on the number of dogs (males) and bitches (yes, this is the official term for female dogs) competing in that breed. The more entrants, the more points you can win, with a maximum of five.
Males and females compete separately within their breeds in seven classes — Puppy, Twelve-to-Eighteen Months, Novice, Amateur- Owner-Handler, Bred by Exhibitor, American-Bred and Open. After the classes are judged, first-place winners compete again to see who is the best of the winners. Only the best male (Winner's Dog) and female (Winner's Bitch) receive points.
Winner's Dog and Winner's Bitch then compete with champions for Best of Breed. After the Best of Breed competition, three awards are typically given. Best of Breed is the dog judged as best in the breed category and may be awarded Grand Champion points (if already a champion). Best of Winners is the better of the Winner's Dog and Winner's Bitch. Best of Opposite Sex is the best dog that's the opposite sex of the Best of Breed winner and may also be awarded Grand Champion points.
In an all-breed show, Best in Breed winners will advance to group competition. Four places are awarded in each group, but only first-place winners will advance to Best in Show competition. Among the seven group winners, only one is awarded Best in Show — the highest award at a dog show, complete with bragging rights.
As you can see, showing your dog is a lot of work, and it's not for everyone. Yet it can be incredibly rewarding. We asked the Wilmington Kennel Club, which hosts dog shows and other events throughout the year, why it's worth it.
"The most important benefits of being involved in dog sports are things that are not obvious," the club explains. "The quality family time spent with a day at the dog show. The valuable life lessons for both kids and adults, not only in good sportsmanship but also in putting the needs and comfort of your dog above your own. But of all of these, the thing we cherish the most are the people we've met and the friendships we've made over the years."
Ready to enter your dog in a show? We wish you the best of luck!
Mixed-Breeds, All-Breeds, All Year
Don't forget about our feline friends and mixed-breed buddies which can compete in AKC Obedience, Rally, Fast CAT and Agility competitions. They deserve the spotlight too! Check out these mixed-breed-friendly pet shows for your furry friends.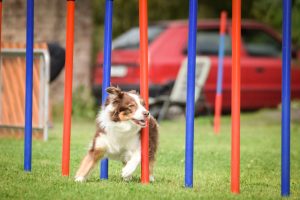 Want community-centered fun? The Goshen Country Fair (July 31–August 5) and their annual dog show benefit the Goshen Fire Company. Dogs can compete and win prizes in two of the eight fun categories. Prizes awarded first to third to the smallest and largest dogs, cutest puppies, most glorious golden oldies, best girl and boy rescues, quickest sitters and the pups with the waggiest tails. 1320 Park Ave., West Chester. GoshenCountryFair.org.
The Wilmington Kennel Club offers contests to showcase your pup's skills. Events include several Rally and Obedience Trials (owner and dog on obstacle course together), Agility Trials in May (dog alone on timed obstacle course) and Fast CATs (Coursing Ability Tests, not speedy kittens) in August with a timed 100-yard dash. And all year round, try Obedience Show & Gos on second Saturdays. 2035 Sunset Lake Rd., Newark, DE. WilmingtonKennelClub.org.
Join the Bryn Mawr Kennel Club in Ludwig's Corner for their 126th & 127th shows next June. One of the oldest AKC-recognized clubs, the club has held shows annually since 1992, selecting winners based on performances in Obedience and Rally competitions. Enjoy food, concessions and summertime weather. Tickets $5/adult, kids under 12, free. 1325 Pottstown Pk., Glenmoore. On Facebook @BrynMawrKennelClub.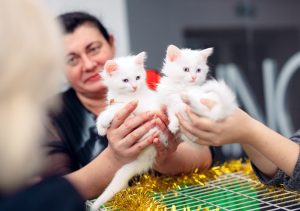 Pet shows aren't just for dogs! The Mid Atlantic Regional Cat Show will be held in the Exton Square Mall on September 9 and 10. Watch as household cats win best in show for cleanliness, grooming, clean ears and judge interactions. With six rings running at the same time each day, there's plenty of cute kittens to keep up with. 260 Exton Square Pkwy., Exton. TICAMA.org.
Looking for something bigger? The Cat Fanciers Association (CFA) was established in 1906 and has been organizing cat shows ever since, including the annual CFA International Cat Show & Expo, this year in Cleveland, Ohio. With over 1,000 cats, spectators can enjoy two days of competitions, performances, adoptions, shopping and more. Show off your feline friend this October. 1 I-X Center Dr., Cleveland, OH. CFA.org.
back to top