The Phoenix Always Rises
Even a pandemic can't keep Phoenixville down.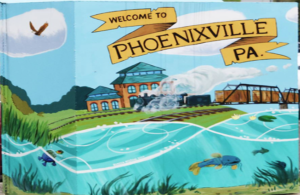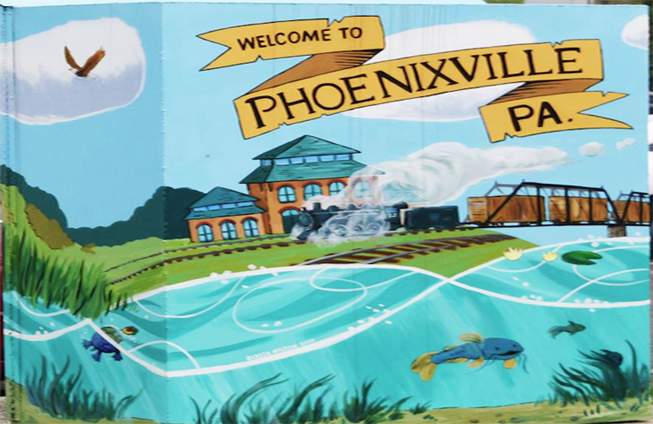 Since Phoenixville got its name in 1827, it has seen challenges. But for every down, there has been an up. For every obstacle, villagers have found a solution. The Phoenix always rises and 2020 is proving to be no exception. In fact, some Phoenixville folks are dishing up creative solutions with smiles behind masks and inclusivity behind events.
One of those can-do residents is Deb Woolson. Running with the attitude of "We Can Do It," she helped boost one of the original Rosie the Riveters—Mae Krier, who built airplanes from 1943 to 1945—to celebrity status in record time. The duo met in 2018 as nonagenarian Mae campaigned for a Congressional Gold Medal in Honor of all women who helped win World War II. While gathering backing from Congress and community members, Mae gifted supporters with red and white polka dot scarves she sewed, reminiscent of the bandana in the famous Rosie the Riveter poster.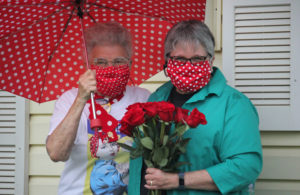 Deb stepped in to build Mae a Facebook page. Her work expanded and their friendship grew.
Then COVID-19 hit our area. Mae and volunteers made and distributed polka-dotted masks to protect against the spread of infection. Deb kept up her efforts despite losing two family members and almost another to the coronavirus.
The Associated Press picked up a local article about their mask and medal projects. A few weeks and 5,000 Facebook followers later, Deb and Mae limited promises for the free masks, as the team could no longer fulfill an overwhelming number of requests from multiple countries.
"I lived through World War II," said Mae. "The pandemic is a different war. If my little red and white polka dot masks can help save one life, my work has not been in vain."
No doubt Deb and Mae will help win it, as well as obtain the vote for a medal on behalf of Mae's coworkers 75 years ago. They have a proven track record for victory.
The Show Must Go On
Phoenixville businesses have risen above current challenges, too. A few blocks of Bridge Street transform into an open-air market part of each week. Students attended a summer Virtual College Fair. First Thursday "We Are" vigils via Zoom follow a peaceful Black Lives Matter rally in June organized by Phoenixville Area High School youth.
Need a little more popcorn in your life? The Colonial Theatre's Berry Room can be rented for private showings for your quarantine circle of 12 family members or peas in your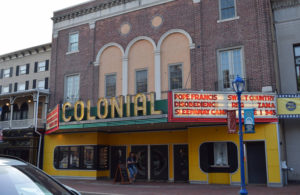 school pod.
Choose from October's menu of Halloween-centric movies—family-friendly, repertory or new—and sit back with popcorn to enjoy the show. "It gives viewers a chance to escape from the house and feel normal for two hours," said Bob Trate, the theater's marketing director.
When the delightful children's book about a special school play, "Second Banana," by Blair Thornburgh debuted in August, the acclaimed local author lamented that book-signing parties weren't part of a pandemic world.
But thanks to the bookstore Reads & Company, fans of Thornburgh's stories can still get the personalized book copies they want. Customers browse choices of signed books on a section of the Phoenixville bookstore's website and add information for personalization at check-out. The signed copy goes on its merry way to you or your small friend looking for giggles in a topsy-turvy world.
Orion Communities, a social services agency that helps neighbors with unmet needs, continues an annual, inclusive community fun and fundraising event on October 9th, Music for Everyone. Previously held live at the Colonial Theatre, this year concerts and receptions come to your home—to your screen or to your doorstep, depending on the event feature. Give it up for bands broadcast from the theater.
Pick up or take delivery of hors d'oeuvres from the Kimberton Inn or dinner from Stone House Grill.
When Every Day Feels Like Wednesday
If you're someone who feels like every day is hump day—trying to jump hurdles of homeschooling, work and new routines, plus work from home—Sedona Taphouse has something to liven up midweek: Wine Down Wednesday wine to-go at reduced prices.
The restaurant's huge interior and airy patio with umbrellas and rooftop brilliantly accommodate social distancing. Suspended during earlier phases of shutdown, back on the table is Dine Out for Charity on Mondays.
Steel City Coffeehouse and Brewery keeps Thursdays entertaining with online Open Mic Night. Seven days a week, their new venture—the Steel City Pantry—offers staples that are special and treats that are as good as they are good for you.
Realizing that picking up milk and bread wasn't an easy proposition during the pandemic, owners Laura and Ed built a mini-market across from the stage. They stocked shelves with tempting Pennsylvania jams, honey and pickles; breads—rosemary olive oil, sauerkraut rye and more; and milks including almond and coconut. Their snack bars, coffee and tea make survival under any circumstances brighter.
This winter look for vegan, gluten-free and regular ingredients for home baking—flours and Big Spoon Roasters' handcrafted nut butters to make homemade peanut (or not-peanut) butter cookies.
Whether you sneak chocolate under your mask or go at it with gusto and get smudges all over your gloves is your business. Offering chocolate that makes any day feel as special as a weekend is the business of Gail Warner. With creativity and collaboration, the owner of Bridge Street Chocolates is helping businesses and patrons raise morale, one sweet morsel at a time.
To raise spirits, one company ordered boxes of truffles for every employee. A school district sent chocolate-covered pretzels and sea salt drops to teachers.
Warner and Teresa Haag—the artist loved for her "Welcome to Phoenixville" mural—have also cooked up a tantalizing project that has fans of both chocolate and art pining for the holidays. In the works is an advent calendar with delicious treats hidden behind windows of a magical, seasonal piece of artwork by Haag.
The blue lampposts still shine. The flag still flies. Colorful umbrellas are still up along Bridge Street. And like the firebird that gave the town its name, friends in Phoenixville are still rising to every occasion.
For more about what's happening in Phoenixville, visit PhoenixvilleFirst.org.
back to top