The Legacy of Loch Nairn
A continuing story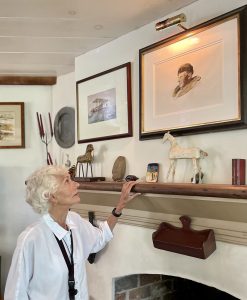 In a "once upon a time" beginning in the early 1950s, Hank Smedley was at a gas station owned by a friend when an attractive young woman drove up in a classic Packard. In seconds he was captivated. For weeks he pestered Virginia Schmeelk for a date. For weeks she declined. Then one day he offered to take her to dinner and a show. She accepted.
Virginia bought a new blue suit appropriate for a lavish dinner and evening of theater at Wilmington's luxurious Hotel Du Pont. To her surprise, Hank treated her to a meal at Jimmy John's—the iconic West Chester hot dog stand—and they peered over the fence at a drive-in movie. He was so charming she couldn't be annoyed, she said.
Hank and Virginia married. They had two sons, Christopher and Samuel, who grew up to work with them. They also built a creative business partnership that lasted until Hank passed away in 2011 and created a legacy that still graces Chester County.
Builder, Artist, Director
In 1970, with business partner D.C. Winter, Hank and Virginia bought the Red Fox Inn—a restaurant, hotel and land in Avondale. Over subsequent decades they turned pasture into a golf course—first nine holes, then 18—with restaurant and tavern. They turned an old wagon house into a charming family home. The couple transformed a farmhouse into an acclaimed restaurant for picture-perfect weddings, intimate celebrations and meals of culinary perfection.
Hank was a "can-do" owner of a demolition and construction business, a gregarious personality, a talent for trading one asset to acquire another, and an artist. "The earth was his canvas. The bulldozer was his paintbrush," Virginia said.
Virginia's thoughtful demeanor, innovative mind and uncanny ability to envision artful designs and creative uses for Hank's acquisitions—as well as a talent for directing her own projects—dovetailed perfectly with his abilities.
Long before it was big business to salvage architectural furnishings, fixtures and fittings from 18th-century barns and 19th-century buildings, the Smedleys stored reclaimed granite columns, barn beams, bricks, antique hardware and floorboards preserved in canvas in one of their fields. They referred to it as the "Incubator," where items waited until Hank retrieved them to realize one of Virginia's visions.
Crafting Loch Nairn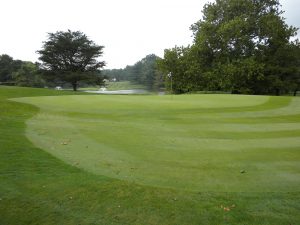 Another thing to know about Hank is that he loved golf. In the 1960s, he built the Radley Run Golf Course in West Chester and, later, Jamaica's world-renowned Cinnamon Hill Golf Course, among others.
To achieve his dream of 18 holes in Avondale, in 1979 he and Winter sold the Red Fox Inn to finance the purchase of additional land with a farmhouse. The Smedleys went to work and called the expanded venture the Loch Nairn Golf Club—named for Hank's love of Scotland and after the Scotsman who had previously owned the land.
As Hank, along with sons Christopher and Samuel, enlarged the golf course, Virginia's inventive mind took the farmhouse through a multi-stage metamorphosis. First the former home was a dorm for New Bolton Center's veterinary students. Then Virginia cooked up a new plan to serve golfers as they played on the growing, challenging course.
After years of serving hundreds of meals daily at the Red Fox, she was ready for a smaller clientele and fewer late nights. The farmhouse, she decided, would be a good space for downsizing her work with a casual restaurant.
One night over Christmas holidays, fate stepped in. A heater caught fire and burned the farmhouse roof, rendering the house uninhabitable for the students. They relocated, and the Smedleys repaired the building for use as a pro shop and beer and hot dog stand.
It didn't take long, however, for Virginia to realize that the Farmhouse—now its official name—was too charming for quick food. Its many rooms and nooks were perfect for intimate fine dining. So every weekend evening she stashed golfers' clubs and gear in closets and transformed the Clayton Room with elegant tablecloths and candles. As Virginia prepared soups and salads, a French chef was hired to make entrees. By morning, all reverted to a golfer's haven.
The Greathouse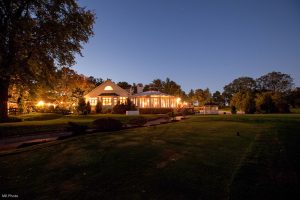 The Smedley family continued to improve Loch Nairn's property. With Howard Curtis's architectural input and Virginia's eye for unique design and furnishings, numerous craftsmen created amazing spaces.
From scratch Hank built and finished Loch Nairn's Greathouse with a Great Room, Tavern, pro shop and patio in the early 1980s.
The Greathouse's alluring archway entrance of reclaimed stone and brick and footpaths edged by gardens welcomed guests. Indoors was equally enticing with vaulted ceilings, natural lighting and creatively decorated spaces—each room with a distinct personality.
Within the Greathouse, the Great Room superbly accommodated large events or casual dinners for small families or friends at tables separated by antiques and area rugs. Open to the public—not solely to club members—the comfortable ambiance endeared visitors to the space as much as the delicious food.
The Tavern was home to golfers' and other company's rollicking good times. There was as much to see by looking above the large wooden bar as there was by looking around the room and outside.
Virginia's knack for finding fascinating objects in old barns, antique shops and Hank's Incubator resulted in uncommon upward views: an old porch swing, a canoe and an old wrought-iron three-wheeler suspended from the high ceiling.
When customers demanded more indoor space, the Smedleys expanded the Greathouse. They transformed the patio into the Round Room, incorporating post and beam construction, skylights and 180 degrees of windows. On a demolition job for Widener University years earlier, Hank discovered granite curbstones buried in the ground. Unwanted by the school, the stones went to the Incubator, then became the Round Room's window seats.
The Farmhouse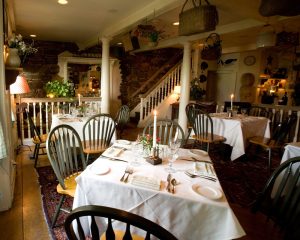 With the arrival of the Greathouse, the Farmhouse became dedicated to fine dining known for fresh, locally sourced food decades before "farm-to-table" became popular. Virginia's magic touch decorated each unique Farmhouse space from the intimate dining rooms and the pub room with fireplace to the downstairs tasting room and spectacular wine cellar.
Coming from the Hotel Du Pont (ultimately, Virginia's 1950's image of a lavish meal came to her in spades!), Chef Ray Holback created award-winning crab cakes that won acclaim at the Philadelphia Food Show and put the Farmhouse on the world's culinary map. Still sought-after at Loch Nairn today, the crab cakes paired perfectly with the family's favorite beach martini—a staple on the drink menu.
Welcome to the Table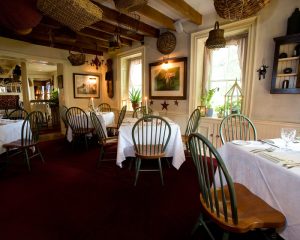 Together the Smedleys experienced adventures, hard work and good times. Love and laughter abounded.
Close friends with Andrew Wyeth, Rea Redifer and other Chester County artists—as well as chefs, doctors and local business owners—Hank was at the center of lively gatherings at the Chadds Ford Inn. His generous nature led to Andrew Wyeth's first art exhibit … in Hank's construction warehouse. Another time Andrew exchanged a large charcoal sketch by N. C. Wyeth for a driveway constructed by Hank. Hank's inclusivity ensured that out-of-towners at the Inn were invited to the table for meals, drinks or epic rounds of Liar's Poker.
Hank's charm that won over Virginia endured. While constructing Jamaica's Cinnamon Hill Golf Course, Hank stayed in an unoccupied mansion on the property. Returning uphill to the house one day, a large man dressed in black greeted him. Hank said hello and explained he was building the golf course. When the man said he had just bought the home, Hank offered to remove his belongings. The man, whose name Hank didn't recognize, wouldn't hear of it and insisted he stay. Thus began Hank's friendship with the legendary singer Johnny Cash.
Looking Ahead
Continuing a thread of inspiration and transformation, this year the Smedley family solidified their legacy for future generations of other Chester County families.
This past June, with the help of family friend, realtor and preservationist Mark Willcox, the Smedley family and New Garden Township came to an agreement for the sale of 105 acres of the Loch Nairn Golf Course to the Township.
While the well-loved restaurants will remain open to the public and stay in the capable hands of Virginia and family, after the 2022 golf season the course will become preserved land. Plans include a park, trails on the cart paths and open space. Families will be able to enjoy the extraordinary gifts of walking trails among hundreds of trees planted by the Smedley family, then head to a restaurant by the brick walkway bordered by flowers.
"I want people to be able to appreciate the architecture of the Greathouse and Round Room, to appreciate the buildings and the grounds," said Virginia. She looks ahead with future designs incubating in her mind.
Loch Nairn awaits its next chapter of stories.
back to top