The Great Restart
Independent Schools confront COVID.
After several weeks of hints, the great hiatus for most independent schools began in March. Then it continued through spring. Then summer. Schools shut down, initially for a few weeks, but ultimately, or at least partially, stayed shut into fall.
Classes were cancelled. Students stayed home. Parents and schools tried to conjure prom and graduation celebrations, but it wasn't the same.
Sadness, quiet and uncertainty settled in. Through the summer, the days wasted away. We looked toward fall, and wondered what it would hold.
Planning
Throughout the summer in the independent school community, staffs were hard at work. Committees were formed. Classes were "reimagined." Contractors were hired. Everyone held their breath. And hoped.
By September, we could see that things would be … well, different. Students would wear masks. Everyday they'd share their vital information—temperature, contacts, symptoms or lack of them. Hand washing would be done even more regularly. Seating would be distanced. Classes themselves might be smaller. Large assemblies non-existent. There might be more time planned between classes to ease six-foot distancing.
Preparing the Schoolhouses
Preparing for the 2020-21 school year meant, in most cases, retooling the schools' spaces. Six feet would mean smaller classes, bigger rooms or both. Or maybe some "Macgyvering."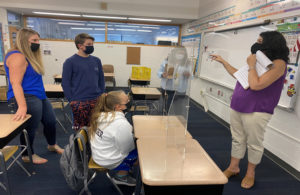 Pilot School, Benchmark School, Upland School and Westtown School have, at least temporarily, moved more of their classes outside. Church Farm School, looking at an international student population, "intentionally under-enrolled" for 2020-21. Haverford School luckily had just completed its new middle school building and kept its temporary mobile classrooms a bit longer.
The schools scrutinized their physical plants. They made improvements and expansions to classrooms, cafeterias, hallways, bathrooms and ventilation systems. Some spaces were repurposed and some furniture was removed to allow distancing. Some, e.g., Wilmington Friends School, Haverford, and Villa Maria High School Academy, installed plexiglass barriers—some at teachers' and staff desks, cafeteria tables and other areas where people might interact face-to-face.
Hand sanitizers, contactless faucets and automatic paper towel dispensers were added in the bathrooms. Schools substituted water-filling stations for traditional water fountains.
All schools have amped up their cleaning procedures. Tatnall School, for example, hired a second crew to clean and disinfect high-touch areas at least every two hours.
New Schedules
In September, the schools restarted, though several postponed. Episcopal Academy and Church Farm, for instance, were "all-virtual" in the beginning. Until January, Church Farm will be online only. Episcopal will monitor the situation closely and open up as necessary.
Many schools—Malvern Prep, Wilmington Friends, Upland School, Archmere Academy, Centerville-Layton School, Tatnall and Westtown, for example—opted for "hybrid" approaches, mixing in-person and remote learning. Remote learning, generally by internet or television, is for students who prefer to "attend class" at home.
Malvern Prep, for example, has its middle schoolers attend in-person classes on Monday and Tuesday, its upper schoolers on Thursday and Friday: otherwise, learning is remote. Wednesdays are reserved as Brotherhood Day for extracurricular activities. As the school year unfolds, the school is looking toward "slowly transitioning" to full on-campus attendance.
Archmere isn't adopting a 100% virtual schedule initially, but is "prepared" to. The school installed cameras and microphones "to plug into their classes remotely" and "prevent absent students from missing valuable content or losing momentum in their coursework." For now, students will attend a class twice, instead of four times, per week. They also get two weekly "asynchronous lessons"—lessons that students can complete on their own schedules.
Adopting a hybrid approach has advantages, says Wilmington Friends, finding "a nice balance" of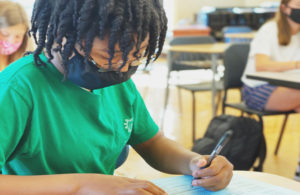 in-person and remote learning. The school believes the in-person component allows "time for those programs and projects that are most meaningful face-to-face, such as science lab, group work and discussions," while remote enables "students to see their teacher and one another without a face mask."
A few schools—Villa Maria, Benchmark, Tatnall—opened on their regular schedule in late August or early September. Even so, for some, their class schedules are much different. Villa Maria has gone to a "pure block schedule." Students will take three or four classes per semester, as they would in college. The new schedule, it says, "will make it easier for students and staff if they have to go to remote learning."
Screening and Distancing
All schools, for students, faculty and other staff, require masks—shields for some activities—and daily health screening. Required information from students and school employees may be temperature, symptoms and contacts.
Also required are social distancing and necessary protocols to implement that, including desk spacing, hallway directional signs and staggered times for changing classes.
Class Size and Cohorts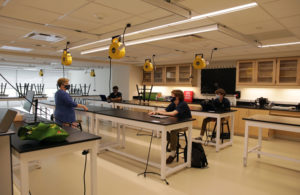 Even before the onset of the pandemic, the independent schools generally had smaller class sizes: an advantage for learning reasons, and now for health reasons as well. For example, Pilot School typically has 6-8 students in each class, Upland 10-17, Villa Maria averages 17. Archmere has halved the size of its classes: now they're no larger than 10 students.
Limiting the possibility of contact is essential. A key aspect of minimizing coronavirus transmission is to isolate movement to the extent possible. If not controlled, an infection can easily spread through a whole school's population.
The solution has been to limit the contact to within a small cohort. At Centerville-Layton, for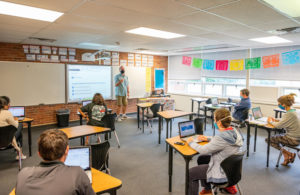 example, the students are divided by school level. The lower school, for example, "will not cross" with middle or upper school students and faculty. Wilmington Friends and Benchmark are using a similar model. While Westtown is using class cohorts in its lower and middle school, the upper school's curriculum makes it too "complex" to implement.
Computers, Software and Remote Learning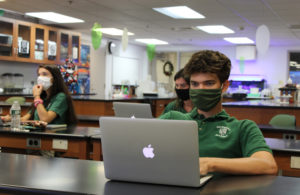 In general, the independent schools have done an excellent job of assuring that all their students are technologically equipped. MacBooks have become de rigueur in upper schools. iPads and ChromeBooks are available for lower school students. Their use has now become essential.
As the schools have implemented remote learning, software has come into focus. Zoom, which facilitates online meetings, is nearly universal. Google Meet and Google Classroom are also widely used. Among other software in use are Seesaw, Studyo and Meeting Owl.
Ingenuity
Adapting to the coronavirus in science labs and extracurriculars has presented special challenges.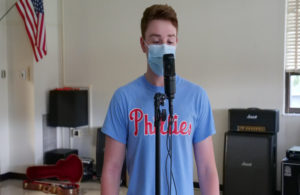 Science, says a Church Farm instructor, is "tricky because of the 'hands-on' nature of lab experiments." The problem was partially solved using online simulation. "It's not quite the same, but they are still learning the essential skills." Instruction also makes use of recorded videos, live demonstrations, virtual whiteboards and anything else that mimics an "in-person" experience.
Music has also required new solutions. At Wilmington Friends, for example, the band's instruments "will be covered with sleeves."
Sports
And sports also present difficult problems. The Inter-Ac league, which includes Malvern Prep, Episcopal and Haverford, has cancelled its fall season. The Pennsylvania Interscholastic Athletic Association and Delaware Interscholastic Athletic Association have also postponed their seasons, at least temporarily.
Nevertheless, independent schools remain committed to sports, for fitness and for its life lessons. Episcopal's varsity coaches, for instance, are offering several on-campus, socially distanced fitness, strength and conditioning sessions for students after school. Most, like Upland, are "planning to continue outdoors with proper distancing and adherence to pods (i.e., cohorts)."
Protocols and Habits … and Stress
Perhaps the toughest part of the 2020-21 school year will be learning and remembering new habits. Hand-washing, mask-wearing, distancing, following hallway signs, more complicated schedules. It will be difficult, likely stressful, for hundreds of boys and girls to remain obedient to the many necessary new and changing rules.
But the cost of not following the rules is very large, and a heavy burden of compliance will fall on parents. Witness what has taken place at colleges around the country. You, we're afraid, will likely have to be the enforcers.
back to top