The Gift You Deserve This Year!
Looking for something that warms the soul and lifts the spirits? Read on.
This has been quite a roller coaster year! So, let's make it easy to pick out something special to give to those you love—and just maybe, a little something for yourself as well! (You deserve it!)
Here are four wonderful wines and four special spirits that are sure to bring extra cheer to the holiday season. And you may even be offered a sip of the great gift you've given.
Wine for Every Occasion
Let's start with wine. Red, white, rosé or sparkling—feel confident you have something for everyone with these suggestions.
Red wine is a popular pick for the colder months, especially those that are rich and warming. Wines from the Bordeaux region in France have been crowd-pleasers for hundreds of years. These wines are either heavily cabernet sauvignon or merlot based, making them very winter friendly.

For a good bang for your buck, try Pezat Bordeaux 2016 at $12.99. It's 85% merlot and 15% cabernet franc, medium-bodied and full of dark fruit and cedar. Pair this wine with seared hams, juicy steaks and well-roasted veggies for a hearty meal.
For a white wine, Rombauer Vineyards Chardonnay 2018 from the Carneros region of Napa Valley, priced at $39.99, is an excellent choice. This time of year many people appreciate a fuller bodied wine when drinking whites, and this one certainly delivers. Imagine bright mango and citrus flavors alongside hints of vanilla and baking spice. This wine is creamy, buttery and full of warm oaky flavors with enough citrus acidity to balance it out to perfection. It's an excellent accompaniment to lighter meat dishes.

Although there's still a hint of mystery shrouding rosé, it's one of the most versatile food wines available for almost every course. One lovely option that's sure to help change any doubtful minds, is Fabre en Provence Rosé 2019, hailing from the homeland of fine rosé wines: Provence, France. This wine is full of bright citrus acidity along with lovely florals and enticing herbaceous notes. At $13.99, the price is right to grab a couple of bottles to pair with your appetizers, salads, light meats and veggies.
The last recommendation is a sparkling option—a must for the holidays. Yes, the Champagne region of France is home to some of the best bubbles in the world, often with price tags to match. But consider a traditional sparkler that's both top quality and a little easier on the wallet.
Bollinger Champagne Special Cuvée Brut is James Bond's number one choice, and a top choice for many others as well. (Some movie trivia: Bollinger is featured in almost every Bond movie since Live And Let Die.) At $59.99, this wine is full of fruits with hints of almond and yeast. Seafood and salty foods are going to be the best pairing for this fantastic bubbly that makes any occasion just a little bit more fun.
Spirits for the Season
For a twist, use the holidays to explore some unique and exciting spirits!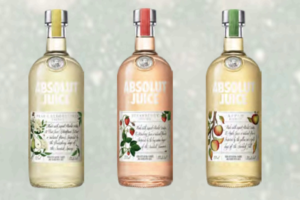 Start off strong with Absolut Juice. These are wheat-based vodkas that come in three flavors—Pear & Elderflower, Strawberry and Apple—priced at $19.99 each. By mixing in real fruit juice, Absolut created flavored vodkas that taste fresh, fruity and fabulous, even to those who aren't fans of flavored vodkas. All you need to do is add some of your preferred flavor to your favorite spritzer, and, voila, you've created a refreshingly light cocktail. And bonus: the cocktail is only 100 calories!

For those who want something old school, gin is in. It's growing in popularity again, and Bluecoat Gin, straight out of Philadelphia, has a Dry Gin as well as a Barrel Finished Gin. At $28.99, the original is made with organic Mediterranean berries and is full of sweet aromatics and earthy juniper. It's very soft, yet distinct, with a bright and long finish.
The Barrel Finished blend is aged for a minimum of 12 months, which adds hints of caramel and oak to an already beautiful gin. At $34.99, this version is unique, and something special for those looking for something new.
With so many bourbon drinkers to buy for and bourbons to choose from, here's a quality brand that really hits the mark—Bulleit Straight Bourbon 10 Year Old, priced at $50.99. This blend of 68% corn, 28% rye and 4% malted barley has been aged for 10 years and comes in at 91 proof. Its deep russet color with rich, oaky aromas mix with a smooth taste of vanilla and dried fruit that finishes with a long, smoky finish. This choice makes an impressive gift for a bourbon lover and an excellent addition to your own collection if you buy a second bottle.
Finally, it wouldn't be the holiday season without a cream-based cordial. Although Baileys and RumChata are the typical go-to options, try Somrus Chai Cream, priced at $25.99. It's made from real dairy cream with a rum base, bursting with eastern spices and delicate nutty nuances. Try this as an after-dinner treat with your coffee, chai tea or even poured over vanilla ice cream. This cream liqueur deserves a chance to sit in the spotlight!
Please treat yourself well, be healthy, stay well and remember to drink responsibly. Cheers to a wonderful end of the year!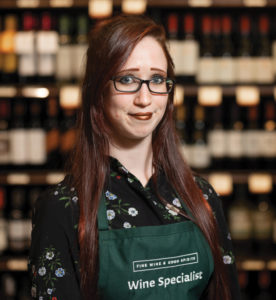 Jessica Roberts has worked with Fine Wine & Good Spirits for six years, taking the position of Wine Specialist a year and a half ago. What began as a hobby soon blossomed into a satisfying career. Jessica works at the Premium Collection store in Phoenixville. Stop by for one of her tastings or just to ask a question. Learn more at FWGS.com.
back to top