The Fall Equestrian Season is Back!
Photos by Brenda Carpenter Photography, Alyssa Murphy Media and Amy Dragoo Photography
Enjoy a month full of equestrian entertainment and plenty of family fun!
Gallop into the fall season and celebrate Chester County's rich equestrian traditions with four-action packed horse shows.
Start with family fun at Ludwig's Corner Horse Show, then check out the thrilling Devon Fall Classic, followed by the world-class Plantation Field International Horse Trials and end with the inaugural Maryland 5 Star at Fair Hill. Plus you can catch the end of the summer polo season at the Brandywine Polo Club.
We've got all you need to know to make the most of this year's fall equestrian season, so mark your calendar for a month packed with equine entertainment.
Ludwig's Corner Horse Show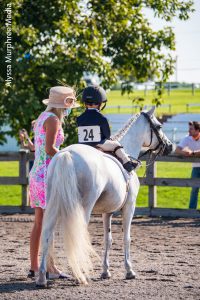 Kick-off the fun at the 78th annual Ludwig's Corner Horse Show. Yes, that's 78 years! Celebrate Labor Day Weekend (September 4–6) the Chester County way at Ludwig's Corner's 33-acre grounds, jam-packed with fun for the whole family. This tradition has been a fan favorite for decades with generations of families returning each year.
Head out on Saturday for Family Fun Day, with shopping at the Country Fair's Vendor Village and games and activities for the kiddos on the Midway. Purchase a daily wristband for unlimited access to inflatables, mechanical bull rides and the rock wall. With additional tickets, kids can try bungee jumping, the rock 'n' roller and, of course, pony rides.
Animal lovers can hang out with alpacas at the petting zoo, play with dogs at the Phoenix Animal Rescue's adoption meet-and-greet, or watch the Mounted Parade of Hounds featuring the Kimberton Hunt Club. Your furry family members can get in on the fun during the Costumed Pet Parade benefitting the Phoenix Animal Rescue.
When you've worked up an appetite, stop by the new food court on the Midway featuring Chester Springs Catering or head to the food trucks for classic country fair grub from Bucktown Grill and Saloon 151. Then wash it down with beer from Locust Lane Brewery's Beer Garden or wine from the Chaddsford Winery booth.
Just make sure to catch some of the equestrian action! The main events take place across three rings with riders of all ages competing in locally rated competition, plus events including Ladies Sidesaddle, Lead Line for Children and the Hunter and Pony Derbies. Be sure to catch the thrilling spectacle of archery on horseback from the United Liberty Horse Archers.
Come back Monday afternoon for the antique car show and the signature event—the Jumper Classic Mini-Prix with a grand prize of $10,000.
What a great way to start the fall season!
If You Go:
Sept. 4–6, 8 a.m. $10/carload. 1325 Pottstown Pk., Glenmoore.
LudwigsHorseShow.com.
Devon Fall Classic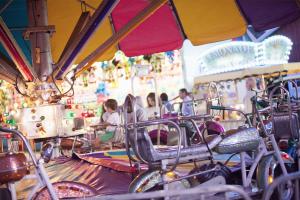 Equestrian fans rejoice because the fall action at Devon is back! After a year's hiatus for fall events and a two-year postponement of May's Devon Horse Show, action returns to the Dixon Oval, September 15–19. (Read about Dressage at Devon, Sept. 28–Oct. 3, in this issue.)
The equestrian competition begins Thursday morning with an exciting all-jumper program. Watch riders ages 5 to adult (with varying levels of experience) soar over obstacles while competing for the fastest time.
Don't miss the Welcome Stake on Thursday night, the Speed Stake Friday night and the highly anticipated Devon Fall Classic Grand Prix on Saturday night, when riders compete for a $25,000 prize. Other evening events include the Parade of the Radnor Hunt Hounds, the Show Jumping Hall of Fame and the Jumper Classic.
New this year, a Lead Line competition has Devon's youngest aspiring athletes participating in the action. Afterwards pony rides will be available for kids who want to try their hand at riding. Who knows, maybe this will spark an equestrian career!
There's plenty of fun to be had away from the Dixon Oval, too, like a full carnival midway with a Ferris wheel, Devon Dog Show, Devon After Hours (ticketed event with live music and cocktails), and an appearance by the Philadelphia Urban Riding Academy (made famous by Idris Elba and "Concrete Cowboy"). You can also go shopping at the Vendor's Village with pop-up boutiques, jewelers, tack shops, artisan craft stalls and art galleries.
Keep your energy up with tasty treats at the Country Fair from Carla's Pizzeria, Carlino's Market and Devon's JT Wilder BBQ, plus tastings and signature cocktails from Boardroom Spirits and Distillery.
In true Devon fashion, Sunday closes with a great plant sale after the last class of the show—the perfect souvenir after a weekend of fun!
If You Go:
Sept. 15–19, 8 a.m.; $3–$10. 23 Dorset Rd., Devon. DevonHorseShow.net/Fall-Classic.
Plantation Field International Horse Trials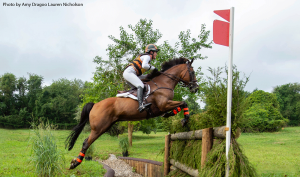 Appreciate the grace, excitement and thrills that define the sport of eventing at the Plantation Field International, September 16–19.
Plantation Field's 350-acres welcome serious equestrian fans to view competitive events testing both horses and riders in what's considered an equestrian triathlon. Competitions include dressage, cross country and stadium jumping, featuring some of the best riders in North America—from local favorites to seasoned Olympians and rising stars.
Get the full experience with weekend tailgating surrounded by the spectacular views of the rolling hills of southern Chester County. Secure your vantage point of the cross-country course as you toast with your favorite drink while horses and riders leap over, across and through seemingly-impossible obstacles.
Take a break from the competition and head to the Country Fair for live entertainment, delicious food and plenty of shopping. Vendor Village offers saddle and tack shops, jewelry, country clothing, antiques, artwork, sweets and more. Later, sit and listen to the music of husband-and-wife duo Max & Denise performing each night.
Younger fans can delight in pony rides, face painting and petting zoo from the Cheshire Pony Club or get some energy and silliness out at the magic and puppet show by The Amazing Spaghetti, a.k.a. Dan Freed. If anyone in the family is feeling adventurous, grab the thrill by the horns on the mechanical bull ride on Saturday and Sunday.
After a day of racing and playing, get a bite at the food spots—from BBQ and grilled cheese to vegetarian and Indian food, there's something for everyone to dig into. Adults may want to sample boozy gelato or top the night off with a drink from Braeloch Brewery and Harvest Ridge Winery.
If You Go:
Sept. 16–19; Check website for details. 347 Green Valley Rd., Unionville. PlantationField.com.
Maryland 5 Star at Fair Hill
Round out your equestrian fun with the inaugural Maryland 5 Star at Fair Hill, October 14–17.
This event is one of only two 5 Star equestrian events in the United States and the seventh worldwide.
Head to the new Fair Hill Special Event Zone and experience four days of world-class competition at the highest level. Spectators will see elite athletes and horses competing at the new venue across three disciplines—dressage, cross country and show jumping—for a total of $325,000 in prize money.
Tickets include venue admission and full access to the new cross-country course, warm-up and practice arena for unbeatable views of the riders and horses.
Stroll the grounds for retail vendors, food and beverage offerings, and special events like the Maryland 5 Star beer, wine and spirit showcase. Ticket holders can spend Saturday afternoon sampling and purchasing craft beer, wine and spirits from a variety of Maryland and Delaware producers.
On Sunday, Maryland's Department of Agriculture teams up with Maryland 5 Star to present the Fresh Food Fest, featuring a farmers market filled with seasonal fruits, vegetables, dairy products, meats, seafood and more. Enjoy a beautiful fall morning sampling fresh products from Maryland's finest farmers, growers and makers, then head back to catch up on the equestrian action!
If You Go:
Oct. 14–17; General Admission $15–$81. Children under 10 free with adult. 4600 Telegraph Rd., Elkton, MD. Maryland5Star.us.
Brandywine Polo Club
Itching for even more equestrian fun? Head to the Brandywine Polo Club in Toughkenamon and catch the end of their summer season.
Located on 122 acres in the Brandywine Valley near Kennett Square, the Polo Club is the largest USPA club on the Eastern Circuit and is celebrating over 70 years of entertainment and tradition. Gather up friends and family, grab your most fashionable hat and enjoy the sport of kings as you tailgate by the field and join the divet stomping.
Matches are held on Friday evenings and Sunday afternoons through September 26th. Tickets are available on their website.
If You Go:
Through Sept. 26; $15–$45. 232 Polo Rd., Toughkenamon. BrandywinePolo.com.
back to top