The Allure of Division I
Private schools are graduating their student-athletes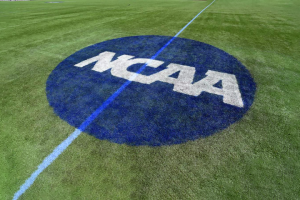 Can my child land a university scholarship? Is he or she good enough? Will my student-athlete get an excellent education as well?
The private schools of County Lines country are doing a remarkable job of preparing our daughters and sons for Division I college careers.
Girls Sports
Field Hockey
If there's one fall sport our local private schools dominated, it's field hockey.
Finishing 1st in the Inter-Ac League (the league for Philly area private schools), Episcopal Academy will place two of its field hockey stars at top schools in the fall: Charly Bruder, who made the National Team, will go to the University of North Carolina, while Mary Gilman is headed to Brown University.
Finishing 2nd in the Inter-Ac League, Academy of Notre Dame de Namur is sending Aly and Kyra Maguire to the University of Delaware and St. Joseph's this fall. Brennan Czajkowski committed to Fairfield University, senior Chloe McCloskey is going to Boston University, Sydney Dalton is also headed to Fairfield University and Maddie Rohling to Colgate University.
Agnes Irwin's Lauren DeRose chose the University of Iowa, after having made the National Team and being declared All-State. Eliza Vander committed to Johns Hopkins University.
The Hill School was ranked 1st in Pennsylvania and 2nd nationally by MaxPreps (a national ranking group) with an overall record of 21-1. Maggie Kondrath made the National Team and will play for Duke University, while Hala Silverstein will play for the University of Michigan.
Four players graduating from Villa Maria Academy are headed to Division I programs: Gia Whalen to the University of Iowa after being selected by the AACA (American Association of Catholic Academies) as MVP, Brynna Hill to James Madison University, Charlotte Powers to Holy Cross University and Emma Maher to Lafayette University.
Selected to the U-18 team, Rachael Whitehead of the Tatnall School is headed to the University of Delaware.
And, Bella Dell'Oso of Archmere Academy will play for Temple University.
Lacrosse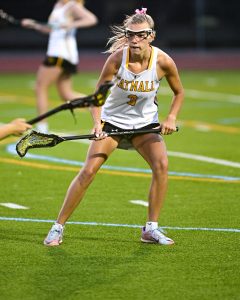 Lacrosse offered our local athletes another path to Division I. Finishing 1st and undefeated in the Inter-Ac League was Episcopal Academy. Alexis Ventresca, team co-captain and Inter-Ac MVP, is headed for Northwestern University.
From Agnes Irwin, 2nd in the Inter-Ac, Katie Repp is going to Fairfield University.
Four of Hill School's 2023 graduates will showcase their talents in college this fall: Emilie Kirschner at Northwestern University, Kimaura Schindler at Xavier, Samantha Cifra at Virginia Tech and Annabella Schafer at University of Maryland.
Tatnall's Lydia Colasante, who played on the USA U-18 team, is headed to Boston University, while Kalianna Clayton goes to Hofstra University.
University of Massachusetts at Amherst was the choice of Katie Onderdonk from Notre Dame de Namur.
Basketball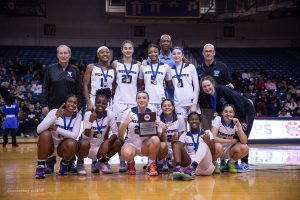 This has been another great year for the Westtown School basketball teams. Several years ago, the Westtown boys' team players Mo Bamba and Cam Reddish went all the way to the NBA. This year, it's the girls turn to shine: 4th in the Philadelphia area, 8th in the state and undefeated in the Friends School League. And they are young! Two are rising freshmen! Another a rising junior, and two are rising seniors. Graduating players Grace Sundbeck is headed to University of Delaware and Joniyah Bland-Fitzpatrick to Seton Hall University.
Tatnall's Emma Kirby will play at Sacred Heart University. The Tatnall School was 3rd in Delaware with a record of 13-4.
Cross-Country and Track
Although just a junior, Friends' Central School's Avery Lewis runs like the wind, finishing 1st in Pennsylvania in the 55m (Armory Hispanic Games), 60m (PTFCA Indoor State Championship), 100m (PTFCA Indoor State Championship), 200m (PTFCA Indoor State Championship), 400m (Armory Hispanic Games) and the long jump (New Balance Nationals Indoors). Where will she go?
Theresa Trainer of Notre Dame will run cross-country at Penn State.
Tatnall's Mikayla Romeo ran the 200m, 400m and 800m this season, scoring the 9th, 7th and 5th best times in Pennsylvania. She'll go to Loyola University at Maryland.
For Episcopal Academy, its juniors were victorious in the Inter- Ac League and Delco. Avery Elliot won the 100m and 300m hurdles, the high jump and the long jump. And Saige Forbes won the 100m and 200m, holds nine school records and is ranked #5 in Pennsylvania.
Volleyball, Rowing and Other Sports
In Delaware and the Philadelphia Metro area, Tower Hill School beat all its competitors in girls' volleyball, finishing undefeated. The school is sending Cameron Haskins to Duke University and Chloe Sachs to Tulane. Holly Urbanek will head to Northeastern University, Katie Saunders to University of Michigan and Riley Brinsfield to Dartmouth.
Notre Dame's rowing team, consisting of Makenna Davis, Bridget McTear, Riya Patel and Sarah Duncan, will compete at Villanova, UCLA, University of Pennsylvania and the University of Dayton, respectively. In other sports, Jada Wade is going to the University of North Carolina for softball, while Margo Kemp is joining Xavier University for volleyball.
Claire Minnis of Agnes Irwin is headed for the University of Virginia for squash, while Laura Morris will row at Massachusetts Institute of Technology.
Emma Gioffre of Archmere will take her soccer skills to the University of Cincinnati, while Reagan Waggoner will join the equestrian team next season at Sacred Heart University.
Boys Sports
Football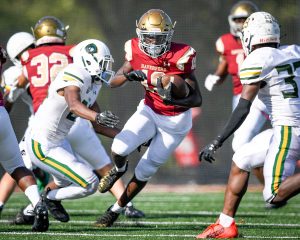 Local boys' teams had successful seasons, too. The Haverford School led the way in football, undefeated, ranked 4th in the Philadelphia metro, just ahead of Episcopal Academy at 5th. Offensive lineman Matt Pante will continue at Cornell University next semester, and tight end James Falk heads to Rice University.
TJ Cadden, wide receiver for Episcopal, was designated MVP of the Inter-Ac League and will be going to Bucknell University.
Champions in Delaware for the first time since 1984, Wilmington Friends School finished with a 13-0 record. Three of the team joined Division III squads, but Robby Tattersall — his grandfather coached the 1984 team and his father is coaching now — will continue at Yale University.
Lacrosse
The Haverford School finished 1st in the Inter-Ac League for lacrosse and was ranked 1st in Pennsylvania by MaxPreps. Wills Burt, ranked #20 nationally by Inside Lacrosse, will head for the University of Virginia. Collin Zeller, Ryan DiRocco and Wells Finn are headed for Rutgers University, the US Military Academy and the US Air Force Academy, respectively.
Four boys from the Hill School will join Division I college teams next year: Anthony McMullen at University of Pennsylvania, Jesse Corser-James at Stony Brook University, Billy Stephens at the University of Maryland, Baltimore and Pierce Hart at St. Joseph's University.
Episcopal Academy graduated four athletes to Division I institutions: TJ Lamb to Cornell University, Eddie Jones to Villanova University, William Hohn to Monmouth University and Lucas Slate to Richmond University.
From other schools, Westtown's Chrishawn Hunter is going to Syracuse University, Salesianum School's Ryan Cunningham and Jack Gormley are both headed for Villanova University, while Connor Riley heads to Lehigh University, and Archmere's Jack O'Neil will play for Wagner next year.
Cross-Country and Track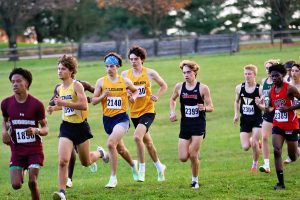 Episcopal Academy's boys' cross-country team was ranked #2 nationally. Its track team won the state championships and were national champions in the distance medley. Seniors Daikin Ebmyer and Aiden McHugh are headed for Colgate University and Boston University.
Matt Bradley and Colin Small ran track for Salesianum and are going to Loyola University at Maryland and Sacred Heart University.
Other Sports
Headed to Harvard University this year for wrestling is Salesianum's Max Agresti. From the Hill School, Hunter Sloan and Kade Davidheiser are both headed to Bucknell University, also for wrestling.
Archmere graduates Adam Hartman and Xavier Fiacco will take their rugby skills to St. Joseph's University and Colorado State University.
Augie Gerhart of the Hill School is headed to University of Pennsylvania for basketball.
Finally, Tatnall graduates and brothers Matt and Jeff Homer are both going to University of Delaware for golf. Drew Clark of Archmere will also play golf but for New York University.
In all, there are at least 75 athletes headed for Division I athletics from schools in County Lines country. We wish them good luck.
back to top