The 21st Annual National Dog Show
Photos by Simon Bruty/National Dog Show
A local tradition returns this Thanksgiving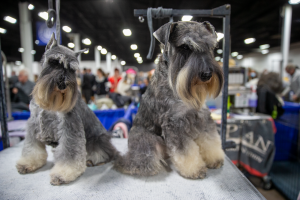 The National Dog Show, airing on NBC each year following the Macy's Thanksgiving Day Parade, is as much a part of Thanksgiving as turkey trots and pumpkin pie. From dog show drinking games to the #DogsUntil2 social media campaign (encouraging dog lovers to demand control of the TV remote until Best in Show is awarded at 2 p.m.), there's no denying these furry celebs have captured our attention.
The show has become a Philadelphia-area tradition over the past 20 years, and we have everything you need to know fr this year's event. Bone up on its surprising origins and three new breeds competing for Best in Show this year — though they're all the best in our hearts!
Better than the Movie
Though the tradition of watching the National Dog Show on Thanksgiving Day may feel as old as the nearly 100-year-old Macy's parade, it actually got its start two decades ago, following the release of the critically acclaimed mockumentary Best in Show.
Modeled after the famous Westminster Kennel Club Dog Show at Madison Square Garden, the Eugene Levy/Catherine O'Hara film centers on the fictional Mayflower Kennel Club Dog Show. Writer and director Christopher Guest (This Is Spinal Tap, For Your Consideration) chose to set the movie in Philadelphia instead of New York.
Following a movie night with neighbors, a NBC executive came up with the idea of a major dog show on Thanksgiving Day following the Macy's parade. And so, the National Dog Show was born.
Hosted by the Kennel Club of Philadelphia, with its own dog show history dating back to 1879, the two-hour special debuted in 2002 to an audience of over 20 million, a loyal viewership that keeps returning even 20 years later.
Four-Legged Legacy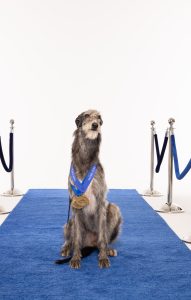 Today, the annual National Dog Show features over 2,000 canine contestants representing more than 180 breeds in an AKC-sanctioned (that's the American Kennel Club for the uninitiated) competition. These purebred pups compete in a "ladder" elimination process for the titles Best in Breed, Best in Group and the coveted Best in Show.
This tradition-rich, all-breed show is one of only two remaining in America that is "benched" — dogs are displayed to the public throughout the day, so visitors can meet them and their handlers to learn about the breeds.
"To me, the benching area is a sacred space," says cohost Mary Carillo. "The fact there could be hundreds and hundreds of dogs, all being so good, so pleasant, so happy to be here … As a longtime dog owner, I marvel at the fact that so many dogs could be in the same space and be so amiable about it all."
The show takes place over two days at the Greater Philadelphia Expo Center in Oaks. Saturday's show, known as the National Dog Show Presented by Purina, airs five days later on Thanksgiving Day as a two-hour special on NBC.
Two-Legged VIPs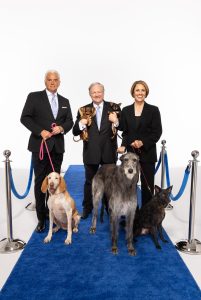 Almost as iconic as the dogs are the human faces and voices of the National Dog Show. John O'Hurley has hosted the show since its inception. Though best known for his role as J. Peterman on Seinfeld, O'Hurley is also a Dancing with the Stars champion, Broadway musical star and former Family Feud host. Most important, he's a genuine dog lover, having written several books about them — one adapted into a children's musical.
"I can't believe 21 years now they have kept this going on, and it's becoming an enormous family tradition in America — especially in Philadelphia," says O'Hurley. "It's my favorite day of the year, the chance to be able to go to Philadelphia and spend the entire day with 2,000 of the best dogs in the country, and every one of them gets along."
Expert analyst David Frei has also been with the National Dog Show since its start. Host of the Westminster Kennel Club Dog Show for 27 years, he's the perfect fit for Philly's beloved dog show. And, he was hilariously parodied by actor Jim Piddock in Best in Show. Asked about the movie hundreds of times, Frei chuckles and calls it "fair satire."
Although Mary Carillo may be newer to the National Dog Show than her cohosts, she brings experience as both a sportscaster (2018 Sports Broadcasting Hall of Fame inductee) and lifelong dog owner to the show.
Brilliant New Breeds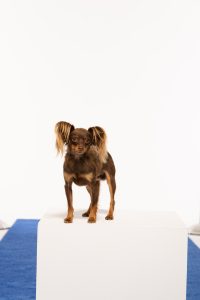 This year's National Dog Show features three new breeds, newly recognized by the AKC.
New to the Herding group, the Mudi is an extremely versatile, intelligent, all-purpose Hungarian farm dog. Their courage is useful for working the most stubborn livestock, and they're loyal protectors of property and family without being overly aggressive.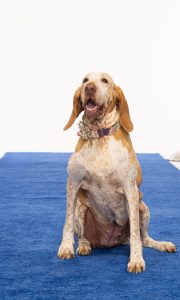 The Toy group welcomes the Russian Toy, a small, lively dog defined by long legs, fine bones and lean muscles. They're active and cheerful, with keen intelligence and a desire to please. They love to be close to their human companions, though they can be aloof to strangers.
Finally, the Bracco Italiano is the newest member of the Sporting group. One of the oldest pointing breeds, they were first introduced into the U.S. in the 1990s. They're known for their powerful appearance — lean limbs, well-developed muscles and a sculpted head. Reliable and easy to train, they're versatile hunting dogs.
Between feasting on turkey and watching football, be sure to tune in to the 2022 National Dog Show this Thanksgiving, November 24. We'll certainly be watching!
Or better yet, go to the show in person!
IF YOU GO:
When: Live, November 19–20. Two-hour broadcast on NBC, November 24, noon to 2 p.m.
Where: Greater Philadelphia Expo Center, 100 Station Ave., Oaks
Tickets: Adults $16, children $7, 3 and under free
Info: NationalDogShow.com
back to top