Taste of Phoenixville
Just when winter seems bleak … along comes the Taste of Phoenixville fundraiser—a January highlight.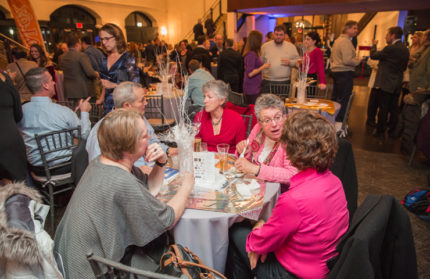 Music and dancing. Tinkling glasses and clattering plates. About 600 happy people glow in the soft lights of the Phoenixville Foundry, the renovated steel mill in this former steel town.
This year, more than 20 of Phoenixville's best restaurants (see sidebar) will serve up signature dishes—appetizers, kabobs, barbecue, seafood, pizzas, cupcakes, pastries, chocolates—to be washed down with craft beer, whiskey and other spirits and, of course, coffee. You'll eat as much as you like, and like as much you eat.
In its 16th year, the fundraiser had been organized by the Good Samaritan Shelter, which offers a roof, a bed and warmth to those who are homeless. In 2017, the Shelter merged with Bridge of Hope in Lancaster & Chester Counties, forming Good Samaritan Services. The combination will serve nearly 200 people daily. And, it will provide much more: matched savings and loan programs; parenting and family-building classes; mentoring and employment services, plus, through its Nourish Mobile Market start-up, fresh, local food to the community and jobs to its residents.
How did the shelter get started? Good Samaritan began providing shelter about 19 years ago. Bishop William Washington, Jr., of New Beginnings Church of God, led the effort. Other churches joined in, wanting to help people "get back on their feet." The Taste of Phoenixville was conceived as a fundraiser.
Starting small in 2003, the Taste of Phoenixville has grown through its popularity and broad community support. Spearheaded by Nate Hoffer, Good Samaritan's Executive Director, along with many volunteers, the fundraiser helps provide a "compassionate response" to a lingering problem.
About 40 churches, over 150 organizations and nearly 500 individuals have contributed $100 or more—96% of its funding comes from the community, not government sources—to the Shelter's work. Last year, before the merger, the fundraiser provided more than 10% of the Good Samaritan's $1.3 million budget. The budget is now, after the merger, $1.6 million.
We suggest you do good and eat well at this year's Taste of Phoenixville.
---
Restaurants at 2017 Taste of Phoenixville
(likely returning)
Aman's Indian Bistro
Artisans Gallery and Cafe
Bistro on Bridge
Bluebird Distilling
Bridge Street Chocolates
Flour & Oats
Foresta's Market
Great American Pub
J. Scott Catering
Majolica
Molly Maguire's
Nook & Kranny Kafe
Paradocx Vineyard
Penns Woods Winery
PJ Ryan's Pub
Queen of Hearts
Rivercrest
Robert Ryan Catering
Sips
Sly Fox Brewing
St. Peter's Bakery
Tony's Family Restaurant
Uncle B's
Valley Forge Trattoria
and Lounge
Vecchia
If You Go:
What: 16th Annual Taste of Phoenixville
When: January 18, 2018, 6 to 10 p.m.
Where: Phoenixville Foundry, 2 N. Main St.
Tickets: $100 and up
Info: TasteOfPhoenixville.com
back to top