Take a Trip to Lancaster County
Plan your next getaway to the countryside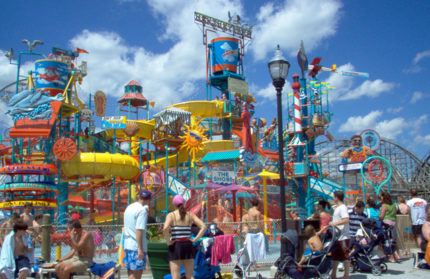 Yes, I'm from Lancaster County. No, I'm not Amish. And my family did not get around in a horse and buggy.
It may surprise you just how often I'm asked those questions—in that order.
And equally surprising to many is just how diverse Lancaster County actually is—from rolling country hills where I grew up, to busy shopping outlets my family frequented on weekends, and a sophisticated city at the county's center that I still enjoy visiting.
Life in Lancaster ranges from broad vistas marked by farmlands and quiet Amish communities, to a bustling county seat with a burgeoning arts, dining and culture scene, to small towns with quirky names filled with history, to the lush, green open space along the Susquehanna River.
Yes, it's true that life here seems simpler, slower. Perhaps that's one reason tourism is a leading industry in Lancaster County, as people travel to capture that feeling.
And for this Lancaster gal, it's a joy to share some of the highlights from my home.
Raise the Curtain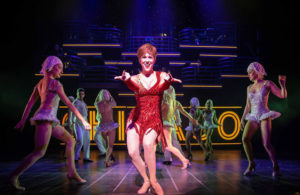 Did you know that Lancaster County is home to theaters of all sizes and types, offering one-of-a-kind shows and headline acts?
Heading west into Lancaster, Sight & Sound Theatre is just minutes away from the Strasburg Railroad, and another reason to visit. It's the biggest stage in the region—a 2,000-seat auditorium with a 40-foot-high, 300-foot-wide panoramic stage that surrounds audiences on three sides, with state-of-the-art technology and live animals. See musical productions of Bible stories brought to life, including Jesus and Miracle of Christmas.
Continue west on Route 30 (aka Lancaster Pike) and spend a day shopping at the outlets before catching a show at the American Music Theatre. This 1,600-seat venue features over 300 live performances a year, from Broadway tours, to famous comedians, to original shows. This year's lineup includes STOMP, The Doobie Brothers and Foreigner, and many more.
Travel into downtown Lancaster City to find the art scene—and a few theaters worth checking out. First is the historic Fulton Theatre, built in 1852 on the old site of Lancaster's pre-Revolutionary jail. Here you can take a tour or see a show, like Mamma Mia or The Princess and the Pea, at this 684-seat venue.
And small but noteworthy, Prima is the newest theater on the scene, with 200 seats and big-name guest talent, including Stephen Schwartz, writer of the Broadway show, Wicked. This season see Godspell and a show of '70s Smash Hits.
Enjoy a meal with your show at Lancaster's dinner theaters. Leave Lancaster City and head towards York to the Dutch Apple Dinner Theatre, where you'll dine on an all-American buffet while enjoying a show with a live orchestra and professional performers from across the U.S. This season's performances include Joseph and the Amazing Technicolor Dreamcoat and Camelot.
Or, head back east to the Bird-in-Hand Stage to savor a Pennsylvania Dutch lunch or dinner with a magic show or the live musical whodunit, Stolen.
See the events below for more on theater performances.
Amuse Yourself
You'll find plenty of family fun in Lancaster. And as the weather gets warmer and the days get longer, the opening weekends of amusement parks get closer.
Situated in the heart of Lancaster County is Dutch Wonderland, a magical getaway that's as much fun as its name suggests. Experience over 35 different rides, like the boat ride through the Dragon's Lair, splash around in the water geysers of Duke's Lagoon water play area, and enjoy a meal at one of their many restaurants and food stands. Opening weekend, April 27–28.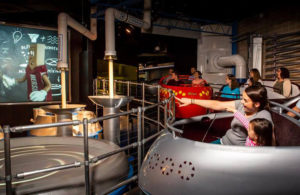 Another popular destination is Hershey, nicknamed "The Sweetest Place on Earth," and located in Lancaster's next-door neighbor, Dauphin County. Try the free tour at Hershey's Chocolate World—a delicious journey that takes you through the chocolate-making process. Then check out the other attractions, such as the Chocolate Tasting Experience or Creating Your Own Candy Bar, where you can choose your ingredients and personalize your own wrapper with your photo. Open year-round.
Then on to Hershey Park, to zoom along the park's oldest roller coaster, the Comet, admire the view of the town of Hershey from the Kissing Tower (and don't forget to kiss at the top), and float over the park with your kiddos on Skyview, an aerial gondola ride.
Your ticket also lets you see more than 200 animals at ZooAmerica and soak up the sun at Hershey's water park, The Boardwalk. Opening weekend, May 3–5.
Grab a Drink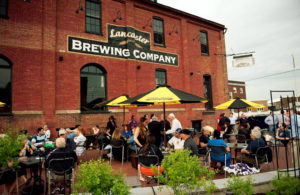 Another interesting Lancaster fact—the county has a tradition of great beer.
Before the era of prohibition, German immigrants brought lager beer with them to Lancaster County. As they started making their own brews, Lancaster's brewing reputation grew, earning it the nickname, "The Little Munich of America." Though prohibition set back brewing everywhere for a time, the brewery scene has gained new life recently, and is overflowing with choices.
If you're in Hershey for the amusement parks, make sure to stop by Tröegs Independent Brewing to take a tour or sample their tasting room or snack bar. Travel south to Mount Joy to experience a murder mystery dinner at the 19th-century Bube's Brewery or go to Manheim to Mount Hope Estate, home to a winery, brewery and cidery.
Stoudts Brewing Company, Restaurant & Pub in Adamstown is another top destination for beer fans. Founded by Carol Stoudt, the first female brewmaster since prohibition, Stoudts offers dining in their restaurant and pub, shopping in their market, and browsing around their indoor antiques mall.
Lancaster City is also a destination for a unique brew. Over at the Lancaster Brewing Company you can grab a beer and tour the brewery inside the historic Edward McGovern Tobacco Warehouse. Just a few blocks away, play arcade games and sit down for a meal and a beer at the Spring House Brewing Company.
Not a beer drinker? No problem—tour Thistle Finch Distillery, and enjoy a classic rye whiskey cocktail in their tasting room before you leave with a bottle of black pepper rye to take home.
Mud Sales
As spring arrives in Lancaster, a new spark of activity ignites the community. Among the fun events on the agenda are the annual mud sales—which gained their name from the condition of the thawing ground in the early spring. Thousands are drawn to these seasonal gatherings in Lancaster's Amish communities.
Often, these sales are major fundraisers for local volunteer fire companies, and also attract those looking for bargains on a wide selection of goods—anything from Amish quilts, lumber, buggies, lawn equipment, to furniture, antiques and more.
Mud sales have more than just great deals. Make sure to sample the delicious regional food while you're there. Enjoy Pennsylvania Dutch chicken corn soup, sticky buns and funnel cakes, and make sure to take some whoopie pies, apple dumplings or shoofly pie home with you for dessert.
See the events below for upcoming mud sales.
City Life
Lancaster City is the biggest—and only—city in the county. And, while it has the soul of the charming country surrounding it, its future is lively and modern.
With so much to do and see, Lancaster City deserves its own article. But until I write that piece, here's a small taste of what you can expect.
Start with a sample of what Lancaster's active arts scene has to offer—like theaters, museums, galleries, and music. Seasonal ArtWalks and First Fridays are perfect times to stroll along Gallery Row to find special activities and live music all around downtown.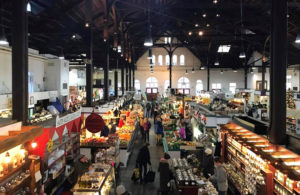 Perfect for a day trip, Lancaster City also offers shopping at over 200 distinctive shops and 90+ dining options. Grab some souvenirs and a bite to eat at Central Market, the oldest, continuously running public farmers' market in the country.
Or browse goods from over 70 vendors—artisans, antiques and collectibles dealers—spread through three warehouses at Building Character. And find one-of-a-kind items at a variety of boutiques on the 300 Block of North Queen Street. Find more to do at VisitLancasterCity.com.
I hope you'll plan your next spring getaway to Lancaster County to experience the charm of the countryside and the diversity of Lancaster's communities.
For more information to plan your visit, go to DiscoverLancaster.com.
Lancaster County Events
Theaters
Prima
Apr. 5–20, Godspell; Apr. 11–14, 70s Smash Hits. 941 Wheatland Ave., Ste. A, Lancaster. PrimaLancaster.org.
Fulton Theatre
Through Apr. 13, Pinocchio; Through Apr. 14, Once; Apr. 2–28, I Am My Own Wife; Apr. 30–May 25, Sophisticated Ladies. 12 N. Prince St., Lancaster. TheFulton.org.
Dutch Apple Dinner Theatre
Through May 4, Joseph and the Amazing Technicolor Dreamcoat; May 9–June 22, Camelot. 510 Centerville Rd., Lancaster. DutchApple.com.
American Music Theatre
Apr. 7, Engelbert Humperdinck; Apr. 10, Doobie Brothers; Apr. 12, Kris Kristofferson & The Strangers; Apr. 14, STOMP; May 3, Resurrection—A Journey Tribute; May 4, Straight No Chaser; May 5, Herman's Hermits; May 10, Foreigner. 2425 Lincoln Hwy.. E.Lancaster. AmtShows.com.
Sight & Sound Theatres
Through Oct. 5, Jesus. 300 Hartman Bridge Rd., Ronks. Sight-Sound.com.
Bird-in-Hand Stage
Apr. 17–Oct. 26, Magic & Wonder: IMAGINE; May 1–Oct. 23, Stolen. 2760 #A Old Phila. Pk., Bird-in-Hand. Bird-In-Hand.com
Mud Sales benefit fire companies
More at DiscoverLancaster.com.
Apr. 6—Robert Fulton Mud Sale. 2271 Robert Fulton Hwy. Peach Bottom. Rffc89.com.
Apr. 13—Rawlinsville Mud Sale. 22 Martic Heights Dr., Holtwood. 717-284-3023.
Apr. 20—Schoeneck Fire Co. Mud Sale. 125 N. King St., Denver. 717-336-6767; SchoeneckFire.com.
More Lancaster Events
Apr. 6—Rails and Ales. Craft breweries, food at the Railroad Museum of PA. $15–$160. 300 Gap Rd., Strasburg. RailsAndAles.org.
Apr. 13—1st Annual Clockwork Festival.
$5–$23, National Watch & Clock Museum, 514 Poplar St., Columbia. Nawcc.org.
Apr. 13, 19–20—Easter Bunny Breakfast.
Kitchen Kettle Village. $10–$15; 3529 Old Phila. Pk., Intercourse. KitchenKettle.com.
Apr. 27—Race Against Racism. Annual 5k run/walk through historic Lancaster. 135 N. Lime St., Lancaster. YwcaLancaster.org.
May 4—Pretzel Fest. Pretzel tastings highlight Lititz's pretzel history. Beer tastings and music $15–$20. LititzPretzelFest.com.
Lancaster in the History Books
As the oldest inland city in the U.S., Lancaster is rich with American history. Since its first settlement in 1709, Lancaster has contributed to our country's progress, while still keeping plenty of its historic charm.
Brush up on your Lancaster history before taking a trip this spring or summer.
There wouldn't have been a successful revolution without Lancaster! This county was the birthplace of the Pennsylvania rifle and the leading rifle-making center for the American Colonies. The innovative rifles were crucial in our fight for independence. Lancaster also played an important part in feeding and supplying troops.
During the American Revolution, Lancaster became the capital for just one day on September 27, 1777. The Continental Congress fled Philadelphia as the British captured that city and settled in Lancaster to regroup. The capital site continued to move through other cities, including York, PA, New York City and Annapolis, MD, before settling in Washington D.C.
Lancaster is the birthplace of Conestoga wagons, those heavy covered wagons pulled by horses that helped move freight crucial to building our nation. These wagons traveled to and from Lancaster, which inspired the nation's first turnpike in 1794—the Lancaster Pike or Route 30. You can thank the Conestoga wagons for an easier commute!
Famous for its architectural heritage, Lancaster offers rich and varied architecture representing Georgian, Federal, Victorian, Beaux Arts and Modern styles. These irreplaceable buildings in downtown Lancaster City help create its historical charm, recognized nationally by an All-American City Award.
As a center for the arts, Lancaster is or was home to many nationally renowned artists, including Jacob Eichholtz (19th-century portrait painter), Charles Demuth (early 20th-century watercolorist) and David Brumbach (late 20th-century painter) who found creative inspiration while living there. Find their work, and more, displayed in area museums and galleries.
Lancaster is on the right side of history with native Thaddeus Stevens, who fought for the equality of all Americans. He was a leading force in the Emancipation Proclamation, the 13th Amendment, and securing the rights of already freedmen.
Lancaster is also home to Pennsylvania's only President, James Buchanan. His charming Federal-style home, Wheatland, is open to visitors.
Another sweet historical tidbit belongs to Milton Hershey who started the Lancaster Caramel Company in 1866—Hershey's first successful candy company in nearby Dauphin County. The success of the Lancaster Caramel Company was the first step towards making those delicious Hershey bars and Hershey kisses found … everywhere.
Nearby Lititz has more chocolate history as the home to Wilbur Chocolate and their Wilbur Buds, said to pre-date Hershey's kisses.
Keep these fun facts in mind as you plan your day trip or longer vacation to Lancaster County. Whether you're visiting an Amish settlement in the countryside or checking out the shopping outlets and upscale restaurants in bustling Lancaster City, you'll enjoy it more with a side of history!
back to top