Lancaster in Winter
It's not just for spring mud sales, summer farmstays and autumn leaf-peeping.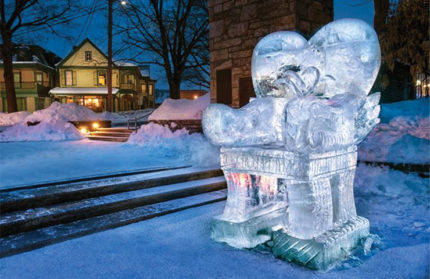 Although it may not be your first idea for a winter vacation destination, Lancaster County offers peaceful serenity, fun festivals and seasonal variations on its assortment of cultural attractions, entertainment, good food and great shopping.
You can find cozy B&Bs with crackling fires or full-service resorts in the middle of the action, or just visit for day trips and make it home to sleep in your own bed.
Lancaster should be in your winter plans, with fun ranging from horse-drawn sleigh rides to zip lines.
Cultural Attractions: Check out the many theaters offering everything from Broadway-caliber shows to dinner theater—at the Fulton, Dutch Apple, American Music, and Sight & Sound Theatres. Or sample from a broad selection of art and history museums—DeMuth & Lancaster Museum of Art, North Museum of Nature and Science, Lancaster Science Factory and Wheatland, President James Buchanan's home.
Special Events: You'll also find Lancaster is home to a vibrant collection of art galleries that host fun First Friday open houses in Lancaster City. Visit Liz Hess, Red Raven or the many others on Gallery Row filled with fine art, crafts and things of beauty.
February is when the Roots and Blues Festival of Music and the Lititz Fire & Ice Festival light up the calendar and attract visitors from far and wide. See sidebar for more events and details.
Tours: Choose from a pretzel or chocolate tour in Lititz, a Turkey Hill factory tour in Columbia, or your own antiques tour in Adamstown, aka Antiques Capital, USA and home to over 5,000 antiques dealers. Join a steam engine rail road tour in Strasburg, see two dozen covered bridges on a driving tour through the county, or enjoy a farmers market walking tour in downtown Lancaster's Central Market, housed in a 1889 building.
Outdoors and Indoors: You can take a horse-drawn buggy or sleigh ride in Amish Country, watch the snow geese and tundra swan migration at Middle Creek Wildlife Management Area, or head out to York for snow tubing at AvalancheXpress.
For indoor fun, you'll find the Sky Zone trampoline park, Laser Dome for laser tag and high tech fun, plus the Caribbean Indoor Water Park for a change of pace.
Dining: From smorgasbords to PA Dutch restaurants, like Good 'N Plenty and Plain & Fancy, to brewpubs like Lancaster Brewing Co., there's something for every taste and mood. So eat your fill at family-style tables or check out something new. Try Food Network's Alton Brown's top restaurant pick for 2016, Ma(i)son, a 28-seat BYOB celebration of sustainable dining.
Shopping: Whether you're looking for Amish quilts, crafts and hand-built furniture or trendy clothes and accessories in fashionable boutiques, Lancaster has what you're looking for.
And for bargain shoppers, Rockvale Outlets feature more than 90 brands, while Tanger Outlets have great shopping with over 60 stores—from ASICS to Zales. So bring home your prize from Coach, Polo, Pottery Barn or Under Armour.
Consider heading to Lancaster County this winter for fun, food and shopping. Or take in the theater or area events.
You might even return this spring!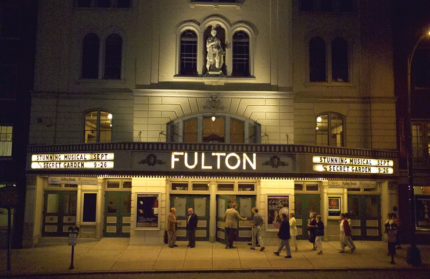 Lancaster Area Events
Theaters, museums and towns offer many options for entertainment this winter.
Through March
Freedom: To Secure the Blessings of Liberty.Discover the stories of Lancastrians who sought freedom, lived in freedom and were denied freedom over 300 years. 230 N. President Ave., Lancaster. Mon–Sat, 9:30 to 5. LancasterHistory.org.
Through March 30
American Music Theatre.Feb. 2, Dwight Yoakam; Feb. 3, Three Dog Night; Feb. 10, Masters of Illusion; Feb. 12, The Everly Brothers; Feb. 17, Switchfoot & Reliant K; Feb. 18, Spring Doo Wop Cavalcade; Feb. 19, Air Supply; Mar. 3, Ricky Skaggs and Bruce Hornsby; Mar. 4, Martina McBride; Mar. 11, The Oak Ridge Boys; Mar. 17, Amos Lee; Mar. 19, John Denver Musical Tribute; Mar. 24, Rain, A Beatles Tribute. 2425 Lincoln Hwy. E., Lancaster. 800-648-4102; AMTShows.com.
Through April 2
Fulton Theatre.Feb. 4–18, Alice in Wonderland; through Feb. 19, Annie Get Your Gun; Feb. 21–Mar. 12, Disgraced; Mar. 14–Apr. 2, In the Heights. 12 N. Prince St., Lancaster. 717-397-7425; TheFulton.org.
Through May 14
Dutch Apple Dinner Theatre.Through Feb. 4, Shear Madness; Feb. 9–Mar. 18, Jesus Christ Superstar; Mar. 23–May 14, My Fair Lady. 510 Centerville Rd., Lancaster. 717-898-1900; DutchApple.com.
February 4–26
Demuth Museum of Art–Annual Invitational Exhibition.Lancaster artists are invited to create a work based on a Charles Demuth-inspired theme. 120 E. King St., Lancaster. Tues–Sat, 10 to 4; Sun, 1 to 4. 717-299-9940; Demuth.org.
February 17–20
12th Annual Lititz Fire & Ice Festival. Over Presidents Day weekend, enjoy live ice carvings, vendors, games, food, entertainment, chili cookoff, indoor winter carnival and more. LititzFireAndIceFestival.com.
February 24–26
Lancaster Roots and Blues, A Festival of Music. Musicians from across the country celebrate the roots of American music at several venues in Lancaster. Featuring jazz, Americana, folk, rockabilly, rock 'n roll, bluegrass and more. $55 and up. 717-875-2772; LancasterRootsAndBlues.com.
March 11–October 14
Sight & Sound Theatre—Jonah. A Bible classic comes to life on stage in jaw-dropping scale with special effects and live animals—on stage and in the aisles. 800-377-1277; Sight-Sound.com.
back to top