Lancaster County
Back in Pennsylvania and on to the special world of Lancaster County—long associated with farming and Amish life, but increasingly appealing to wider audiences with fun festivals, cultural attractions, good food and great shopping. Spend a weekend and check into an authentic farmstay, cozy B&B or full-service resort. Or plan day trips and make it home to sleep in your own bed.
No matter how long you stay, Lancaster should be in your summer plans. Here's why.
Arts & Culture
For a bit of culture, check out the many theaters offering everything from Broadway-caliber shows to dinner theater—at the Fulton, Dutch Apple, American Music and Sight & Sound Theatres. Or sample art and history museums—DeMuth & Lancaster Museum of Art and North Museum of Nature and Science. Or visit Lancaster City, home to local art galleries that host fun First Friday open houses. Several neighborhoods—Gallery Row, Uptown, Backstage—have music, and restaurants are open late in this "authentic arts town."
Explore history and the life of an American President—the only one from Pennsylvania—at LancasterHistory.org (that's the name and Web domain). President James Buchanan's Wheatland's estate has remained relatively unadulterated so you can see where the 15th President spent his later days. 230 N. President Ave. LancasterHistory.org.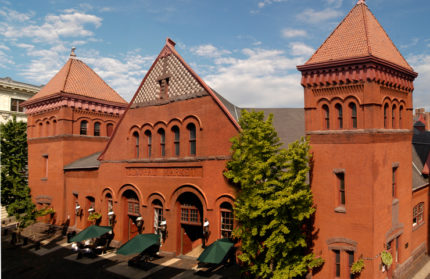 Special Tours
For fun tours, choose from a pretzel or chocolate tour in Lititz, LititzPA.com, a Turkey Hill factory tour in Columbia, TurkeyHillExperience.com, or your own antiques tour in Adamstown, home to over 5,000 antiques dealers, AntiquesCapital.com.
See two dozen covered bridges on a driving tour, PACoveredBridges.com, or enjoy a walking tour in downtown Lancaster City's Central Market, housed in an 1889 building and featuring the best of local farms—scrapple, headcheese, produce, pastries—plus gourmet and international delicacies, CentralMarketLancaster.com.
Hot Air Balloon Rides
Is a traditional Amish buggy tour is on your wish list? Plenty of enterprising folks are ready to take you on a trip back in time. Or try Lancaster County Hot Air Balloon Rides, taking off from Bird-In-Hand to float over quilt-patterned Amish farmlands. USHotAirBalloon.com.
Railroad & Train Museums
For a unique experience, we recommend a stop in Strasburg. You'll start noticing railroad motifs everywhere—on restaurants and motels, plus shops selling railroadiana—as you near Strasburg, home to the Railroad Museum of Pennsylvania. This museum houses one of the world's most significant collections of historic railroad artifacts. RRMuseumPA.org.
Other stops include the Strasburg Rail Road, where you can take a ride on a historic coal-burning steam train or hop aboard a miniature steam train, StrasburgRailroad.com, and the National Toy Train Museum in Ronks with a world-class collection of toy trains from the mid-1800s to present for kids of all ages, NTTMuseum.org.
Shopping & Dining
Whether you're looking for Amish quilts, crafts and hand-built furniture or the latest trends from fashionable boutiques, Lancaster County has it all. For bargain shoppers, Rockvale Outlets feature 90 brands, while Tanger Outlets have 60 stores—from ASICS to Zales. Bring home your prizes from Coach, Pottery Barn or Under Armour.
From PA Dutch restaurants, like Good 'N Plenty and Plain & Fancy, to brewpubs like Lancaster Brewing Co., there's something for every taste. So eat your fill at family-style tables or head for Lancaster City to sample Food Network's Alton Brown's fave, Ma(i)son, for sustainable dining, Cork & Cap for simple yet cosmopolitan dishes, or POUR on arty Gallery Row for contemporary creative fare.
Some Favorite Towns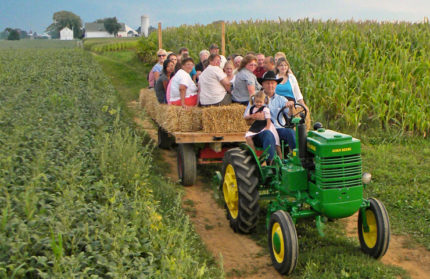 Bird-in-Hand
For an authentic, old-school Lancaster County experience, visit Bird-in-Hand and stay at the Bird-In-Hand Family Inn or Village Inn & Suites. Tour back roads, farmlands and an Amish village, and eat local at the Bird-In-Hand Family Restaurant and Smorgasbord, where fruits and vegetables come from local Amish and Mennonite farms and traditional Pennsylvania Dutch recipes date back to Grandma Smucker. And there are a theater and balloon rides in town, too.
Visit on July 2 for an Ice Cream Social with the Smucker family and on July 6, 13, 20 and 27th (more dates in August) for a Cornfield Banquet, with dining under a tent set in the rows of corn. Enjoy a hayride, corn maze, music and bonfire along with the freshest possible corn to highlight your dinner.
Lancaster City
You'll see another side of Lancaster County at Lancaster City. Downtown Lancaster is home to a vibrant arts community, with galleries, museums, an arts college, theaters, symphony and opera company, plus a full calendar of events—like the Lancaster Craft Beerfest on August 26. See VisitLancasterCity.com.
To get the most from your visit, stop by the Discover Lancaster Visitors Center for plenty of advice to help plan your visit, 501 Greenfield Rd., DiscoverLancaster.com.
If you're aching for green space, head for Long's Park, for picnic areas, petting zoo, fitness trail, and every summer Sunday—plus some Saturdays—the Summer Music Series, ending Aug. 27. This free entertainment series ranges from the popular Celtic music group, Fullset, to the patriotic concert and fireworks on July 2. Come back Labor Day weekend for the Annual Art Festival, with works from 200 artists and craftspeople—one of the top shows on the East Coast. LongsPark.org.
Lititz
Our final stop is Lititz, know as America's Coolest Small Town. On second Fridays, this non-touristy town hosts "Lovin' Lititz Every Second," (on second Friday, get it?) when 50 shops and 20 eateries stay open, and Main and Broad Streets are dotted with musicians, artists and dancers. Or visit for fireworks at their signature event: the 200th Continuous 4th of July Celebration (since 1818) at Lititz Springs Park.
Other highlights include Sturgis Pretzel Bakery, where you can roll and knead your own pretzels, JuliusSturgis.com, and Wilbur Chocolate Factory to taste their famed Wilbur Buds (predating the Hershey Kiss!) and the Candy Americana Museum, WilburBuds.com.
A sweet way to end your visit to surprising Lancaster County.
back to top