Summer in Wilmington
Expect double the fun this year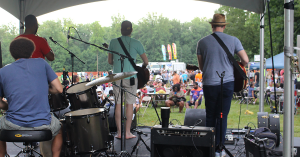 Summer is here. And we're looking for places to go. Things to do. How about in Wilmington? The city comes alive each summer with festivals, music, theater, museums, gardens, nature, gambling, baseball, horses and more.
There's so much to see, hear and do! We've rounded up a few ideas to get you started.
Community Festivals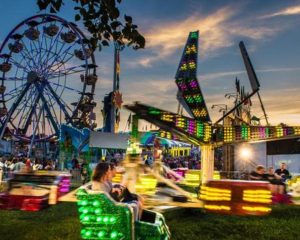 Start with community celebrations. Thousands will flood to Wilmington for the St. Anthony's Italian Festival, 901 N. DuPont Street, on June 11 and 12. There's Italian food galore and the music goes late into the night. Don't miss the Procession of Saints on Sunday. SAPDE.org/ItalianFestival.
Music lovers must catch the Clifford Brown Jazz Festival on June 15 to 18 at Rodney Square, N. Market and E. 10th Streets. In its 35th year, this is the largest free jazz festival on the East Coast. The main stage hosts world-class and Grammy-winning musicians. CliffordBrownJazzFest.org.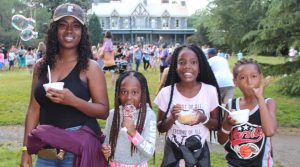 On June 25, you can cool off at the New Castle County Ice Cream Festival. Bring a picnic lunch, chairs and blankets. There will be plenty of live music, a maker market and fireworks. Enjoy local ice cream and other sweet treats. The party's in Rockwood Park, 4651 Washington Street Extension. NewCastleDE.gov.
Of course, you won't want to miss the fireworks at Wilmington's 4th of July Celebration. Final plans for the 4th haven't been settled yet, but it's usually at the Tubman-Garrett Riverfront Park. And always a blast! WilmingtonDE.gov.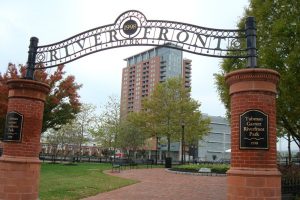 You'll also have to check back for the performers and exact dates of the Wilmington Riverfront Blues Festival, typically held at the beginning of August. Past performances have featured notable blues artists like Koko Taylor, Elvin Bishop and many more. RiverfrontWilm.com.
It will likely still feel like summer at the People's Festival: A Tribute to Bob Marley on September 24, also at the Riverfront Park. Featured this year are Kenyatta Culture Hill, Spokey Speaky, the Raggamuffin Reggae Band and others. Facebook.com/PeoplesFestDE.
That's a strong line-up, with more to come!
The Music Doesn't Stop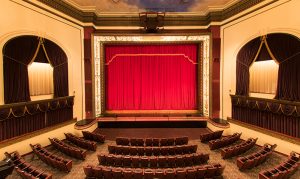 The music isn't only on the streets and at the festivals. The Grand, in its Copeland Hall, 818 N. Market Street, presents several top acts. On June 4, the Piano Men will perform "Time in a Bottle." On June 11, join the Rock 'N' Doo Wop Dance Party. June 15 features The Mavericks. And on and on. Check the website for more, TheGrandWilmington.org.
Throughout the summer, The Queen, 500 N. Market Street, is rocking … and rolling. There are too many performers to list. Lanco, Devon Allman, Apollo Suns … And that's just the first week in June! Comedians as well. Check the website. TheQueenWilmington.com.
Thinking Theater
There are several places to enjoy theater in Wilmington. On June 4, see "Chosen" at the Baby Grand, 818 N. Market Street, about a woman whose marriage to a high-profile pastor is marred by deceit, manipulation and infidelity. Sound familiar? With faith and determination, she survives and makes it through to receive her crown. TheGrandWilmington.org.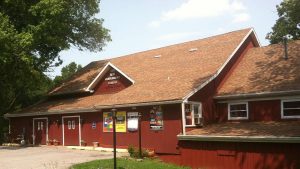 Also on June 4, sample "Vaudeville: A Roaring 20's Speakeasy." It's a showcase of talent, performing a variety of comedy skits, jokes, songs, dance numbers and comedy. You'll laugh your worries away. It's presented at Bootless Stageworks, 1301 N. Broom Street. Bootless.org.
At the Playhouse on Rodney Square, 1007 N. Market Street, enjoy a new production of "Fiddler on the Roof." There are only five performances, from June 9 through June 12. Watch Tevye as he struggles with his religious traditions and five daughters. TheGrandWilmington.org.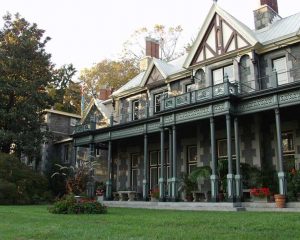 Until June 26, the Candlelight Theater, 2208 Millers Road, will present "Clue," a hilarious farce-meets-murder-mystery that will leave you in stitches as you try to figure out who, where and how they did it. CandlelightTheatreDelaware.com.
Many other planned events dot the calendar at Rockwood Park & Museum, 4651 Washington Street Extension, but from July 15 to 31, you can take in Shakespeare's "The Tempest." Practice your best Queen's English and see how many lines you remember. DelShakes.org.
Arts, Crafts and Sciences
The Museum of Nature & Science, 4840 Kennett Pike, has recently reopened. New galleries include a giant floor map of Delaware and its forests, swamps, saltmarsh, dunes and the Delaware Bay. Another floor map depicts the Earth and is surrounded by examples of tropical rainforests, the Arctic tundra and the African savanna, as well as three different ocean environments. In a third gallery, you'll meet the creatures of the Cretaceous period. And so much more, you'll remember why you missed this museum. DelMNH.org.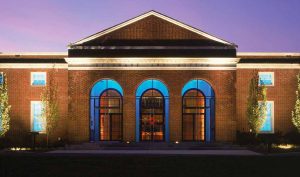 Stop by for Happy Hour, held every Thursday this summer in the sculpture garden at the Delaware Art Museum, 2301 Kentmere Boulevard — admission is free from 4 to 8 p.m. The Museum has events scheduled throughout June: a viewing and discussion of Isaac Witkin's "Wild Iris" sculpture on June 3, a tour of the Tiffany Glass collection on June 5, a museum-guided Highlights Tour every Sunday in June and more. DelArt.org.
Celebrate the arts on June 12 at The Delaware Contemporary at the 3rd Annual West Street Arts Festival. The festival includes art-based activities, performances, giveaways and creative fun. Not only does the event support local and emerging artists, but it offers a platform for artists and community-driven organizations. DEContemporary.org.
The Pennsylvania Guild Fine Craft Fair, on July 30 and 31 at the Chase Center on the Riverfront, 815 Justison Street, features more than 100 local and regional artisans. It's the Brandywine Valley's largest fine craft fair. Look for one-of-a-kind pieces of furniture, clothing jewelry, sculpture and fine art. PACrafts.org.
The Great Outdoors
The Friends of Wilmington Parks will hold its 13th Annual Jasper Crane Rose Garden Party on June 2. The Garden is a horticultural jewel — with 670 plants of 58 different varieties. Jasper Crane was a DuPont vice president, who donated plants he'd grown in his own fabulous garden. FriendsOfWilmingtonParks.org.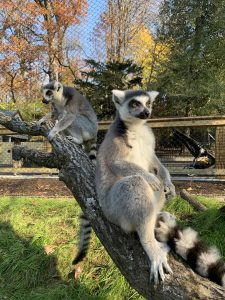 On June 3, you're invited to enjoy a Brew at the Zoo — that's at the Brandywine Zoo, 1001 N. Park Drive — for a fundraiser for the Delaware Zoological Society. There will be live music, beer, wine and spirits, and light fare provided by local restaurants, plus ice cream. BrandywineZoo.org.
Spend a relaxing summer day on June 18 with "Cubans and Cognac." A Cuban cigar, some Cognac, unlimited wine and beer, a tapas-style buffet, live music …. Tickets at Eventbrite.com. The event is at Brandywine Creek State Park, 41 Adams Dam Road, a great spot for hiking, biking, horse-back riding, disc golf, fishing and canoeing. DEStateParks.com/BrandywineCreek.
Got plans for Father's Day on June 19? Why not treat Dad — or Granddad — to a ride on the Wilmington & Western Railroad, powered by  antique steam locomotives? Dads get to ride for half-fare. It's a 90-minute round-trip train ride to the Mt. Cuba Picnic Grove, including a 30-minute layover for lunch. Board the train at Greenbank Station, 2201 Newport Gap Pike. WWRR.com.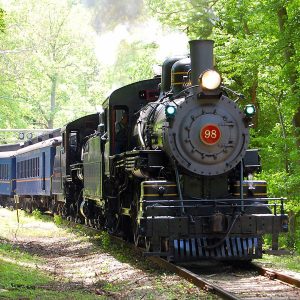 Want to see bald eagles, wood ducks, beavers, dragonflies, river otters, turtles and more? Visit the Russell W. Peterson Urban Wildlife Refuge, 1400 Delmarva Lane Wilmington, where 212 acres of freshwater tidal marsh join the Christina River. The DuPont Environmental Education Center, at the entrance, features panoramic river and marsh views, a 10-acre ornamental garden, a pond loop extending into the marsh, and trailhead access to a 5.5-mile-long trail from Wilmington to New Castle. DelawareNatureSociety.org.
If you find yourself in need of a quiet place to contemplate, try the Marian Coffin Garden at 1405 Greenhill Avenue. Built as a series of terraces leading from the mansion to the flower garden, the cascading garden steps through flowers, shrubs, trees and statues. At the bottom, a large tea house looks out upon a serene expanse of flowering bushes. PreservationDE.org.
Sporting World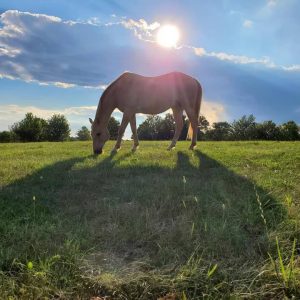 You may feel far from the urban bustle, but the Carousel Park & Equestrian Center, 3700 Limestone Road, is only a few miles — and 20 minutes — from downtown. It has over 200 acres with sweeping meadows, walking trails, a bark park and ponds with swans, ducks, geese and horses roaming the meadows. Lessons for young equestrians are available. NewCastleDE.gov.
Unless you're a jockey or seasoned equestrian, your interest in horses will probably be less on riding and more on watching. Perhaps on wagering. This summer, watch the thoroughbreds run at Delaware Park, 777 Delaware Park Boulevard, where there's also a casino — slot machines, popular table games, year-round simulcast wagering, a poker room and betting on professional and college sports. DelawarePark.com.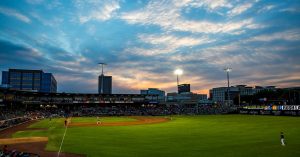 And if it's summer — and it is — it's the heart of baseball season. The Wilmington Blue Rocks, playing at Frawley Stadium, have a full schedule. In June, the third, fourth and fifth week feature the Blue Rocks against Brooklyn, Aberdeen and Jersey Shore. In the fourth week of July, the Blue Rocks will face Hudson Valley and Jersey Shore. Take yourself — and your family — out to the ballpark! MILB.com/Wilmington.
Golf is, for most of us, a participatory sport. But, this summer, you can see top pros go at it. From August 16 to 21, the BMW Championship will be held at Wilmington Country Club. The top 70 players on the PGA Tour will compete to earn one of 30 spots and to be crowned FedExCup champion. BMWChampionship.com.
As you can see, there's plenty to do in Wilmington this summer in addition to major year-round sights like Winterthur Museum, Gardens and Library, Nemours Estate and the Hagley Museum.
For more ideas for summer fun, check VisitWilmingtonDE.com.
More Fun in and Around Wilmington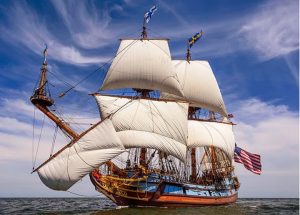 Through August
Kalmar Nyckel, Tall Ship of Delaware. You'll find adventure and outdoor fun, maritime history and cultural events with annual community festivals offering family-friendly activities. July 4, Free Ship Tours, 2 to 6 pm; July 9, Captain Kidd's Pirate Adventure Day, noon to 4 pm; Aug. 13, Underground Railroad Superhero fun Day, noon to 4 pm. Copeland Maritime Center at the Kalmar Nyckel Shipyard, 1124 E. 7th St. KalmarNyckel.org.
Through September 15
Third Thursdays
Auburn Heights After Hours. Come out to the Marshall Steam Museum for scenic views, crafts brews and games. Food trucks, featured groups and fun activities. Some seating; bring blankets and chairs. Friendly, leashed dogs welcome. 300 Creek Rd., Yorklyn, DE. 5 to 8 pm. $3–$6. AuburnHeights.org.
Through September
The Music School of Delaware. Hosting over 100 performances, events, workshops and master classes at several locations. Performances include diverse music styles and feature expert faculty, regional artists, internationally acclaimed guests and students. Most are free. MusicSchoolOfDelaware.org.
Through December
Winterthur Museum, Garden & Library. Winterthur hosts many events throughout the season. Visit their website for everything from garden walks, special events, workshops, demonstrations and much more. 5101 Kennett Pk., Winterthur, DE. Tues–Sun, 10 to 5. $15–$30. Winterthur.org.
Through October 31
Brandywine Treasure Trail Passport. The Passport provides access to 12 of Wilmington and the Brandywine Valley's top attractions, including thousands of acres of gardens, the grand estates of the du Pont family, incredible works of art and rich American history. $49–$99. VisitWilmingtonDE.com.
June 1–August 31, Wednesdays
Bike & Hike & Brews at Hagley Museum & Library. Bring a picnic to enjoy at the picnic pavilion on Workers' Hill or at a table along the Brandywine. Dogfish Head craft beer and Woodside Farm Creamery ice cream are available for purchase. 200 Hagley Creek Rd. 5 to 8 pm. $5. Hagley.org.
June 1–October 30
Delaware Theatre Co. June 1–19, My Mother's Italian, My Father's Jewish & I'm in Therapy! Sept. 14–Oct. 2, Here You Come Again. World Premiere; Oct. 12–30, Black Angels Over Tuskagee. 200 Water St. DelawareTheatre.org.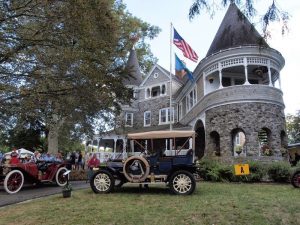 June 5–November 6
First Sunday each month
Steamin' Days at Auburn Heighs. Climb into an antique automobile or board one of the trains and experience what it was like to travel at the turn of the 20th century. Tour the magnificent 1897 mansion that was home to three generations of the Marshall family. You'll find something for everyone, age 2 to 92. 300 Creek Rd., Yorklyn, DE. 12:30 to 4:30 pm. $8–$12. AuburnHeights.org.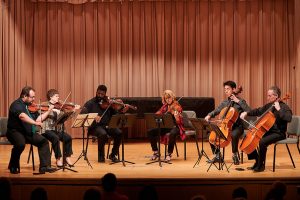 June 10–26
Serafin Summer Music. A festival of chamber music featuring exceptional performers from around the world, both live and livestreamed. June 11, 18 & 25, Serfins at the Beach, Bethel United Methodist Church, 129 W. 4th St., Lewes, DE. June 10, 12, 17, 19, 24 & 26, performances at the Music School of Delaware, 4101 Washington St. $25. SerafinEnsemble.org.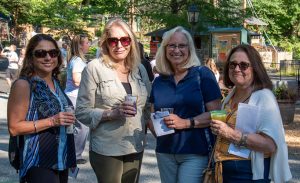 June 29, July 27, August 31
Sip & Stroll at Brandywine Zoo. Go a little wild at the family-friendly event. You'll sip, stroll and learn while enjoying beer and touring the zoo after hours. Fun animal encounters and activities for all ages. Beer sold separately. Brandywine Park, 1001 N. Park Dr. 5 to 7 pm. BrandywineZoo.org.
August 27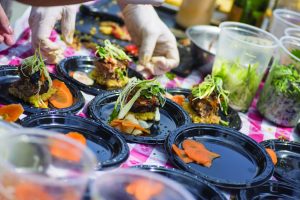 Annual Delaware Burger Battle. Tentative date set for the event that puts Delaware's top chefs and their best burgers forward. Benefits Food Bank of Delaware and Delaware ProStart. Rockford Tower, Rockford Park, 2000 Lookout Dr. Noon to 3:30 pm. Pay one price to sample burgers all day, $12–$50. DEBurgerBattle.com.
August
August Quarterly Festival Celebration. The nation's oldest African-American festival celebrating freedom of religion and speech and the right of assembly. Tubman-Garrett Riverfront Park, Rosa Parks Dr. AugustQuartlery.org.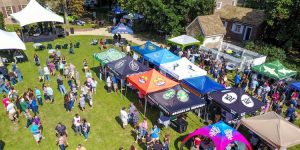 September 10
Historic Odessa Brewfest. Enjoy 50 local, regional and national craft breweries, gourmet food and artisan vendors. Benefits Historic Odessa Fdn. 202 Main St., Odessa, DE. VIP, noon to 6 pm, $75; general adm. 2 to 6 pm, $60. 302-387-4119; OdessaBrewfest.com.
September 10–11
Brandywine Festival of the Arts. Over 200 artisans from all over the country. 1001 N. Park Dr. Sat, 10 am to 6 pm; Sun, 11 am to 4 pm. BrandywineArts.com.
For more fun things to do, check VisitWilmingtonDE.com.
back to top