Summer Fun in Philly
Travel+Leisure named Philadelphia a top destination for 2017 — top 50 in the world and top 7 in the U.S.! Find out why.
History, culture, fine dining and national holiday celebrations were the usual reasons to head to Philadelphia.
But this top destination—the one that hosted Pope Francis and the DNC and that should expect more attention this year—has added more attractions since your last visit. A major new museum, beer gardens galore, and a growing good-times magnet along the Delaware River Waterfront, highlighted by Spruce Street Harbor Park, drawing 750,000 visitors last year.
New, Yet Historic
If you've seen the Barnes Foundation's world class Impressionists and post-Impressionists, visited the Art Museum's 200 galleries, and memorized the stories of the Liberty Bell, Betsy Ross and the Declaration of Independence, you're ready for something new.
Opened on April 19—the date of the "shot heard round the world"—the Museum of the American Revolution (101 S. 3rd St.) ups the city's patriotic quotient. Its chronologically organized 31 audio visual experiences and 10 theaters make a visit feel like a movie you walk through, with highlights like George Washington's headquarters tent and a life-size, realistic figure of the general (Instagram opp!). Be sure to visit the Battlefield Theater and be on the front lines of the Continental Army during a British attack as gunshots erupt, floors shake, strobe lights flash and smoke fills the room.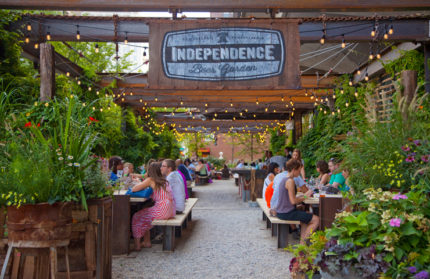 Independence and Beer
Time for a stroll: two blocks to the Ben Franklin Museum or Betsy Ross's House, three blocks to the Liberty Bell or Independence Hall, or four blocks to Independence Visitors Center or … Independence Beer Garden (100 S. Independence Mall)? You survived a British attack, now grab a beer and an Adirondack chair at this popular destination with room for 300 guests enjoying 40 beers on tap and classic American fare.
Beer gardens are a rite of summer—maybe you've enjoyed Kennett Square's Creamery and Wilmington's Constitution Yards. In Philly, sample Wednesday's Center City Sips celebrating Happy Hour; Parks on Tap, a traveling pop-up beer garden at rotating city parks; SkyGarten, 51 floors up at Three Logan Square; or Circa Green, the garage-top, elevated park/beer garden, from World Café Live near 30th Street Station.
Plus plenty of options along the waterfront.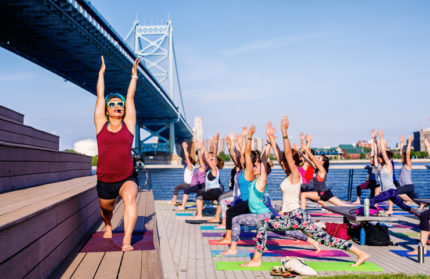 On the Waterfront
The Delaware River Waterfront is THE summer destination with fireworks, concerts, festivals, movies and events. From yoga and picnic tables at park-like Race Street Pier in the shadow of the Ben Franklin Bridge, to the excitement under changing colored lights strung over hammocks at the hot spot of Spruce Street Harbor Park, there's a full card of activities for all ages.
Instead of the usual attractions like the Franklin Institute, Please Touch Museum or the Zoo (even with the allure of tubing in the Snow Zone), take the kiddos to Blue Cross RiverRink Summerfest. Try out the roller skating rink, mini-golf, midway with arcade games, Ferris wheel and carousel, and mini-beach with umbrellas. For parents, there's a boathouse-style lodge hosting Chickie's and Pete's Waterfront Crabshack, a 200-seat bar and restaurant.
For more eating and drinking options head north to Morgan's Pier, with farm-to-picnic-table choices from this year's guest chefs (from Helm and South Helm) at 500 outdoor seats along the river. After dark, listen to music and DJs, dance under twinkle lights or sip craft beers and cocktails.
Who thought there'd be a hammock-filled haven on the Delaware River? Enter Spruce Street Harbor Park, an urban beach now in its fourth year. This pop-up park festooned with colorful LED lights boasts a floating restaurant, beer garden, boardwalk, plus bocce, giant chess board, paddle boats, swan boats and grab-and-go eats.
Sip Yard's exclusive Lazy Hammock brew, sample Port FedNuts fried chicken sandwiches, Franklin Fountain frozen treats, Harborside Pizza, and Garces dishes at Distrito and the Froman stand, where ordering the fried pierogies (until July 14) gets a $1 donation to the Garces Foundation. Eat well and do good.
To get the full flavor of SSHP, it's best to watch the YouTube videos.
Summer Events
Though you missed The Roots Picnic on June 3, mark your calendar for June 29–July 4, America's birthday at America's birthplace, for Party on the Parkway at Wawa Welcome America concert and fireworks and Mary J. Blige. One of the country's largest free outdoor concerts.
You can also see the Goo Goo Dolls  on August 6 at the Festival Pier on Penns Landing, mark Bastille Day on July 15 at Eastern Penitentiary, hit the XPoNential Music Fest across the river in Camden on July 28–30, and catch BlackStar Film Fest, aka Black Sundance, August 3–6. And though it marks the end of summer, there's Made in America Music Fest, JayZ's multi-stage music event on for September 2–3.
Definitely a top destination!
More at VisitPhilly.com.
back to top