Summer Dining Scene in West Chester
Community, Innovation and Entrepreneurial Grit
Downtown West Chester is looking UP! The long-time dining destination is about to burst forth this summer to meet the pent up demands of hungry, loyal diners.
Expressing cautious optimism, John O'Brien, Executive Director of the West Chester Business Improvement District, which promotes the economic vitality of the downtown district, reports the Borough's restaurants are "finding their way back after a hard year." O'Brien points to increasing numbers of restaurant patrons and the success of its newest restaurants—over a half dozen showed their faith in West Chester by opening in 2020 and early 2021.
Yes, PECO's dig on Gay Street complicated the planned May 1 return of last year's highly successful Open-Air Market, but O'Brien expects the work to wrap up soon and outdoor dining to resurge along with shopping and downtown events. Now the concern here, as elsewhere, is labor shortages—waiters, dishwashers, busboys, bartenders. "They're very hard to find and hire," says O'Brien.
But that's not stopping West Chester restaurants. We checked in with about a dozen downtown eateries, from the newest, to the veterans, to one that's poured its last cup of tea.
Sedona Taphouse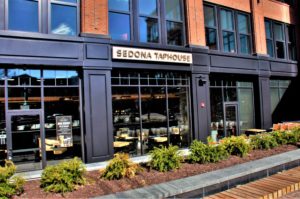 West Chester's newest restaurant, Sedona Taphouse, opened in April and is "off to a really good start, with a great reception," says David Trout, franchise manager for PA and long-time Chester County resident. Phoenixville was Sedona's first location, but West Chester was "first on our wish list."
An extensive, tempting menu includes starters like Desert Fire Jalapenos and lots of main courses—Australian Kobe beef sliders, Sedona crab cakes, Devil's Pass. Just save room for salted caramel cheesecake!
Eventually, the restaurant will seat about 200, inside and out. Staffing has been "challenging" but the hires have been "fantastic." Bar seating, shareables, daily specials, chef's features and Happy Hour are all going strong. Trout says, "People are thrilled."
Stove & Tap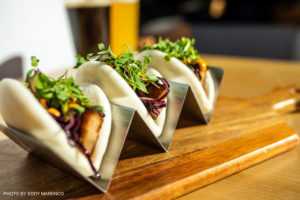 West Chester's branch of Stove & Tap, recently joining Malvern and Lansdale as the latest location, opened the first week of February. Now, according to co-owner Justin Weathers, it's "busier than we've ever been." Since Valentine's Day, he says, its customers have been returning from the "fog of winter" and ready for summertime and al fresco dining.
Serving "elevated comfort food"—brisket dip, grilled octopus, crispy pork belly bao buns, angry mussels, Nashville hot chicken—Stove & Tap has seen the demand "skyrocket."
Outdoor seating on the patio also brings in plenty of hungry diners. Plus the tap part of the name promises drafts, cans and cocktails to enjoy this summer and beyond.
Greystone Oyster Bar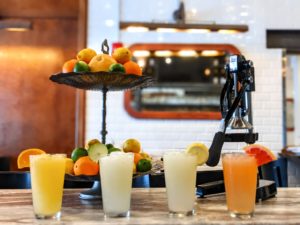 Another recent addition and new food category for West Chester's dining lineup is Greystone Oyster Bar. Featuring, as you might guess, oysters from locations ranging from Connecticut to British Columbia, they also serve clams, mussels, scallops, lobster and virtually all things seafood.
Associated with popular Italian eatery Mercato, with the uber-cool patio just around the corner, Greystone is a great place to stop for its raw bar, seafood tower and a taste of the Northern Italian coast.
Check out their hand-crafted cocktails, like a ginger martini or Church St. Paloma (yes, it's on Church St.). Manager Josh Hageman says it's already doing a thriving business.
Iron Hill Brewery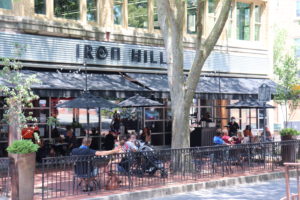 A West Chester veteran (since 1998), Iron Hill Brewery is "not out of the woods yet," but is seeing positive momentum, says Joe Kopke, its chief operating officer. Although takeout business has remained strong and steady, dine-in guests have been increasing. "With nice weather arriving, we've been able to open our patios and welcome more guests to dine with us."
During the pandemic, Iron Hill became more "value-centric," with most dishes under or around $20 to offer "Iron Hill staples that our fans love." But now this favorite in the Borough's dining scene has re-launched its Chef's Table, exclusive promotions, and the return of Happy Hour.
As always there's plenty of great craft beer to enjoy inside and out, from Iron Hill Light Lager to Pig Iron Porter.
Slow Hand
Slow Hand has also welcomed more diners, though not yet back at pre-pandemic levels. Owners Craig Russell and Josh McCullough note guidelines only recently allowed more indoor seating, bar seating and the former 2 a.m. closing time.
Josh credits Slow-Hand's survival to the "goodwill of the community," particularly generated by its grocery business. (Last winter, it was one of five businesses offering curbside pickup.)
Also, the restaurant's innovative menu—Chicken Fried Foie Gras and Bavette Steak, for instance—attracts those with a taste for something homemade that they're unlikely to make in their own home. Confident it will grow stronger, Slow Hand looks forward to a bright future and continued community support. It's been an "incredible year," say the grateful owners.
Ram's Head Bar and Grill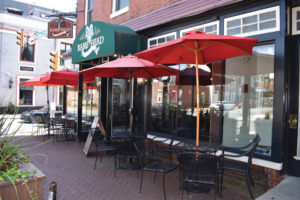 For summer dining, Ram's Head Bar and Grill, an American version of a British gastropub with a twist, is expanding its patio service and adding music on their new speaker system to up the ambiance, says General Manager Tonni Hill. Staffing here, like everywhere, had been challenging, but the restaurant ultimately added some "awesome people." "Everyone has been pulling together as a team," says Tonni.
During the pandemic, the restaurant made several menu additions: gluten free, vegan, organic, non-GMO options and weekly specials and deals that are likely to continue. Ram's Head's beer, tequila (try the flights), whiskey, and bourbon (17-year-old Wild Turkey Masters Keep) menus are also enticing and worth checking out.
The Social
If you're looking for Bourbon Street, you won't find it in West Chester. But you can enjoy its distinctive tastes at The Social.
The menu takes your taste buds to the Big Easy with dishes like Nola Fries, Chicken & Andouille Gumbo, Jambalaya Salad and Shrimp Creole. In his "Southern scratch kitchen," Chef Dan Funk creates magic. But what makes fans extra happy are the drinks—Dark & Stormy, made with Gosling's Rum, plus the shakers, slushies and sangria.
Donnie Moore, owner of The Social, reports his restaurant is "still running strong"—strong enough to open a new location in Downingtown on Route 30. The stage is set, and the bar, back patio and beer garden are open and ready for summer! Cue the diners.
Pietro's Prime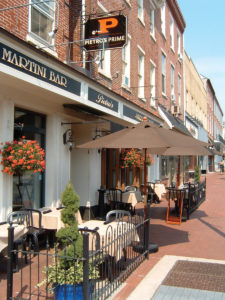 When you want steak, Pietro's Prime remains the go-to place. A New York Strip or Porterhouse: really, you name the cut. Pausing from red meat? Try an Ahi Tuna Steak or Chilean Sea Bass. You'll leave very satisfied. And don't forget to order a martini—the bar offers over a dozen varieties—by the glass or, if the occasion requires, by the pitcher.
Pietro's will expand for the summer, both on the sidewalk in front and on the patio in back. Marisa Giunta, co-owner and granddaughter of Pietro himself, invites you to stop by and treat yourself or book a date night.
Marisa says Pietro's will change its menu in June, but is saving the details for a surprise. Don't worry though. The restaurant will continue to offer its staple: steak!
Dolce Zola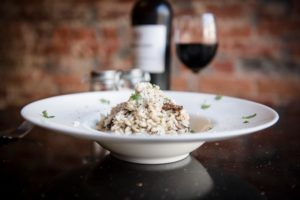 Owner Giorgio Belfiore credits the community for Dolce Zola surviving the pandemic. He still remembers the first days, thinking the restaurant might close until outdoor dining returned. Instead, so many regulars ordered take-out they "ended up having delays … because we ran out of prepping ingredients and didn't have enough staff." Now they're back, full force.
Innovations also helped, like the "virtual kitchen" offering "high-quality comfort food with an Italian twist at a lower price," plus a newsletter and "a little marketplace" for ravioli and other products.
Outdoor dining on the 40-seat backyard patio and unique pasta products are "huge attractions." Giorgio says, "Instead of focusing on the losses, we decided to double down, have some fun in the kitchen, and try as many ideas as possible."
Love Again Local
For Love Again Local sandwich shop owner Elena Mascherino, it's been essential "to stay focused, positive and not allow emotions to get involved," an ironic sentiment given her restaurant's name.
Like some other restaurants, the shop used the pandemic to experiment with things like LAL Brand Vegan Deli products, now marketed regionally. "The wholesale revenue has been a great supplement to our shop sales. And it brings brand awareness to a broader audience."
"It would be easy to get angry and frustrated at all the craziness, but for me, those emotions don't produce results. … We just continue to give our customers what they've grown to love about us, consistently great food, served by people who care a lot," says Elena.
Lincoln Room
Alas, some sad news. West Chester will have to say good-bye to the Lincoln Room. It shut its doors permanently in Spring of 2020. We'll miss this charming tea room that added a special, civilized touch to West Chester's dining diversity.
It may seem early to say "West Chester dining is back!" But it's getting there. Increasingly and cautiously, diners are coming out, eating, drinking, celebrating, being social.
This summer restaurants welcome you back. And if in this new normal the service is a little slower, just take a beat and enjoy being able to share a meal again with friends and family in wonderful West Chester. Bon appetit!
For more on dining in the Borough, check DowntownWestChester.com.
back to top