Summer Camps In and Around Chester County
Our guide to help you keep your kids energized, engaged and happy all summer long
The Agnes Irwin School
Ithan Ave. & Conestoga Rd., Rosemont
610-801-1284; AgnesIrwin.org
June 20–August 4
Age 3–K: Little Explorers Summer Day Camp

Gr. 1–7: Explorers Summer Day Camp
Ages vary: Virtual Academic Enrichment Programs
Ages vary: Athletic Camps
What a Wonderful World Summer Explorers Camp.
The Agnes Irwin School is pleased to offer in-person camps and virtual academic enrichment opportunities for both boys and girls, ages 3 years old–grade 7. Explore the world through performing arts, sports, nature exploration, creative arts, STEM activities, games, water-play, field trips and more.
Brandywine Zoo
1001 N. Park Dr., Wilmington
302-571-7788×209; Camps@BrandywineZoo.org
June 12–August 25

This summer camp is designed to provide children ages 4–17 the opportunity to learn about animals, zoos and wildlife conservation. This enriching and educational experience will be filled with Zoo visits, live animal presentations, crafts, games, stories, learning projects and much more. More importantly, each child will learn the importance of having fun in nature and making new friends.
Camp Geronimo

The Barn at Spring Brook Farm
360 Locust Grove Rd., West Chester
610-793-1037; SpringBrook-Farm.org
June 19–23; June 26–June 30; July 17–21; July 24–28; July 31–August 4; August 7–11
Camp Geronimo offers children ages 6–12, with disabilities, a unique day camp experience on a 17-acre West Chester farm. A 1:1 camper/counselor ratio ensures all children can participate safely and successfully. A registered nurse is on site each day to ensure each child's medical needs are met. Whether it's feeding a baby calf from a bottle, picking vegetables from the garden, or grooming one of the miniature horses, the camp guarantees a fun and memorable experience for all campers.
Center School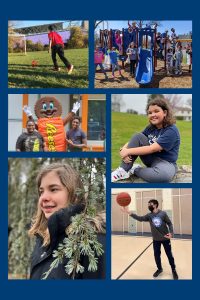 2450 Hamilton Ave., Abington
215-657-2200; CenterSchoolPA.org
July 5–August 4
Center School's Summer Learning and Enrichment Program is a four-week program for students entering grades 1–8, offering full-day and morning-only options. During the morning sessions, the focus is on targeted instruction in literacy, using the Wilson Reading System and mathematics. Afternoon sessions include enrichment activities such as CrossFit training, STEM, Creative Arts and Music. Summer tutoring is also available upon request.
Centreville Layton School
6201 Kennett Pk., Centreville
302-571-0230; CentrevilleLayton.org
June 27–July 29
This PreK–8th grade program is designed to reinforce academics, with an optional afternoon program focused on recreational activities and nature exploration. The program offers students instruction and academic support for reading, written language and mathematics to prepare students for the coming school year. Visit website for more information.
Delaware Museum of Nature & Science Camps

4840 Kennett Pk., Wilmington
302-658-9111; DelMNS.org
4–6 Year Olds: June 5–8 (half day, morning or afternoon options)
Completed K–3rd Grade: June 12–August 18 (full day)
Completed 4th–5th Grade: July 10–14, July 31–August 4, August 7–12, August 14–18 (full day)
Get ready for a fun summer of nature and exploration at the Delaware Museum of Nature and Science! Explore and learn through play, with time for experiments, games, stories and crafts.
Kimberton Waldorf School
410 W. Seven Stars Rd., Phoenixville
610-933-3635; Kimberton.org

June 19–August 11
Kids from K–grade 6 experience everything on campus, from the forests and creeks, to riding bikes, arts and crafts, creative play and fort building, picnics, sports and more. The youngest play in the Rosebud Garden, and everyone can cool off with water play and sample the summer bounty from the organic farm. Visit website for more information.
Summer Series at Villa Maria

Villa Maria Academy High School
370 Central Ave., Malvern
610-644-2551; VMAHS.org/Villa-Events/SummerSeries
June 12–August 11
Offered on its beautiful 45-acre campus by experienced Villa faculty, staff and coaches, the Summer Series includes a variety of athletics and enrichment camps from PreK through 12th grade. Athletics camps include field hockey, soccer, basketball, lacrosse and rowing. Enrichment camps explore journalism, art and design, leadership, study skills and more. Get a jump start on the new school year, hone your skills, explore your interests and have fun this summer at Villa Maria.
The Walden School
901 N. Providence Rd., Media
610-892-8000; TheWaldenSchool.org
SummerCamp@TheWaldenSchool.org
June 19–August 11
Each week features a different learning adventure, brought to life through cool crafts, outdoor activities, music, stories and more. Themes include Nature's Treasures, Commotion in the Ocean, America the Beautiful, Digging for Dinosaurs, There's No Place Like Space, Bodies Are Cool, Antarctic Antics and A Bug's Life. Full, half-day and extended-day programs are available.
West Chester Friends School
415 N. High St.,West Chester
610-696-2820; WCFriends.org
June 12–August 18

Welcome to Summer 2023 at WCFS, with an exciting slate of activities for children to enjoy together or in age-appropriate groups with highly experienced teachers from WCFS and around the community. Each day provides unique opportunities for enrichment and creativity, to encourage students to discover and develop new interests and emerging talents. Children create … explore … and experience in the same supportive setting and nurturing community that West Chester Friends School provides all year long.
West Chester University Summer Music Camps
Swope Music Building, 817 S. High St., West Chester
610-436-2921; WCUPA.edu/SummerMusicCamps
Elementary School and Middle School Camps: June 26–30
High School Summer Music Institute: July 10–15
Summer Jazz Camp: July 16–21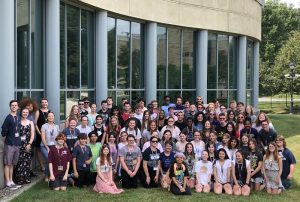 Elementary School and Middle School Summer Music Camps offer a variety of ensemble experiences, culminating with a finale concert. High School Summer Music Institute students benefit from private lessons, ensembles, music theory classes and concerts. Summer Jazz Camp students participate in combos, rhythm section clinics and classes in music technology, recording and arranging. All students benefit from working with the outstanding faculty in state-of-the-art Wells School of Music facilities.
Uptown! Knauer Performing Arts Center Studio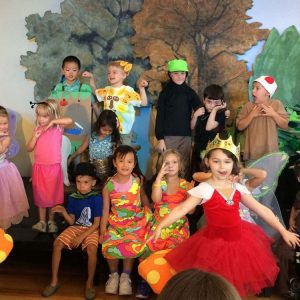 226 N. High St., West Chester
610-356-2787; UptownWestChester.org
June 12–August 11
Summer Camps at Uptown for ages 4–18 include a new teen addition this year. There's a wide variety of camps to choose from, such as Broadway Kiddos, Storybook Theatre, Summer Stock Kids, Broadway Caberet, Kids Show, Triple Threat, Glee Week, Acting for the Camera/Improv, Stage Combat, Summer Stock Teens, Teen Show Camp and new this summer, A Capella Summer Camp.
back to top