Steeplechase Season is Back!
Photo credits below each individual photo
The races are here, with changes to keep us safe while still delivering high intensity excitement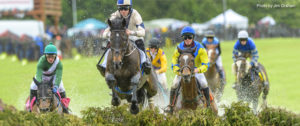 Flowers are blooming, skies are clear and warm weather is here to stay. We're welcoming spring in the Brandywine Valley, which means steeplechase season has finally arrived!
After a year's hiatus, our fondness for steeplechase races has only grown stronger.
While this year will look a little different, race organizers have been busy making sure fans can celebrate these springtime traditions safely. From in-person spectating and live-streamed races to fantasy steeplechase stables and virtual events, planners are jumping over hurdles to make sure everyone's included in the action.
Here's what you need to know for this year's race season. So, pull out your race-day best, find your Pimm's cup recipe and read on to learn what to expect this year!
Start with a Little History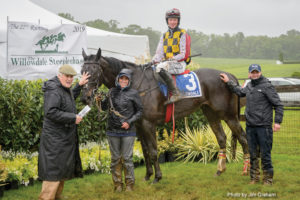 Before racing back into the action, how about a very brief steeplechase refresher?
Claiming a rich history dating back to the 18th century, the sport is believed to have its origins in Ireland, where riders tested their horses' athleticism by racing across the country's rolling hills, over stone walls and wood fences. Races would go from one point or landmark, such as a church steeple, to the next—hence the names steeplechase and point-to-point races.
During the late 19th century, steeplechase jumped across the pond, landing on the East Coast. Thomas Hitchcock, father of the American Steeplechase, built the first training center in Aiken S.C, sparking the beginning of the much-loved tradition. It grew from there, arriving in the Brandywine Valley almost a hundred years ago.
There's also plenty of lingo to learn—maiden, furlong, purse, timber fence and more—plus a rainbow of bright fashions and tasty tailgating as part of the tradition.
Now, each year the Brandywine Valley steeplechase season highlights this well-respected sport, combining charitable fundraising with a community celebration of this equestrian tradition.
28th Willowdale Steeplechase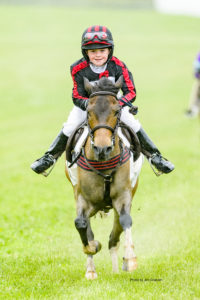 Start the season and join the fun (in-person and virtually) at the annual Willowdale Steeplechase, once again held on Mother's Day weekend. After 28 years, Willowdale has built a reputation for family fun and world-class racing while benefitting local nonprofits, Stroud Water Research Center and UPenn's New Bolton Veterinary Center.
In past years, you'd find patrons browsing through upscale boutiques, snacking on tasty treats from local vendors, and enjoying adorable Jack Russell Terrier races.
This year, plans abound for equestrian fun, but with some changes. Ticket sales are limited and on a first-come-first-serve basis. For those attending in-person, expect to stay in your party pod with Willowdale's Private Party Paddocks, with space for up to ten people, parking for two cars, plus a 10' x 10' tent with a table.
Can't come in-person? No worries! The races will be live-streamed on Willowdale's Facebook page for fans to enjoy at home, plus a live-stream show later that night recapping the day's highlights.
And if you're itching for more action, join the National Steeplechase Association's Racing Club. New this year is a Pick Six Fantasy Stable. Similar to Fantasy Football, this allows equestrian fans to pick six jumpers to follow throughout the spring season (through June 26) and have a stake in the races. Enjoy the thrill of the chase with chances to win prizes including Willowdale memorabilia or cash. Don't wait! The sooner you pick your jumpers the greater chance to win!
If you go: Sunday, May 8. 101 E. Street Rd., Kennett Square. No General Admission or day-of ticket sales. 610-444-1582; WillowdaleSteeplechase.org.
Fun Fact: Carved out of a former 160-acre dairy farm, the Willowdale site is a natural amphitheater, allowing for 80% to 95% viewing from any location, including those Private Party Paddocks.
90th Radnor Hunt Races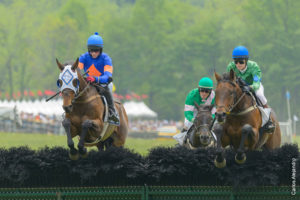 It's a big year for this beloved Main Line tradition. The Radnor Hunt Races are celebrating 90 years this season, with a few twists.
Founded in 1883, Radnor Hunt is the oldest foxhunt in the United States, with its first races being held in 1928. And for the past 40 years, this Race for Open Space has benefitted the Brandywine Conservancy, with over $5 million raised to help protect open space in our region.
Today the event attracts the country's finest steeplechase horses, owners, trainers and riders for a chance to win purses totaling $170,000.
Some of our favorite events have been postponed, like tailgate competitions for best costume and cuisine. But you can still enjoy a day full of adrenaline-pumping races during this year's modified plan.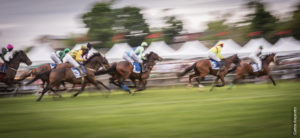 Current plans include limited attendance, social distancing, mask-wearing and staying within designated party pods. Ticket options will open in phases, with those who donated or rolled over their 2020 purchases getting first picks.
If you can't attend in person, livestream the races on Radnor Hunt's Facebook page. Consider creating your own virtual tailgate at home with local take-out and family members dressing in their equestrian best. Don't forget the mint juleps!
If You Go: Saturday, May 15. Radnor Hunt Grounds, 826 Providence Rd., Malvern. No General Admission or day-of ticket sales. 610-388-8383. Brandywine.org.
Fun Fact: The first Radnor Hunt race was held in Chesterbrook at the estate of A.J. Cassatt, a horse enthusiast and foxhunter who helped found the National Steeplechase Association.
43rd Winterthur Point-To-Point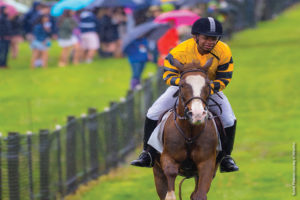 The final local race, moved later than its usual early May date, is Winterthur's Point-to-Point.
Since its start in 1979, Point-to-Point has grown from a small gathering of riders and picnickers into a much-anticipated spring social event filled with racing, fashion and high-spirited fun.
This year, it's back to the basics reminiscent of the first Winterthur races and picnicking alongside the rails. A limited number of tailgate parking tents will be sold, including a parking space, four wristbands and limited additional wristbands available.
Yes, guests must adhere to social distancing and mask-wearing, but all are encouraged to get creative with face coverings for a chance to win the MASKerade contest!
Even if you're not attending in-person, there are many ways to get involved. Try gathering with your party pod and watching the races over the National Steeplechase Association's livestream with signature steeplechase cocktail (featured in our May 2019 issue).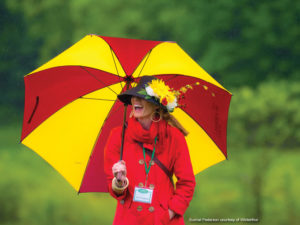 Plus race raffles will be completely online giving everyone the chance to bet on their favorite horse. Winners will be placed in a raffle for a chance to win yet another fun prize!
If You Go: Sunday, May 30. 5105 Kennett Pk., Winterthur, DE. To purchase tickets, call or email.  No General Admission or day-of ticket sales. 10 people per parking spot. 800-448-3883. Winterthur.org.
Fun Fact: Originally riders won silver trophies that were inspired by the silver in the Winterthur Collection. Today, the races offer cash prizes making Point-to-Point officially sanctioned by the NSA.
86th Fair Hill Steeplechase
Sadly this race is cancelled for 2021, according to the National Steeplechase Association
Your schedule for steeplechase fun!
28th Running of the Willowdale Steeplechase
Sunday, May 8
10:00 am –         Gates Open, Welcome Announcements
12:15 pm –         National Anthem
1:00 pm –           1st Race: Allowance Hurdle – Liam Magee SOTA Apprentice Rider Race
1:30 pm –           2nd Race: Maiden Claiming Hurdle – The Folly
2:00 pm –           3rd Race: Conditioned Claiming Hurdle – The Rose Tree Cup
2:30 pm –           4th Race: Amateur Timber Stakes – The Buttonwood/Sycamore Farms Willowdale Steeplechase Stakes
3:00 pm –           5th Race: Maiden Timber – The Landhope Cup
3:30 pm –           6th Race: Amateur Apprentice Timber – The Marshall W. Jenney Memorial Foxhunter's Chase
5:30 pm –           Gates close
90th Annual Radnor Hunt Races
Saturday, May 15
Noon –              National Anthem with Orpheus Club of Phila. and Mounted Color Guard of the First Troop Philadelphia City Cavalry
12:30 pm –         Inaugural Katherine W. Illoway Invitational Sidesaddle Race
1:30 pm –           1st Race: The Milfern Cup
2:05 pm –           2nd Race: The Thompson Memorial Steeplechase
2:20 pm –           Carriage Parade
2:45 pm –           3rd Race: Radnor Hunt Cup
3:00 pm –           Parade of the Radnor Foxhounds
3:15 pm –           4th Race: National Hunt Cup
3:50 pm –           5th Race: James M. Moran Jr. Steeplechase
4:20 pm –           6th Race: Henry Collins Steeplechase
5:00 pm –           Gates close
43rd Point-to-Point At Winterthur
Sunday, May 30
10:30 am –         Gates Open
1:50 pm –           National Anthem
2:00 pm –           1st Race: Isabella du Pont Sharp Memorial Maiden Timber Rade
2:30 pm –           2nd Race: Winterthur Bowl Open Timber Stakes
3:00 pm –           3rd Race: Vicmead Plate Amateur Apprentice Timber Race in honor of Louis "Paddy" Neilson III
3:30 pm –           4th Race: Middletown Cup Amateur Training Flat Race
3:45 pm –           Greta Brown Layton Trophy awarded to best trainer
4:00 pm –           Gates close
back to top