Spamalot
New York Theater is Coming to West Chester!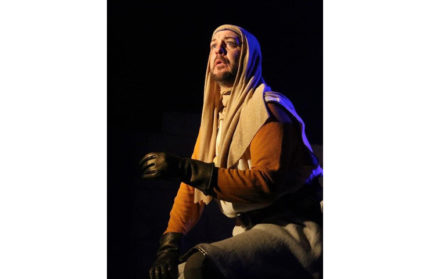 March 31–April 16
Get ready to roll in the aisles as Monty Python comes to West Chester with the hilarious comedy Spamalot. The Resident Theatre Company is proud to present one of the funniest comedies of all time in the new Knauer Performing Arts Center.
Based on the 1975 film Monty Python and The Holy Grail, Spamalot has racked up 14 Tony nominations including winning the award for Best Musical.
This hilarious comedy has been seen by millions throughout the world, and now it's your chance to see the story critics have called "deliciously silly," and a show "you'll love to the high heavens."
Come to West Chester and join King Arthur, Sir Lancelot, clunking coconuts, Knights who say "Ni," and more as you traverse through the English countryside on a quest for the Holy Grail. In your path are bizarre questions about swallows, killer rabbits and hilarious situations that could only come from the geniuses of Monty Python.
New York theater veteran Mark Woodward will reprise his role as King Arthur. While he admits it is good to be king, Mark adds "I've been looking forward to this for months, like a kid waiting for Christmas. It's gonna be So! Much! Fun!"
RTC's artistic director Kristin McLaughlin Mitchell has plucked a Who's Who of New York and Philadelphia theater professionals to create a remarkably talented cast. Mitchell will be joined by critically acclaimed choreographer Derek Roland to produce a show that's sure to have the audience jumping out of their seats.
Mitchell adds that Spamalot is a show that connects to more than just your typical theater crowd. "Spam is so funny and accessible to so many people. Whether you're a regular theater attendee or a first timer, whether you've seen the movie or you haven't, none of that matters. The only thing you need is a willingness to laugh and have a good time, and you're bound to love the show."
Come enjoy live theater and support the Uptown! Entertainment Alliance's mission to bring live theater, music, dance, film and other local events to the heart of West Chester.
If You Go:
Where: Knauer Performing Arts Center
226 N. High St., West Chester
When: March 31 through April 16
Tickets: $25–$51, at RTCWC.org
Discounts for groups, seniors and students
back to top