Just Say "Oui" to Southern Chester County
Just Say "Oui" to Southern Chester County
Sunflower fields of Avignon. Provençal window boxes of lavender. Bonbons from Paris. Neighborhoods called Chateau Country. If you're longing for France, some treasures of the Brandywine Valley will raise your joie de vivre … without having to brush up on your French.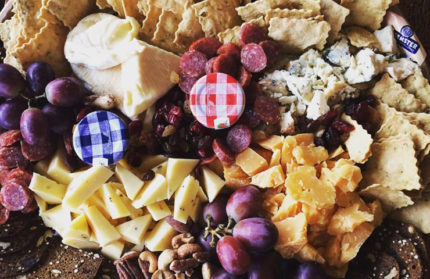 On a recent trip to France, my husband and I picnicked on extraordinary local cheese, olives and berries on a terrace overlooking the Rhone Valley. A chef recognized our chevre topped with a small purple blossom. The mystery ingredient? Every day before milking time, he said, the cheesemakers play Mozart for the goats and pick little flowers from their garden.
Cows, sheep and goats at the Farm at Doe Run might not hear Mozart, but depending on the day's herdsman, there's country music in the air. Who knows whether it influences one of the region's best artisan cheeses—the cheese earned seven ribbons at this year's American Cheese Society competition.
"European visitors tell us our pastureland reminds them of home," said Stacey Kennedy, sales manager at the Doe Run farm.
From the route to the farm—among rolling hills, past a roundabout and down narrow lanes bordered by Queen Anne's lace and blue chicory, all ubiquitous in the French countryside—to the farm's artisan techniques, flower garden that hosts honeybees from neighbor Swarmbustin' Honey and superb cheeses, the entire scene evokes images of Old World cheese-making.
"Everything happens here on the farm," Kennedy continued. "Animals are bred, birthed and milked. Cheese is aged underground. Even the cheese-making team lives on the farm. It's home to us, the animals and the cheese."
This year Doe Run is developing a cheese in partnership with Stroud Water Research Center. Keep your eyes open for "Mayfly"—named for the insect whose presence indicates unpolluted fresh water—a creamy pasteurized version of a Normandy-style Camembert to pair with perfect wine and golden baguettes.
La Vie en Rose
In Provence, Jean, a castle owner, asked what kind of local red we'd like to try—something fruity or "earth in the mouth"? The answer was "both." Our visit wasn't long enough to try all the local vineyards, but fortunately there are wonderful wineries in the Brandywine Valley and the marvelous, quirky wine shop Collier's of Centreville, Delaware.
Among lots of bottles and character, Cellar Mistress Linda Collier holds tastings and regales customers with tales of wine, food and travel, including stories of hopping off a barge to bicycle into villages for wine and food during a trip through the Canal du Midi.
When asked where in the shop to turn for a good French wine, Collier replied, "There's a little bit of France in every direction." She gestured toward choices from Champagne, Burgundy, Bordeaux and the Rhone Valley.
I left with several bottles, including a rosé—"a red in a pink dress," Collier quipped—from the Mont Ventoux region and the melody "La Vie en Rose" in my mind.
Had I been in Centreville in the morning, I likely would have been drawn to the village hub and gathering spot of the Centreville Café for a flaky croissant baked on site or slice of quiche of the day. There's more French flavor in Montrachet Fine Foods catering business based in the café and in the village of Montchanin a bit south.
For a French greeting and pastries to transport you, head north to La Baguette Magique in West Chester to sample authentic French délices throughout the year: bugnes, loved in Lyon, in cool weather and summer pain aux herbes—aromatic bread with herbs. At Easter order a Praline Tart—a magnificent pink confection of almonds and sugar. In December experience a traditional Galette des Rois—a delicious treat with a charm hidden in the middle layer of almond cream. The treasure-finder wears the crown adorning the pastry, becoming king for the day. Enchantée!
If your sweet tooth craves pure chocolate, a stop at West Chester's award-winning Éclat Chocolate for truffles from master chocolatier Christorpher Curtin may be just the thing.
Or for more options, taste authentic, raspberry macarons and brightly-colored hibiscus chocolate truffles at Lancaster's Barberet Bakery, a bit beyond the Brandywine Valley but much more convenient than crossing the pond!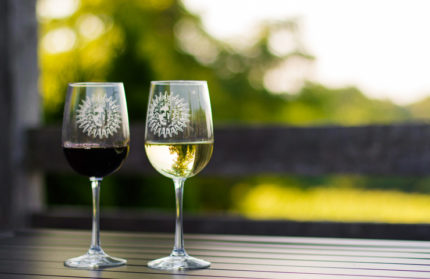 Treasure Hunt
Explore other local treasures to capture the essence of Provence and Paris. Visit seasonal fields of sunflowers at Pete's Produce Farm, with more golden fields in northern Chester County in the Elverson area and, some years, even more tall-stemmed stunners around Longwood Gardens.
To conjure images of St. Didier, enjoy ivy-draped window boxes and a charming rustic, blue table on the patio at Catherine's Restaurant in Unionville—a lovely setting for brunch.
Or relax on Galer Estate Vineyard and Winery's deck. Notice their wine bottle labels, with some history. While seeking a brand image that would represent Old World France and their slogan—"blending nature, science and art"—artist and estate owner Lele Galer found a picture that would make a beautiful emblem. Without knowing where she'd taken the photo, she hesitated to use it. On her next trip to Paris, she rediscovered the image: Sun King Louis XIV dressed as Apollo, god of science and art, at the entrance to the Louvre. (More French connections at local wineries in the sidebar.)
On Friday afternoons, head to Kennett Square. Shop for kitchen textiles, honey and vegetables at State Street's outdoor market, reminiscent of the market at St. Remy. Find gourmet treats including cheeses from Doe Run at Talula's Table. Pair with an exquisite onyx cheese board and set of Laguiole cheese knives—with a bee logo seen frequently in Provence—at Marché.
Or let Houppette bring a blush to your check. The European-style cosmetic shop (French for powder puff) offers products from French celebrity makeup artist Laura Mercier and bareMinerals, a company working to keep human trafficking out of its supply chain. Browse clothing, jewelry and beautiful make-up brushes—works of art themselves.
Bon Appetit
The three best meals I ever ate were at Chateau la Roque, sur-Pernes. Each perfect morsel of filet mignon with truffle, Mediterranean monkfish with saffron, artichoke ragout, and honey-drizzled apricot led to euphoria. The secret to those meals: ripe, fresh ingredients; magnificent recipes; and a talented chef's passion for food.
Under shade trees at Chadds Ford's SIW Vegetables, select fresh goods for your table local fruits, vegetables and cheese; flatbread; plants and flowers. In spring ask for herbs common to Provence to plant: basil, thyme, rosemary and lavender to season your dishes.
If cooking isn't your cup of café, wind your way north to Coventryville and Martin Gagne's table at La Maison. There, the French go for a taste of home and finest French cuisine. If you're in Media, the obvious choice is La Belle Epoque Wine Bistro, offering savory crepes in the Brittany tradition, along with other classics of French cuisine—from escargots to soupe a l'oignon.
Or partake in a meal that French chefs would approve—at Talula's Table in Kennett for creative, delectable dishes with locally sourced ingredients in a modern farmhouse setting. Ooh la la!
No RSVP Needed. Allons-y!
---
L'amour du Vin
Several area wineries offer a variety of wines with a French influence and are made from French varieties grown here.
Try a few and feel transported!
Chaddsford Winery
Chadds Ford; Chaddsford.com
Sauvignon Blanc, Barrel Select
Chardonnay, 'Sur Lie' Chardonnay,
Saignée à Trois , Harbinger, 2014 Fusion
Galer Estate
Kennett Square; GalerEstate.com
Cabernet Franc, Chardonnay,
Petit Verdot
Grace Winery
Glen Mills; GraceWinery.com
Cabernet Franc, Chardonnay,
Pinot Gris, Rosé
Paradocx Vineyard
Landenberg; Paradocx.com
Viva La Rose, Leverage, Leverage Rsv,
Chambourcin Reserve
Penns Woods Winery
Chadds Ford; PennsWoodsEvents.com
Chambourcin Reserve
Va La Vineyard
Avondale; VaLaVineyards.com
Mahogany and Silk (Petit Verdot),
La Prima Donna (Pinot Gris)
back to top