Shopping Small and Local for the Holidays
What's to find in West Chester
You have to admire our local retailers. They looked at the town, picked a niche, hung out a sign, and hoped shoppers would come.
West Chester has attracted many intrepid entrepreneurs who opened the shops and boutiques that give West Chester its charm. These businesses continue to fill the holes of commerce that Amazon and big box stores can't fill and need our ongoing support, now more that ever. A used record shop, a stationery store, a music store. Often these shops add value with the service they provide, solving problems—the right fit, the right texture, just the right color—that the online shopping can't.
This season, I set out, of course, to buy gifts. "Perfect" ones, ideally. And I was determined to find Santa's presents among West Chester's shops.
A BIG RED BOW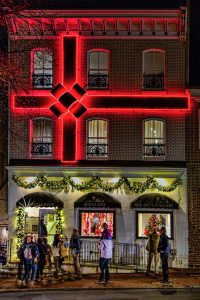 The "Big Red Bow," a two-story illuminated bow along High Street, has become a bright landmark at Sunset Hill Jewelers, where the holiday shopping season begins. Santa and his North Pole mailbox are outside the front door, ready to accept Wishlists and letters to Santa.
Inside, owner Sandra Riper has an extensive assortment of jewelry ready for shoppers on a range of budgets. The shop features estate and one-of-a-kind jewelry as well as traditional favorites. And they are happy to wrap your shiny purchase for you.
Sunset Hill is planning extended hours for those who wait until the last minute along with other holiday specials. Now more than ever Sunset Hill is hopeful shoppers will appreciate and support the local retail stores that make up their community.
AFFORDABLE STYLE
Vida Beale Consignment opened this past October in the heart of downtown West Chester, offering on-trend, upscale, designer clothing that appeals to a wide age group of women at an affordable price. Owner Kirsten Gross created Vida Beale (meaning "beautiful life") from her passion to provide women with gently used clothing and accessories they "may not ordinarily be able to afford."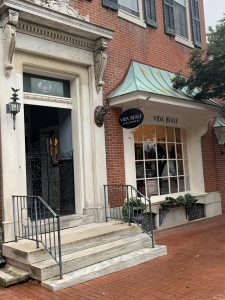 In the back room, you'll find furniture and home décor, and a constantly changing inventory to require frequent visits. Kristen also provides personal shopping services, shopping by private appointment, and home visits and buy-outs.
The store is having specials throughout the holiday season as a well as a "Cozy Christmas" shopping event, plus additional holiday shopping hours on Sundays through December 26th.
THINKING OF PARIS
Mia Nassini is the owner and founder of LeBerger. The store is as much a boutique—offering leather bags, jewelry, clothes, eyeware and hats—as it is an art gallery, with paintings by French artists collected by Peter Mavrides mostly on the streets of Paris.
Mia was inspired by the concept of combining the sophistication of contemporary French fashion and the eternal appeal of French paintings and art. The works, representing almost every decade of the 20th and 21st centuries, are interspersed among the store's other sale items. Both Mia and Peter strive to create a relaxing and welcoming environment to peruse, gaze and admire the fashions and art. And of course, buy something to put under the tree.
THIS WILL BE PERFECT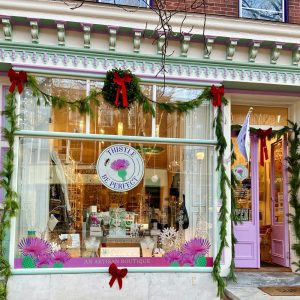 Yes, it's a pun. Thistle Be Perfect combines a love of nature with a phrase the owner, Katie Jenning, often hears as she's helping customers find the "perfect" piece.
Open since November 2019, the store sells exclusively handmade, small batch items, including candles, soaps, purses, jewelry, pottery, mugs, home decor, pillows, socks, cards, notepads and bath items. You'll also find gifts for the men on your list, such as flasks, bottle openers, grooming supplies, dopp bags, money clips and coasters. Whew! "Something for everyone," says Katie. An excellent place to check off several items from my list.
This season, Thistle Be Perfect is open for hosting events and personal shopping parties. For the holidays, Katie will dress up the store and front window and carry seasonal items.
GET AROUND
Fairman's Skate Shop, established in 1977, has been in its current location since the 1990s. At Fairman's you can have a skateboard built from scratch—choosing a deck, wheels, bearings, etc. You can get your board repaired and equip your skateboarder with sunglasses, shoes, a hat or beanie, pants and shirt, logoed socks and safety gear. After Christmas, maybe your boarder will look a tad more stylish.
Mike Moll, son of the founder and current owner, is planning for the holidays. For one, he's "getting up a bunch of cool Christmas stuff" and "dropping a killer new line of Fairman's boards and apparel." Fairman's is planning a buy one, get a second for half price sale on select shoes, 15% off Fairman's branded apparel, and other special deals.
A LITTLE INSPIRATION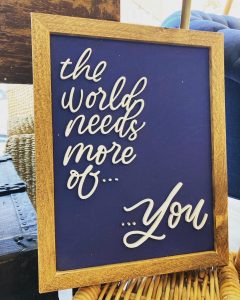 Pine & Quill opened a year ago, emphasizing local, hand-made, one-of-a kind crafts. The inventory is diverse, ranging from furniture and hone décor to candles to small terrariums. Many customers choose this store because they want to support local businesses and artisans.
Owner Dianna DeStefano is celebrating the store's anniversary and the season with a spin-your-sale wheel and great deals on holiday decor and gifts. The selection of candles and laser wood-cut signs are the hottest items, with many that are holiday-themed.
DRESSING UP
Rachel Berry of H. Rose Boutique is extremely optimistic about holiday shopping. "Our customers are out and excited again to shop locally, support locally, see products in person, try them on, get advice on styling. We are over the moon!"
The H. Rose Boutique has clothes and gifts for women, new mothers, and children of all ages. You'll find BoGo sales and fabulous giveaways "We're gearing up for a great gift-giving season ahead. And we're always happy to wrap your bag with a great bow and provide gift boxes!"
PLAY IT AGAIN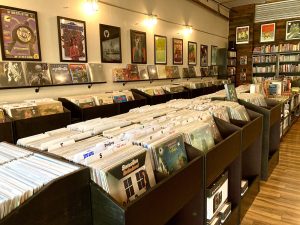 There's something about vinyl. Maybe the warmth or the richness of the sound. In any case, for owner Byron Greatorex, vinyl rules. Hop Fidelity is "always on the hunt for used records." It buys from private sales, e.g., estate sales, flea markets, any place where the store might get access to some good titles. New records are also bought from distributors and sometimes directly from labels.
As for the "Hop" in Hop Fidelity, the store expects its liquor license before Christmas, but for now, it offers free pours. Stop by to enjoy live music on December 15th, and likely more tune on other dates. Check Facebook and Instagram for updates.
WHERE THE BOYS ARE
For men, "Johnnie-O, Faherty and Mizzen + Main continue to be our top selling brands," says Jaimie Weisbrot, owner of Phineas Gage. Quarter-zips, button downs and sweaters are high on this year's gift list and this shop has a great selection.
The store window is thoroughly decorated, though details were kept under wraps until the "big reveal" at Thanksgiving for West Chester's window decorating contest. The store is planning weekly promotion through Christmas, bringing more merchandise in than last year and gearing up for a busier holiday season with the return of in-person holiday parties and events. Plus foot traffic is up, too!
AT THE MUSEUM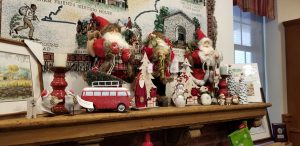 Don't miss the Museum Shop inside the Chester County History Center. It features an outstanding collection of books, prints, maps, cards, ornaments, mementos, children's merchandise and home décor, highlighting local items, artists and authors.
Paper Moon Custom Stationery, which manages the store, also creates invitations and personalized stationery. You'll find Christmas and other holiday decorations for sale as well as Christmas cards.
On December 4th, Paper Moon will have a Holiday Market with Green Sale to benefit the History Center.
FOR THE PIANO MAN
For over 90 years, Taylor's Music Store has been an institution on Gay Street, selling every musical instrument, from pianos to clarinets, violas to drum sets, and piccolos to tubas. Len Doyle, the owner, says ukuleles, surprisingly, are often a popular Christmas gift.
In addition to sales, they will repair your instrument, provide lessons, offers sheet music and rentals. The store conducts lessons for about 350 students weekly. Perhaps give a package of lessons under the tree? But maybe not for drums …
FRANKLY, IT'S UNUSUAL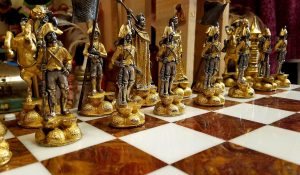 You may not know what to make of the Little Shop Of Nightmares, opened last summer by Nina Frangieh. It has a "yard sale type vibe." Prices are negotiable, mainly because she "loves her things to go to good homes."
Nina collects all sorts of things for her shop—an old Moroccan sword, a crawling 1800s wax doll, a human skull. One intriguing piece, an antique chess set, is at least 130 years old, marble and pewter base, and characters brushed with 24-carat gold. "If it's unusual I gotta have it."
Not everything in the shop is scary, though. Nina has nice garments, jewelry and art, but "I display things in the most disturbing way possible, just to get attention."
Open Fridays and Saturdays. Shop at your own risk.
So ends my tour of a dozen shops. Now the air has turned chilly, and I turn up my collar. West Chester's sounds—music from the shops, bells chiming in the distance—combine with aromas wafting out of restaurants to lure me in. I settle in a booth and review my list with many checks.
See the map of Downtown West Chester at the end of this article for locations of these and other locally owned shops, perfect for visiting during the holidays.
back to top