Sample Lancaster County
Lancaster County is known for its food. Not the gourmet kind that looks too pretty to eat, but the homestyle, lick-your-fingers kind. Whoopie pies, stroopies, pretzels, ice cream … Question is, where can you find some of the best to sample as you tour the area?
Festival of Whoopie Pies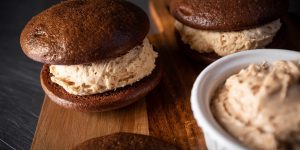 As you likely know, the classic whoopie pie consists of rich white cream filling between two soft chocolate cakes or cookies. But there are countless variations on this theme. For the cakes, there's chocolate chip, red velvet or pumpkin, some with icing. For fillings, savor chocolate, strawberry, raspberry, cream cheese, coconut cream, orange cream, Key lime or peanut butter options. Some bakers make truly unusual flavors like blueberry, banana, maple or shoofly pie.
You'll find whoopie pies at bakers, grocers, markets, even restaurants throughout Lancaster County. But in September, come back for a visit to the annual Whoopie Pie Festival at the Hershey Farm Restaurant in Ronks. Cinnamon, coffee, banana, pineapple, Heath bar, root beer, caramel apple, sangria and more. Over 350 flavors! 80,000 whoopie pies! Go early because it sells out.
Stroopies Over Coffee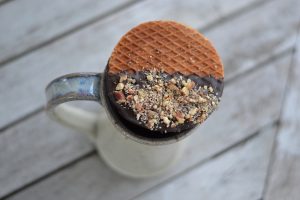 Pennsylvania Dutch country is the place to sample a stroopie, a Dutch stroopwafel, made with two thin, wafer-like cinnamon cookies with a layer of caramel inside. The caramel bonds the two halves, sticking the two sides of the waffle together to form a sort of cookie sandwich, which is meant to be placed over a steaming cup of coffee or tea to be rewarmed. As the caramel filling heats up the stroopwafel, it becomes flexible, gooey and irresistible.
Stroopies can also be made in a variety of creative flavors: espresso, pecan, coconut, to name a few. Sometimes they're chocolate-dipped.
Look for stroopies at the Lancaster Sweet Shoppe (141 Duke St., Lancaster). It makes the original recipe as well as gluten-free.
Shoofly Pie, Wet or Dry
Another traditional treat, shoofly pie is a molasses pie, generally enjoyed as a sweet dessert, though often served at breakfast in Lancaster County. It gets its name because the molasses attracts flies. As the pie is cooling on a counter or window sill, the vigilant baker is constantly shooing the flies away.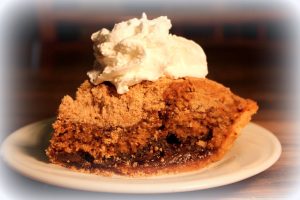 Shoofly pie is similar to a coffee cake, with a deep, caramel-like molasses flavor and a buttery, spiced brown sugar topping. In addition to molasses, the pie is made with brown sugar, flour, water, spices and sometimes egg. A crumb mixture topping complements a flaky pie crust.
Most people prefer the "wet bottom" version of shoofly pie, with a gooey bottom layer that forms when the pie bakes. "Dry bottom" is more a cakelike consistency. Why not try both?
Bird-in-Hand Bakery and Cafe (2715 Old Philadelphia Pk.) is known for its shoofly pie, although many roadside stands, smorgasbords and restaurants — Miller's Smorgasbord, Shady Maple — offer up tasty versions.
Pretzels, Hard or Soft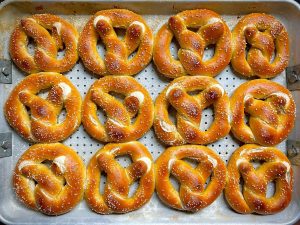 What would a trip to Lancaster County be without a pretzel? And, at Julius Sturgis Pretzel Bakery (219 East Main St., Lititz), you can see pretzels being made. Take a 25-minute tour and get a handson lesson in pretzel twisting. Watch bakers twisting old-fashioned soft pretzels deftly with a flip of the wrist.
Or skip the presentation and snag a fresh soft pretzel to enjoy on site. Get chocolate-covered, caramel-topped or peanut butter pretzels topped in milk or dark chocolate. All are dipped in Wilbur chocolate, another Lititz favorite.
Sturgis isn't the only pretzel-maker in Lancaster County. The oldest, family-operated, hand-rolled, hard pretzel-maker is Hammond's Pretzels (716 West End Ave., Lancaster).
Another option for pretzels, hand-rolled and soft, in various flavors — cinnamon sugar, garlic herb, sour cream and onion — is Sara- Faye's in Bird-in-Hand Bake Shop (542 Gibbons Rd., Bird-in-Hand).
Ice Cream on the Trail
If you're ready for a break during your tour of the county, feel lucky because you're in dairy — call it creamery — country. And many local farms specialize in making ice cream for cones, sundaes, milkshakes and more. A few years ago, about 25 stops became known as the Ice Cream Trail. Here are a few.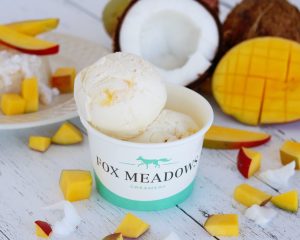 First, the two locations for the Fox Meadows Creamery (2475 W. Main St., Ephrata and 193 E. Main St., Leola) carry about 25 flavors, including Wilbur chocolate, Madagascan vanilla, honeyed lavender, mango and sticky rice, Nutella, Tandy Cake and passion fruit guava sorbet.
Rolled Cold Creamery (24 E. Orange St., Lancaster and 3526 Old Philadelphia Pk., Intercourse) carries about 20 flavors of ice cream (including gluten free) as well as 20 toppings and six flavors of syrup. Think of the thousands of varieties of sundaes possible!
Featuring freshly made waffle cones, the Lapp Valley Farm Creamery (244 Mentzer Rd., New Holland and a large, new facility at 4040 Old Philadelphia Pk., Gordonville) makes 16 flavors of small batch, very rich, higher fat ice cream only from Jersey cows. You can also get Lapp Valley's ice cream at Green Dragon Market (955 N. State St., Ephrata) or the Ice Cream Shop in Kettle Kitchen (3529 Old Philadelphia Pk., Intercourse).
And, at Down on the Farm Creamery (509 May Post Office Rd., Strasburg) choose from more than 20 flavors, all made in small batches of five to 10 gallons, with no cream removed. A special kind of richness!
Long's Park for Music and Art
Since 1962, on summer Sunday evenings, Long's Park (1441 Harrisburg Pk., Lancaster) has held free concerts at the Amphitheater, spanning folk, rock, jazz, blues, bluegrass, Afro-funk, Cajun and more. This July's lineup features the U.S. Army Band, Runa, Steep Canyon Rangers, Sonny Landreth and Cindy Cashdollar, and the David Wax Museum. Bring a blanket, chair and picnic.
September 1st to the 3rd, Long's Park hosts its annual Arts Festival, recognized as one of the best fine arts festivals on the East Coast, featuring 200 exhibitors and attracting 13,000 visitors.
back to top